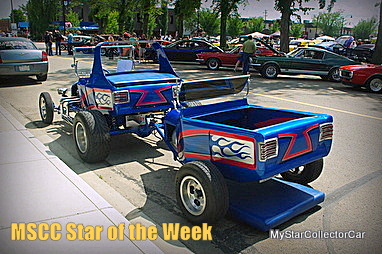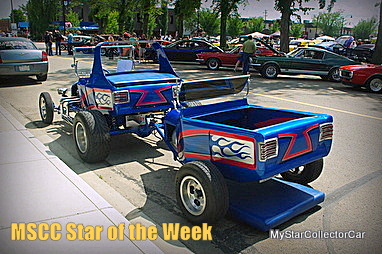 MSCC APRIL 27 STAR OF THE WEEK: 1916 DODGE BROTHERS TRUCK – A PIECE OF HOT ROD HISTORY
This may be one of the oldest Dodge trucks in existence but it's also a piece of hot rod history.
This is an older build so its styling cues go back to the 1960s. Sharp-eyed readers will spot some of them.
The MSCC Star of the Week status was an easy decision because this old Dodge Brothers truck is a piece of history on many levels.
Look for the full MSCC story on this classic in a few months.
MSCC APRIL 26 STAR OF THE DAY: SS 427 IMPALA CONVERTIBLE— MUSCLE CAR AND COMFORT IN ONE PACKAGE
The term muscle car conjures up ideas like brute force, neck-snapping acceleration and smoking tires.
There is nothing in that scenario about comfort.
This MSCC Star of the Day Impala SS 427 convertible at a show last year shows how you can combine muscle, style and comfort in one package.
The complete package.
MSCC APRIL 25 STAR OF THE DAY: '53 METEOR– CAR SEASON IS FINALLY HERE FOR CANADIANS
This has been a brutally long winter in North America so that means it was twice as bad in Canada.
Global warming was a fuzzy concept in the Great White North and it really affected two things — robins and old rides.
Both were rare sights in April.
The robins are finally back and happily, this MSCC Star of the Day 1953 Meteor was on the street last night.
A sure sign of spring – Canadian style.
MSCC APRIL 24 STAR OF THE DAY: CLASSIC CHEVY TRUCK COOL— THIS IS HOW YOU VACATION
There are many ways to enjoy a summer vacation but one of the best is to tour a great summer resort area in an old ride.
There is nothing like enjoying a beautiful July day behind the wheel of a classic old truck.
This MSCC Star of the Day Chevy on the streets of a summer resort town is not just a picture of a very cool ride.
It's a testimony to best vacation ever status.
MSCC APRIL 23 STAR OF THE DAY: 1968 COUGAR-FORD'S OTHER PONY CAR
The recent 50th birthday of the Mustang made headlines in and out of the automotive world because the pony car came of age in 1964.
Three years later, Ford introduced another pony car in the form of the Mercury Cougar.
Cougars were a refined version of the Mustang because they were heavier and more well-appointed cars than their cousins, but they never caught fire like the 'stang.
That didn't mean Cougars were less of a car-it just meant they couldn't repeat the success of the galloping Mustang.
This MSCC Star of the Day '68 Cougar back in 2010 showed how cool this cat was…for a pony car.
MSCC APRIL 22 STAR OF THE DAY: THE BEST WAY TO MAKE AN OLD TRUCK LOOK BETTER
There are few things in life better than a great picture of a classic old ride.
You can take a picture of old iron on a sunny day, an overcast day, a rainy day, a rainy night, at sunrise, at sunset, winter, spring summer or fall-the time and place doesn't matter.
The subject matter is the key to success as evidenced by this MSCC Star of the Day shot from August 2010.
The truck was good enough on its own but the happy dog in the foreground really made this shot smoke.
MSCC APRIL 21 STAR OF THE DAY: '69 ROAD RUNNER CONVERTIBLE-THE EVOLUTION OF THE BIRD
Road Runners started out as bare-bones 2-door posts when they were introduced in the fall of 1967.
They were extremely cost-efficient cars so they had things like a floor-shift without a console, rubber mats and bench seats.
The rear windows didn't even roll down-they were stripped down muscle at its finest.
This MSCC Star of the Day '69 Road Runner was at a 2012 show and it was a great example of the Road Runner's next stage.
This 'Runner was a convertible and it packed a punch in the form of a 440-the evolution of the bird.
For past Stars of the Day please follow this link.
Star of the Day page sponsored by Southside Dodge.