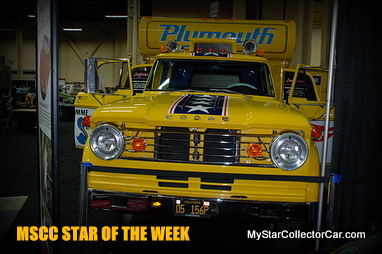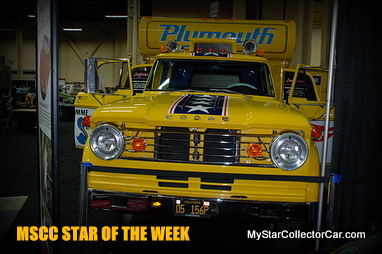 OCTOBER 27 MSCC STAR OF THE WEEK: THE WORLD'S MOST FAMOUS DODGE D700 THREE-TON
There are no '67 Dodge D700 three-ton crew cab ramp trucks with a racing history behind it like this one. There probably aren't many of these working brutes left from any line of work but this one was part of two legendary racing teams.
This 413 cubic inch D700 was built for Richard Petty Racing in 1967-the same year King Richard won ten in a row en route to a record 27 wins in one season. This truck hauled that legendary #43 Plymouth all year.
The racing career didn't end there for the big Dodge because legendary NHRA Funny Car guy Don "The Snake" Prudhomme picked it up in 1970 after Petty traded it in that year.
Trucks like this were new territory in the NHRA but the Snake hauled his Cuda with this ramp truck until 1972.
The early 70s were an era when the Snake and Tom "Mongoose" McEwan were in a bloodbath at every track and NHRA history was made.
That kind of racing history easily qualifies this humble Dodge work truck as MSCC Star of the Week..
OCTOBER 26 MSCC STAR OF THE DAY: CORVAIR RAMPSIDE PICKUP: A DARE TO BE DIFFERENT LOOK AT TRUCKS
The Chevy Corvair was one big experiment for GM back in the early sixties because this was an era of big cars and big V-8s. The rear-engined Corvair was unlike anything ever produced in Detroit during the Mad Men era.
Trucks were conventional front-engine, water-cooled vehicles in the early sixties but the Corvair Rampside was something different.
This was a light truck designed for the urban battlefield so it loaded and unloaded on the curb and it was far more nimble in downtown traffic. Fuel mileage was better too but the Corvair Rampside had a pretty short run.
Despite the lack of interest when they were new, a Corvair truck is like this MSCC Star of the Day is a people magnet at every show.
OCTOBER 25 MSCC STAR OF THE DAY: BRICKLIN: WHEN GOVERNMENT INVESTMENT GOES ASKEW
Partnerships between automakers and governments are not a recent concept.
Europe has produced many state-owned manufacturers over the years and the former Soviet Union produced some legendary vehicles like the Lada and the Trabant.
The province of New Brunswick got into the automotive game with the Bricklin SV-1 in 1974 and like the Lada…it was a really bad idea.
There is no personal financial risk in bad decisions for public officials.This means a business plan where Bricklins that cost $15,000 to build sold for $5000 meant that no decision-makers lost their house but taxpayers sure did.
Despite being a poster boy for the grim reality of yet another fiasco for taxpayers, this Bricklin was an MSCC Star of the Day.
OCTOBER 24 STAR OF THE DAY: DATSUN 620 CAMPER-THE ANSWER TO THE OIL CRISIS
There was a serious backlash against gas-guzzlers when the oil crisis hit in the 70s. You couldn't give away a three year old Hemi Super Bird or brand new Winnebago back then because gas prices hit an all-time high.
People turned to other options so that hemi Bird turned into a slant-six Valiant and that Winnebago turned into a Datsun 620 RV.
There were serious limitations to these mini-RVs but at least you could thumb your nose at Saudi Arabia and camp at the same time.
Today these Datsun RVs are a cool reminder of a time when you could only gas up on even-numbered days if you had even-numbered plates on your car.
That's why spotting this MSCC Star of the Day a few days ago was a welcome piece of automotive history.
OCTOBER 23 MSCC STAR OF THE DAY:A CLASSIC FORD ROD IS A SIGN OF HOPE
October in the northern latitudes is a cruel month in many ways because the old car season winds down in a big way.
That's why any sightings are a bonus when Halloween is just sound the corner.
This classic old Ford was like a beacon of light yesterday on a fairly grim October afternoon.
It was parked in the middle of a herd of clone cars and it stood out like John Wayne in 'The Man Who Shot Liberty Valance'.
There was a ray of hope for a longer car season….a true MSCC Star of the Day moment.
OCTOBER 22 MSCC STAR OF THE DAY: '64 GALAXIE CONVERTIBLE-BABY, THE RAIN MUST FALL
Steve McQueen was in a movie back in 1965 called 'Baby the Rain Must Fall' and the theme song was sung by Glenn Yarbrough.
There were no deep discussions about convertibles in the movie and Glenn never sang about them in the song but the words really do apply in the world of top-down driving.
A convertible can be a one of the most amazing automotive experiences on the planet on sunny days but when that solar warmth fades into rain, you get a scene like this-a '64 Ford with the top up on a wet June day.
Baby the rain must fall-even on an MSCC Star of the Day.
OCTOBER 21 MSCC STAR OF THE DAY: '66 PLYMOUTH BELVEDERE II HEMI-COOL RIDE TO A FIRE
1966 Belvedere 426 Hemis are pretty rare on their own but very few fire departments used shoebox Mopars as emergency vehicles.
This '66 Belvey was used by the Washington Township Fire Department in '67 and '68 so that explains the extra safety equipment.
The car was at the Las Vegas Barrett-Jackson in September where it attracted a large number of curious Mopar guys.
This MSCC Star of the Day was clearly one of the most unique vehicles ever used by a fire department but one question was never answered at the auction.
How many times did this brute-force Mopar get to the fire first?
For past MSCC Stars of the Day please follow this link.
Star of the Day page sponsored by Southside Dodge.