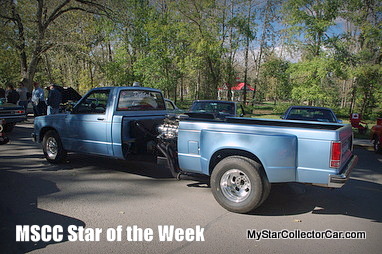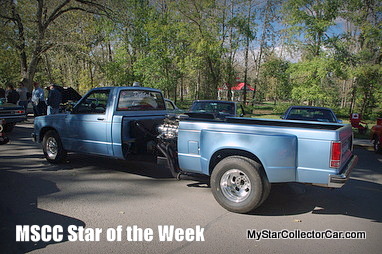 OCTOBER 13 MSCC STAR OF THE WEEK: MID-ENGINE CHEVY TRUCK-REALITY, NOT CONCEPT
There's no tangible evidence GM ever considered a mid-engine option for its pickup trucks because the motor would have to sit in the truck bed.
That would take away an enormous amount of space in the most usable area of the truck.
Trucks are based on the function over form philosophy more than any other vehicle on the planet so plunking an engine in the cargo area made no sense.
That's how they think in Detroit but this is how they think in the real world.
If you want a mid-engined truck then all you have to do is extend the frame and put the engine in the middle and suddenly you have a vehicle with carrying capacity, the handling of a mid-ship car and ease of access to the motor.
This Star of the Week was at a recent show and it proved how innovative car guys can be…outside of Detroit.
OCTOBER 12 MSCC STAR OF THE DAY: 1st GEN CUDA PLUS FIRST GEN CHALLENGER EQUALS MOPAR HISTORY
The Plymouth (Valiant) Barracuda was the first Mopar pony car and technically it was the first pony car in '64.
The Dodge Challenger was the last soldier in the pony cars because it debuted for the 1970 model year and Mopar guys picked up on this new horse in the stable.
The fact that the Dodge Challenger is still around in 2013 is a resounding testimony to its popularity.
These two Stars of the Day were in traffic a few weeks ago and they were a rolling tribute to Mopar pony car history.
OCTOBER 11 MSCC STAR OF THE WEEK: LOOKS LIKE A '50 CHEVY TRUCK BUT IT'S A BEAST
Here's another classic example of how a harmless old farm truck can become a beast.
This 1950 Chevy started life as a stove-bolt six built for hog hauling and stump pulling.
It was a simple life full of long days and hard work.
Until someone decided to bolt the body on a Corvette.
That's when this humble farm truck became an MSCC monster Star of the Day.
OCTOBER 10 MSCC STAR OF THE DAY: '56 FORD F-100…THEY WERE BORN COOL
Ford trucks led the custom charge in the 50s and 60s because they were born cool.
Custom guys spotted that inner cool factor and suddenly a sedate Ford farm truck became a monster on the street via a giant engine.
The trend peaked with the '56 Ford F-100. These trucks went into a weekend with a six-banger stick engine and came out of it with a giant Caddy or 392 Mopar hemi under the hood.
That's how '56 Fords rolled in the 50s and 60s and this is how they rolled in 2012 when this MSCC Star of the Day was at a major car show.
OCTOBER 9 MSCC STAR OF THE DAY: 1954 PLYMOUTH BELMONT-WHAT COULD'VE BEEN A VETTE FIGHTER
Virgil Exner was one of the key figures in the "space-race" style wars of the mid to late 50s. He was the ultimate fin-guy in a world that was just entering the world of rocket ships and satellites.
Exner captured an era with his Forward Look styling but before the fin wars began in earnest his department was involved in styling exercises like this 1954 Plymouth Belmont.
This was a Corvette-like two-seater and if this concept car had become reality, the Vette may have had a serious rival because this baby had a V-8.
The name might have needed a tweak from Belmont to a more appropriate one like Fury but this MSCC Star of the Day was a classic example of "what could have been".
OCTOBER 8 MSCC STAR OF THE DAY: '64 PONTIAC PARISIENNE STATION WAGON-CANUCK LONG ROOF
'64 Pontiac station wagons are relatively rare in general terms but Parisienne long roofs border on extinction.
These Canuck wagons were primarily Chevy under the skin because that's how they rolled in Canada.
This Parisienne wagon probably did the standard things in 1960s Canada like haul kids to hockey games or get them to school when the bus got stuck in a snowdrift.
After a few years it probably got cut from the first string squad and spent the rest of its life as a party wagon for the the local curling team.
Regardless of the typical outcome for Parisienne wagons this one survived almost fifty Canadian winters.
That's an MSCC Star of the Day feat.
OCTOBER 7 MSCC STAR OF THE DAY: '68 MONACO-NEVER JUDGE A BOOK BY ITS COVER
This 1968 Dodge Monaco never started life as a nasty street machine because guys who bought these cars were typically older and they led sedate lives.
Monaco buyers were young enough to want a Road Runner but realistic enough to know that the big C-Body was far more suitable for a married family man.
They could keep an illusion of a carefree single guy with a two-door hardtop and have the comfort and room of a bigger car.
Monacos weren't snails and the 440 option really woke them up but they were built for comfort on the highway so not many had drag gears.
This MSCC Star of the Day was the exception. It was a little rough after 45 years and it's still a Monaco but under the hood was Frankenstein's heart.
This car was built for stealth because it had a built big block and a shift kit so it was far removed from the life it led back in '68 when some guy wanted a big Dodge that was comfortable but "kind of sporty".
For past MSCC Stars of the Day please follow this link.
Star of the Day page sponsored by Southside Dodge.