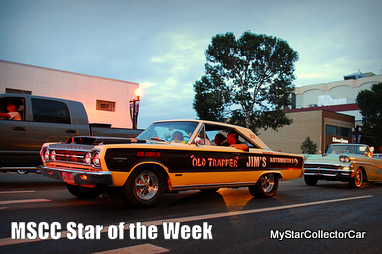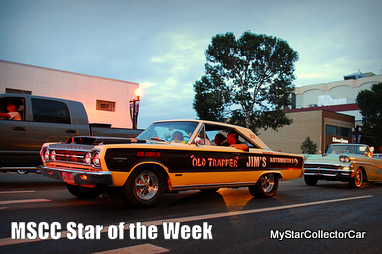 MSCC JULY 12 STAR OF THE WEEK: GREAT ENDING TO A RACING LEGEND—'67 GTX
Race cars have a pretty bleak future.
They can get demolished at a track and go out in a blaze of glory.
They can become obsolete and end up stuck in the back 40 on somebody's farm where they slowly but surely turn into a heap of iron compost.
Or they can have a great ending in the hands of an owner who truly appreciates a legend like this former Super Stock '67 GTX .
MSCC JULY 11 STAR OF THE DAY: TRANS AM—PONTIAC'S PONY CAR HAS MANY FACES
The Pontiac Trans Am debuted in 1969 and said farewell in 2002.
This was a car that defined a decade in the 70s through Smokey and the Bandit.
Trans Ams were less popular than their Camaro cousins but they are well established in pony car history.
This MSCC Star of the Day T/A at a recent show was one of many faces this iconic car wore over the decades.
MSCC JULY 10 STAR OF THE DAY: '64 FORD COUNTRY SEDAN—A TYPICAL VACATION RIDE
Station wagons have spiked in value because kids who grew up in the 60s have a serious attachment to their adolescent pasts.
You were shoved in the back seat of the family wagon and you hit the road with comic books and scenery as your entertainment.
Smart phones and tablets were things you read about in your Jetsons comic book.
This MSCC Star of the Day '64 Ford Country Sedan was a typical 60s vacation ride because it's a lower end wagon built for function over form.
MSCC JULY 9 STAR OF THE DAY: AMC MACHINE—A HOT SUMMER DAY JUST GOT COOLER
Muscle cars are instantly recognizable by true car guys.
A '67 Chevelle SS396 looks nothing like a '67 GTX to the true blue gearhead.
Ford, Chevy, Pontiac, Olds, Buick, Mercury, Dodge and Plymouth all had a piece of the muscle car action but AMC was also in the game with the Machine.
You won't see many Machines on the road like this MSCC Star of the Day but when you do your summer day gets a lot cooler.
MSCC JULY 8 STAR OF THE DAY: DUNE BUGGIES—HIGH RANGE ON THE CUTE FACTOR
Dune buggies were a great way to turn a VW Beetle into an open air, all terrain fun machine.
They were so lightweight the VW engines gained performance in a big way thanks to the fiberglass bodies.
The biggest limitation to a dune buggy was fair weather factor because you didn't want to drive one in the middle of a full scale January blizzard.
Nevertheless you can't disagree this MSCC Star of the Day dune buggy displayed the other big factor in these vehicles—the high range on the cute factor.
MSCC JULY 7 STAR OF THE DAY: 1958 PONTIAC STAR CHIEF— BENCH WARMER AFTER A LONG RUN AT THE TOP
Pontiacs were always aimed at the mid-level buyer.
CEOs didn't own Ponchos but assistant regional managers sure did because these cars lived in the sweet spot between Chevy and Olds in the GM stable.
Pontiacs had a performance side that topped off with the Bonneville and in '58 the Star Chief slipped to number two in the Poncho lineup after a long run at the top.
This MSCC Star of the Day '58 Star Chief at a 2014 show is a great looking bench warmer.
MSCC JULY 6 STAR OF THE DAY: DODGE—THE ONLY 70S TRUCK THAT DIDN'T GET A CULT FOLLOWING
Dodge made a big shift to its truck lineup in 1972.
The venerable look that served from 1961-71 was gone.
They replaced it with a clean-looking truck that never really caught on as a collectible like the early 70s Chevys and Fords.
This MSCC Star of the Day Dodge was spotted yesterday and it's a good example of a very cool truck that never had a cult following.
For past MSCC Stars of the Day please follow this link.
CLICK HERE to Like us on Facebook
CLICK HERE to Follow us on Twitter
CLICK HERE to Follow us on Pinterest
Please re-post this if you like this article.
Star of the Day page sponsored by Southside Dodge