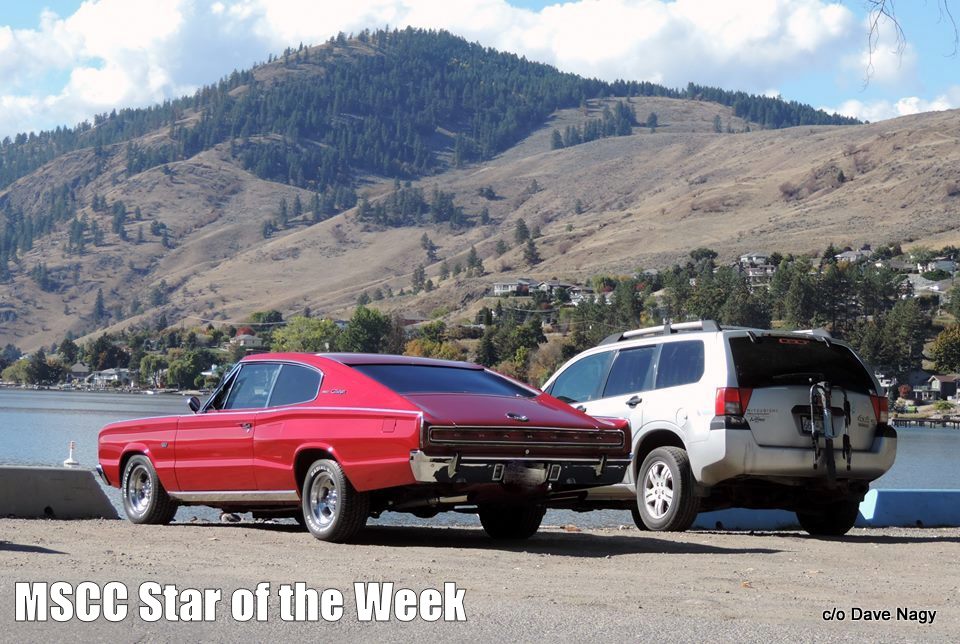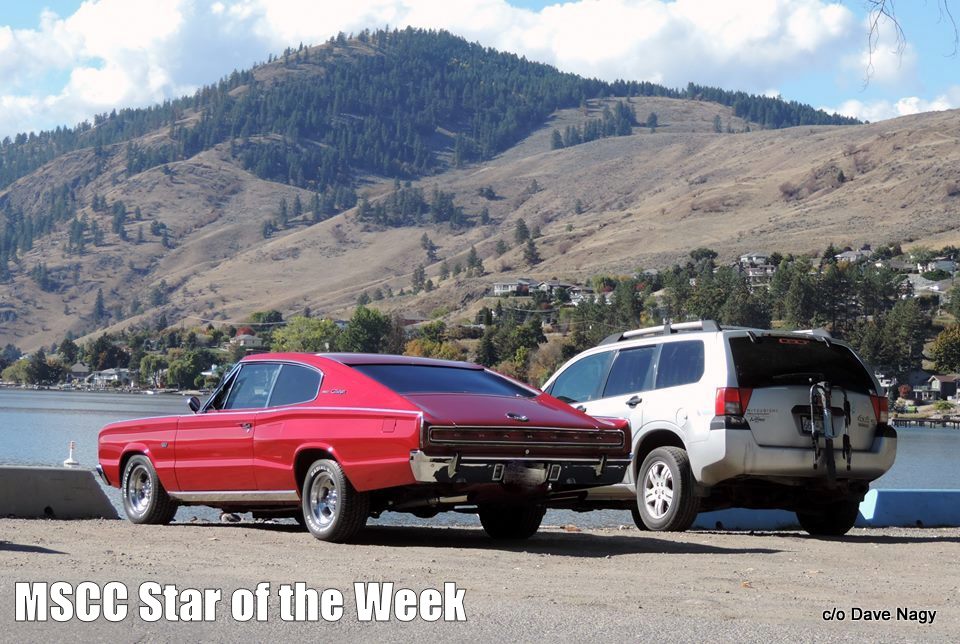 MSCC OCTOBER 9 STAR OF THE WEEK: 1ST GEN CHARGER—THEY MAY HAVE LOVED THEM AT THE TRACK BUT THE SHOWROOM SALES WERE ANOTHER STORY
Sometimes the best ideas die in the real world.
The 1st Gen Dodge Chargers are a great example because they captured the mid-60s fastback look with a design that dominated in NASCAR but left prospective buyers lukewarm.
Winning is supposed to translate into sales but it took the legendary '68 Charger to pump up sales even though they were dogs on the track.
Nevertheless this MSCC Star of the Week 1st Gen 1 Charger was loved at the track but the showroom sales were another story.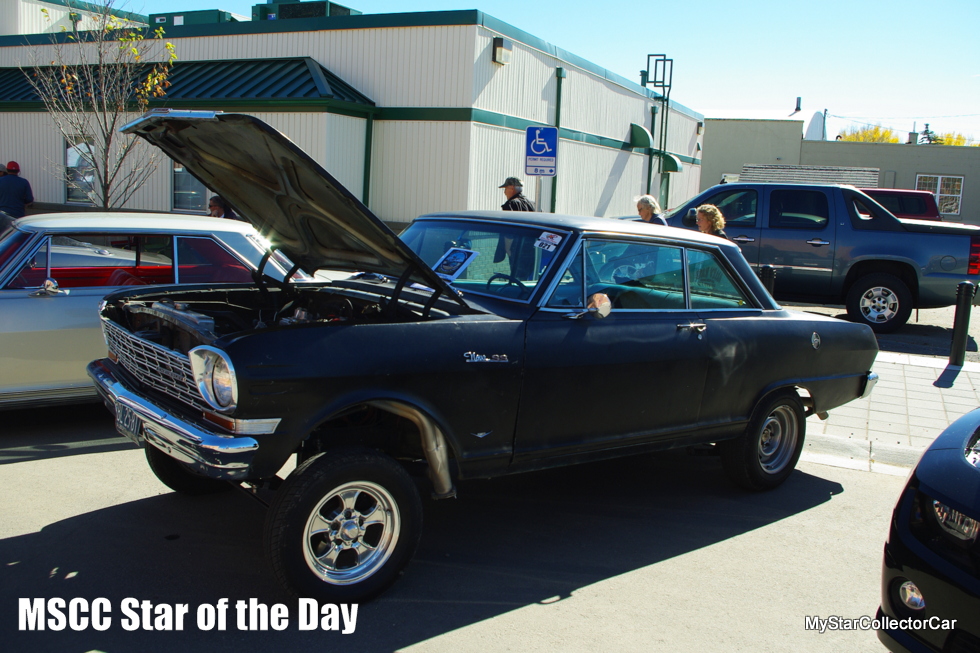 MSCC OCTOBER 8, 2016: '64 NOVA GASSER—THIS QUIET LITTLE COMPACT WENT ON A STEROID PROGRAM
Chevy's answer to the compact car wars of the early 1960s was the Chevy II.
A Chevy II was a car that appealed to a certain type of customer…a customer like your school teacher Aunt Irene.
They were vanilla cars with reliable and thrifty four and six-cylinder engines so the compact Chevys made sense to the Aunt Irenes of the world but they were poison ivy to anyone with a hot rod heart.
Eventually, the Nova version of the Chevy II came alive with a small block factory V-8 but some—like this MSCC Star of the Day '64 Nova Gasser took it to another level via a big steroid program.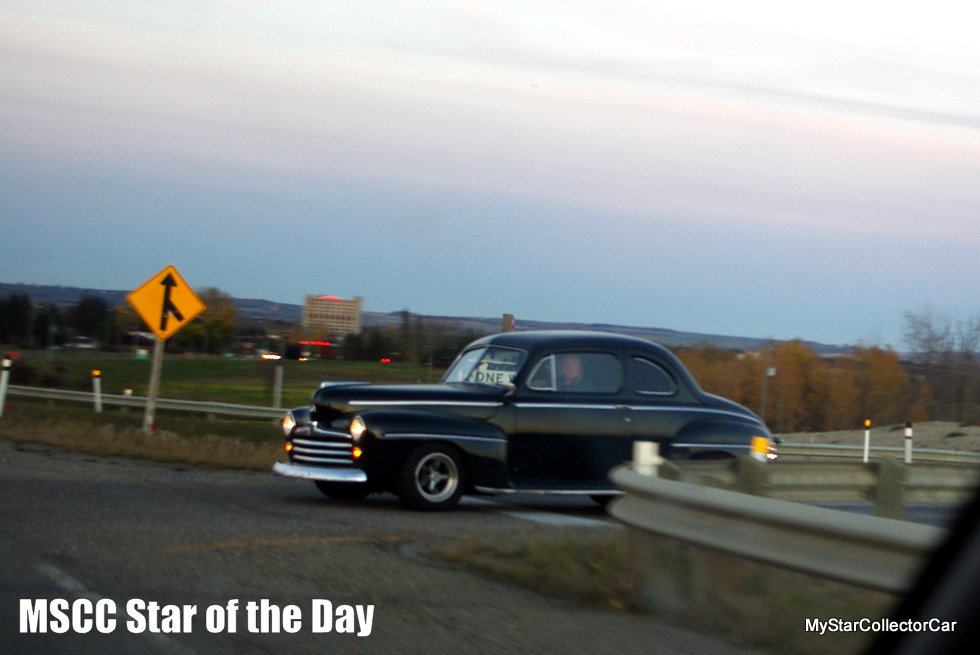 MSCC OCTOBER 7, 2016: POST-WAR FORDS—THEY'RE WORTH PUSHING THE ENVELOPE ON THE DRIVING SEASON
October can be a cruel month for classic old iron.
You can start the day in sunshine, go out for a rip in the old ride and come home in a blizzard a few hours later—October can be a cruel mistress.
Car guys know that but they'll still take a chance for one last run.
They'll do it in cars like this MSCC Star of the Day post-war Ford because post-war Fords are worth pushing the envelope on the driving season.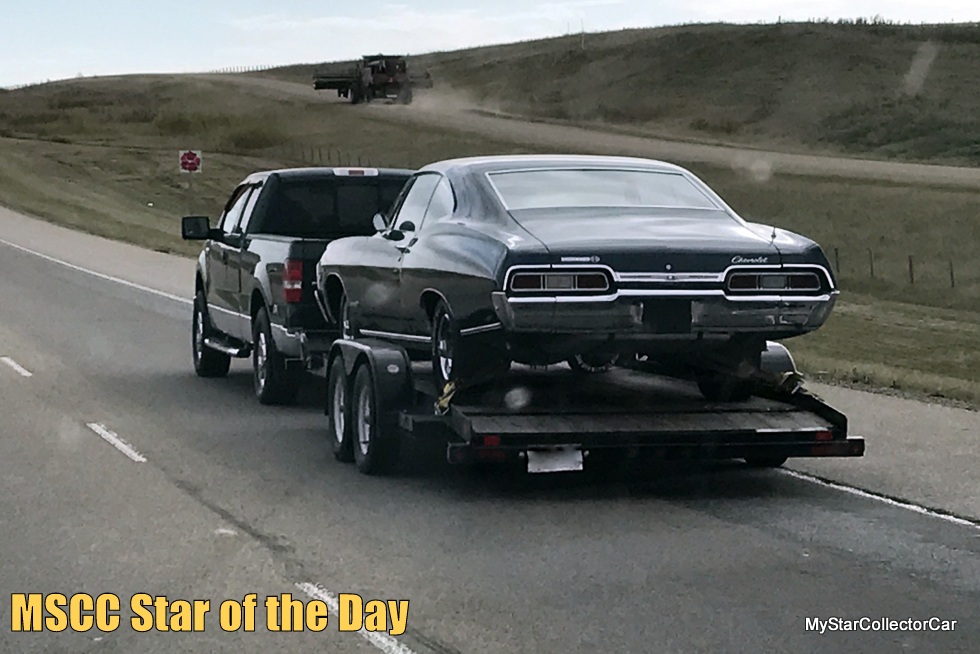 MSCC OCTOBER 6, 2016: '67 IMPALA—WAY MORE INTERESTING THAN A QUAD OR A HARLEY
Years ago you only saw three things behind a vehicle.
You were most likely to see a holiday trailer (behind an under-sprung sedan or wagon); next likely was a utility trailer (behind an under-sprung sedan or wagon and occasionally, a properly sprung truck); least likely was a boat trailer (behind an under-sprung Vette).
Now you see everything on a trailer—from all of the above to quads, snowmobiles, jet skis and Harleys and they're all pulled by over-sprung giant trucks.  
If you're really lucky you'll see something like this MSCC Star of the Day '67 Impala on a trailer because it's way more interesting than a quad or a Harley.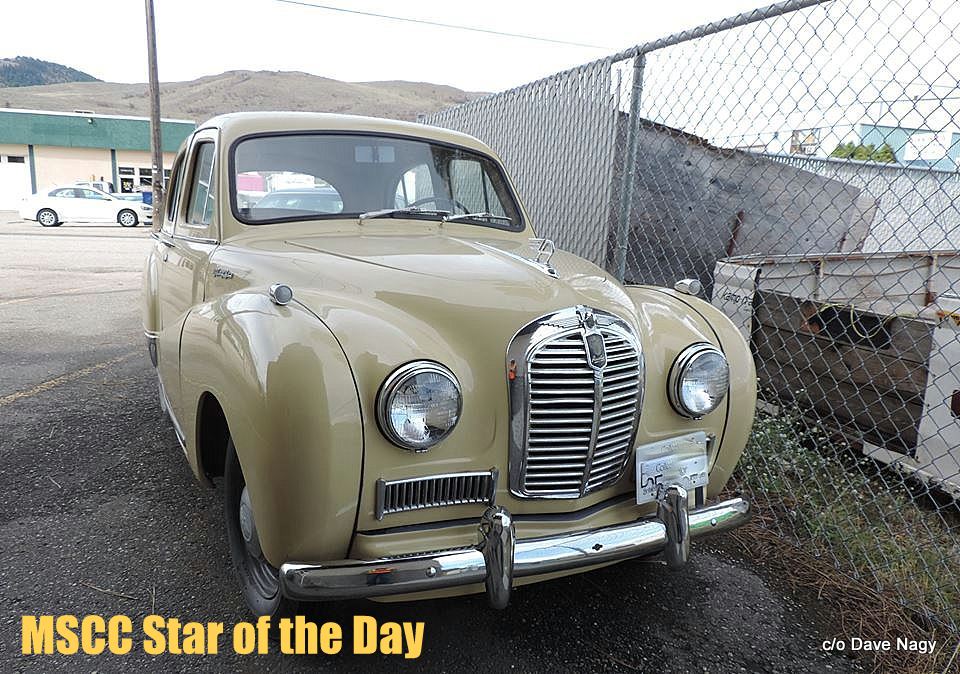 MSCC OCTOBER 5, 2016: AUSTIN A-40 SOMERSET—THE ORIGINAL SECOND CAR
The 1950s was a big decade for the automotive world.  
Buyers had numerous options by the mid-1950s because the post-war new car shortage turned into an embarrassment of riches so a new concept emerged.  
It was called the second car.
This MSCC Star of the Day is an Austin A-40 Somerset—it was the original second car back in the 50s.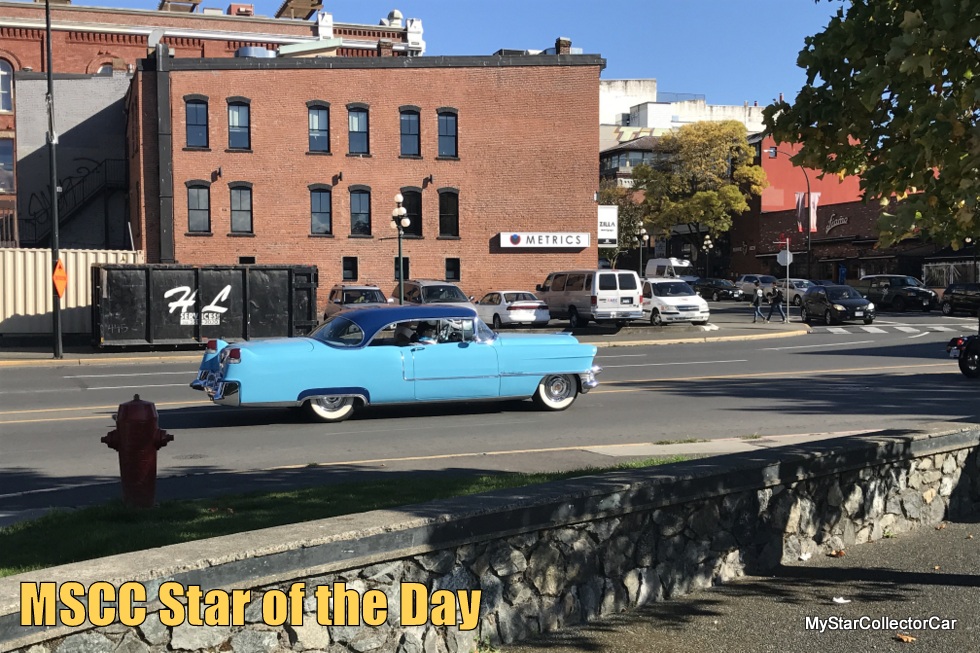 MSCC OCTOBER 4, 2016: '55 CADILLAC COUPE DE VILLE—ELVIS COOL IN THE 21ST CENTURY
Elvis Presley was a 50s cultural icon but his legend continues long after his death.
Elvis was also a car guy and he was particularly fond of Cadillacs because Caddys represented big 50s American iron at the top of its game—and 50s Elvis was at the top of his game.
Elvis bought his 1st Cadillac in 1955-it was a '54 and it burned in a fire so he bought a '55 to replace it.
1955 was a pivotal year for Elvis in his Cadillac history so that's why this '55 Coupe De Ville (spotted in traffic yesterday) is a great example of Elvis cool in the 21st century.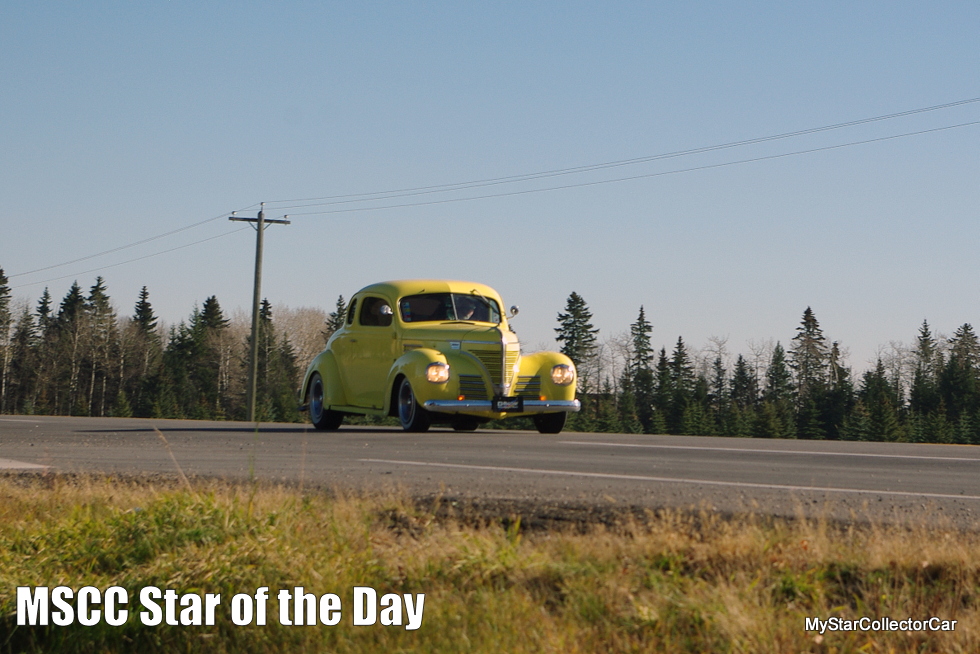 MSCC OCTOBER 3 STAR OF THE DAY: '39 DODGE D-12 BUSINESSMAN'S COUPE—AN EARLY PLODGE
MSCC has discussed the "Plodge" many times but for the newcomers here's a basic description.
Plodges are Canadian versions of Dodge and they started making them in 1932 because thrifty Canadians preferred lower cost rides so they built them on the cheaper Plymouth platform.  
Typically, a Plodge has some outwardly obvious Plymouth feature like a front end grille, rear quarters or a dashboard.
This MSCC Star of the Day '39 Dodge D-12 Businessman's coupe is a great example of an early Plodge.
CLICK HERE to Like us on Facebook
CLICK HERE to Follow us on Twitter
CLICK HERE to Follow us on Pinterest
Please re-post if you like this article.