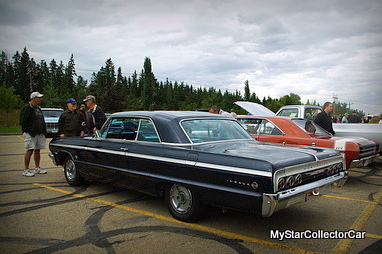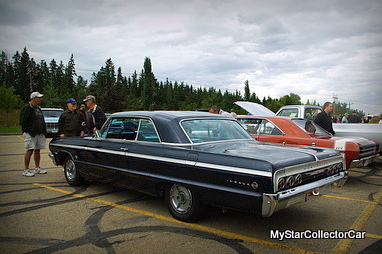 The 1964 Chevrolet Impala really doesn't need any more popularity but there are owner stories that go far beyond the "I found it in a want ad" scenario.
Any car that bridges even one generation in the same family is automatically a good story.
A '64 Impala with roots with three generations in one family is an incredibly good story.
This car has more branches in the family tree than the Waltons back in the 1970s TV show but Richard Zimmerman has the details in his permanent memory files. He explained how the car was originally his brother's before Richard's mom and dad took over the wheel of this classic Impala. The car was then passed along to Richard-the current caretaker of the family heirloom.
Richard first saw this Impala when his brother brought it home over thirty years ago. Richard explained, "He drove it as a daily driver and I used to tell him he was crazy". This Impala was far from garage queen status because Richard confessed his brother "was hard on vehicles".
Richard's parents bought the car when it came up because they "loved the thumbs up" when they drove the Impala and it was their "cruise around car". The Impala is still his mom's "cruise around car" when she come out to visit because she still likes to ride in the old classic.
There was absolutely no chance this car was going to leave the Zimmerman family so when it came up for sale, Richard was the first guy in line to buy it from his parents. This Impala was a little tired so Richard brought it home twelve years ago for an evaluation and subsequent game plan.
Richard's biggest concern was the original 327 engine under the hood because he confessed it took "7 liters of oil and 200 bucks worth of gas to get it home". The 327 is now resting comfortably on his garage floor because Richard had another game plan. He swapped it out for a '76 Pontiac motor over the course of a weekend and he's never looked back.
Otherwise, the Impala hasn't changed over the years as Richard explained, "This is what the car looked like when my brother owned it".
That is the real story behind this 1964 Impala because it retains so much Zimmerman family history. It looks like a survivor because it is a survivor in their family and with that status, there is a real connection to successive generations.
Richard explained how deep that connection is: "I swear my daughter wore out the console because she used to walk between the seats and now she's 32 and she still likes to ride in it plus it was her wedding car".
Richard's son also has a huge bond with the car because he drove it to his graduation and when he was at the high school "every kid wanted to see it".
There is an old saying, "blood is thicker than water" when it comes to family so when a '64 Impala has this kind of bond with one family there is little doubt the story behind the car is bigger than the car itself.
Even if the car is a legend on its own merit.
Jerry Sutherland
CLICK HERE to Like us on Facebook
CLICK HERE to Follow us on Twitter
CLICK HERE to Follow us on Pinterest
*Re-post if you like this MSCC article…thanks.