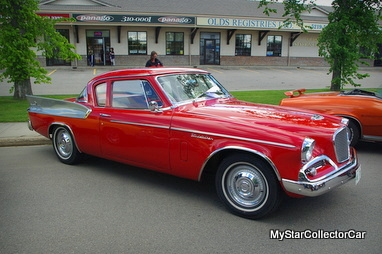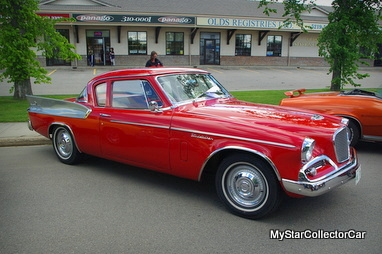 Studebaker Silver Hawks were a high point in 1950s styling.
They were clean, well-engineered and unique cars.
They were also underrated in terms of performance as many disciples of the Big Three automakers found out the hard way on the street.
Charlene Miles is the proud owner of this incredibly nice 1959 Silver Hawk. This car was on the main street of the car show and it was like a neon sign even in the middle of some very cool rides.
Studebaker Hawks and Silver Hawks were relatively rare cars because they only built under 8000 of them in total so they are extremely rare cars in 2014.
Charlene and her husband are huge Studebaker fans and she backed this up by explaining their other ride in their family by admitting, "We also have a '55 Studebaker Conestoga wagon but it's under repair so we needed this as a backup plan".
This is how Charlene became the proud owner of a classic Studebaker Silver Hawk. This car looks like a trailer queen but that's not how Charlene travels as she explained, "I drive it, I don't trailer it".
Life on the road in an old car is far different than life on the road in a new Dodge Cummins diesel truck and Charlene is well aware of the difference as she recalled, "I was coming to the show and I got caught in a major rainstorm. It was pretty interesting because it was so bad only one of the wipers could keep up to the rain".
Charlene is aware that she has a celebrity-like status when she's behind the wheel of the Silver Hawk but she admits it does cause a few problems, "I was driving down the highway and this truck was swerving all over the road in the next lane because they were trying to get a good look at the car. This car turns heads when I'm driving down the road, people end up trailing you to see it better".
She is also brutally honest when the discussion turns to the actual experience behind the wheel of the Studebaker, "It's a beautiful car to drive because the 259 keeps up at 65-70 miles per hour no problem but the gas pedal is a little hard to push but it's still a lot easier than driving a motorcycle".
The Miles have a lot of other activities on the agenda during the summer with drag racing and a motorcycle hobby so the Studebaker doesn't see as much highway time, "We don't get to as many shows as we'd like because the motorcycles and drag racing get in the way so it's only a few shows at this point".
This Studebaker Silver Hawk is one of those car show entries that draws people like a magnet so this was a difficult car to photograph but the car was worth it because they are such a classic legacy car of the 1950s.
Charlene may not have enough time to show off her Studebaker but one thing is really clear.
Any time behind the wheel of a 1959 Silver Hawk is quality time.
Jerry Sutherland