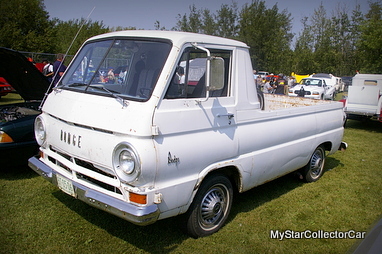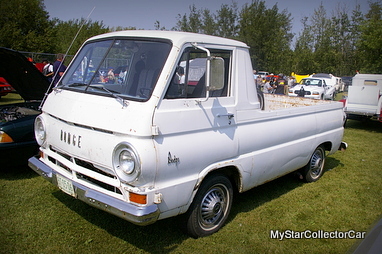 The Dodge A-100 pickup truck was a unique ride even when it was new in the 60s.
Chrysler followed suit with rivals Ford and GM and produced a hybrid light duty pickup truck from its basic cargo van.
The A-100 cab-over pickup truck was destined to attract attention then and now.
Those of us from the Baby Boomer generation were further influenced by the wheel-standing Little Red Wagon, a full-on drag strip version of the A-100 pickup truck. We may have liked the tame street version of the A-100, but we loved the crazy track version of the truck.
These days there are few A-100s left on the road, so the sight of one of these unusual pickup trucks at a car show is a big deal.
We spotted one at a small show last summer and tracked down its owner to find out the story behind his 1967 Dodge A-100.
The congenial owner was Ray Westlin and he was influenced by an uncle who had purchased one brand new in 1967. Ray's interest in the A-100 began with that event.
Ray's A-100 was still equipped with its basic Slant Six engine and three-on-the-tree manual transmission, the same one that has confounded younger generations when they encounter these transmissions from a bygone era.
Older car guys will recognize a bare bones stripped-down model when they see the power train in this A-100. The trucks were designed for small business use and would typically be used in a city environment where their flat noses and high cab position allowed for good sight lines.
They were not pleasure vehicles, so they were likely to be sold in a cost-conscious version like Ray's A-100.
Ray has owned his '67 for the past four years and has spent most of his efforts on the mechanical side of his restoration so he could enjoy time behind the wheel. In Ray's words; "If it's a weekend I drive it".
The truck is comfortable at 60 mph (100k/h) on the highway and delivers "super good fuel mileage", according to Ray. He added the truck has a small fuel tank, so the good mileage is a double bonus.
Ray installed a driver's seat out of a new van to smooth out the ride a bit. He described the van as "nice to drive" and says he can "see everything from his catbird seat" behind the wheel of the A-100. Ray also described how the short front end and big windshield made him feel like he was "sitting on the sidewalk".
The only mechanical issue left for Ray is a slight overheating problem in warmer weather, likely due to the enclosed position of the engine in the cab of the truck. The design means the confined engine does not get the same level of airflow found in typical cars and pickup trucks.
The next step for Ray is a body restoration for the truck, although he has encountered some difficulty locating parts for his unusual ride.
Ray will fab up parts if necessary because he wants to bring his A-100 right back to its former glory when it was new.
Just like the one his uncle bought in 1967.
Jim Sutherland
CLICK HERE to Like us on Facebook
CLICK HERE to Follow us on Twitter
CLICK HERE to Follow us on Pinterest
Please re-post this if you like this article.