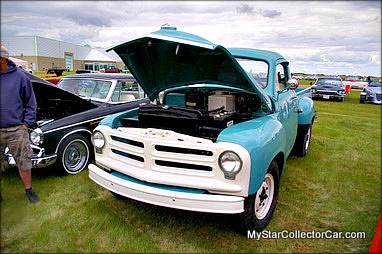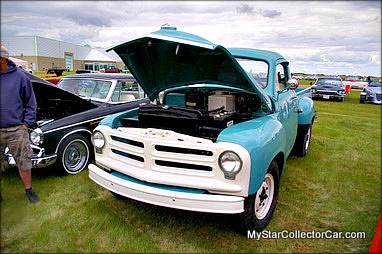 Ted Draeger loves the big iron.
His full time job is pushing a big rig and on the weekends he's still behind the wheel of a truck.
In most cases he's driving a rare truck-a 1955 Studebaker pickup.
Ted spotted the old Stude in an ad for an estate auction and locked in on the sale with a grim determination to come home with a classic old truck. They aren't easy to find because they built less than 20,000 of them in 1955.
Apparently the owner had bought the Studebaker with "future project" in mind but his own future ran out-enter the estate auction.
The truck was almost 100% complete with the exception of a trim piece on the hood. Ted is highly connected in the Studebaker world but this piece is so rare it practically disappeared from the known universe.
The truck had a few key areas where the rust worm won a battle but it's back to the pristine factory look.
He had the truck completely redone to stock specs and so far the Studebaker has been a dream on the road. Ted admits, " I've had it up to 60 but it was turning 7100 rpm. The rear end is a little low geared for highway driving".
Ted's comfortable with the power under the hood because it's the same V-8 found in the Studebaker passenger cars. He's a big proponent of the Stude power train because "that's why they could run with anybody".
Despite that endorsement, the Studebaker is often pulled behind in a trailer behind another one of Ted's dream rides-a 1965 Mack R Model. Ted is connected in the Antique Truck Club so in his own way he connects with his Studebaker brothers and his classic big rig brothers.
This is an outstanding example of a very rare truck and Ted is extremely proud to drive and display this venerable old-timer on the weekends.
Weekdays? He's behind the wheel of his big rig work truck.
Jerry Sutherland
Follow us on Facebook-http://www.facebook.com/MyStarCollectorCar
Follow us on Twitter at- https://twitter.com/#!/MyStarCollecto1