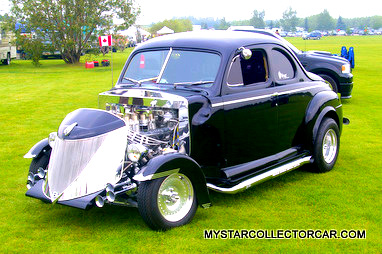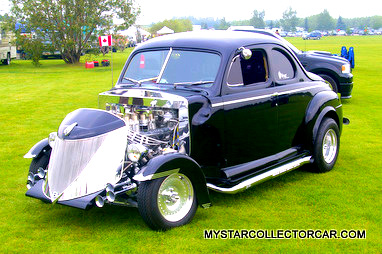 Hans Krumholz is one of those ultra-talented guys who can do anything.
He built his custom 1941 Ford from his own vision of a wild combination of power and beauty in a retro-ride.
The result is a stunning custom ride that he built over a five year period.
Most people think that Hans's Ford is actually a Willys, but the custom look hides a Blue Oval pedigree. It has a 428 Cobra Jet that has been balanced and blue-printed. The famous Ford big block can be heard from great distances if Hans runs his exhaust straight out from the headers via his electric cut-outs.
Hans liked the Prowler fender idea where they turned with the steering wheel, but his Ford fenders are pure Harley-Davidson. The custom hood owes its roots to the deck-lid of an original edition Volkswagen Beetle. Both hood and fenders are a seamless addition to this spectacular custom ride.
The Ford rides on an air suspension, plus it has a compressor-driven air horn from a big rig, so Hans can let people know he is around them. And we thought that the sound of an unrestricted big block was enough to get people's attention.
What were we thinking?
The finished look of Hans's incredibly well- crafted personal car project was enough to draw people to his car in large numbers. The crowd got even bigger when he fired it up for a dyno-test.
Beautiful car and virtually hand built but Hans is quick to point out that his Ford is no trailer queen. Hans loves to spend time on the road with his 1941 Ford, and he does it in style and comfort.
The air ride suspension and Recaro seats make every journey very comfortable for Hans.
As long as he routes his exhaust through the muffler system.
Jim Sutherland  
For more unique car stories please click here-https://www.mystarcollectorcar.com/2-features/stories.html