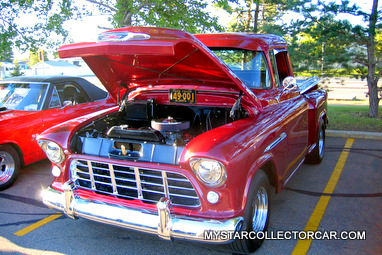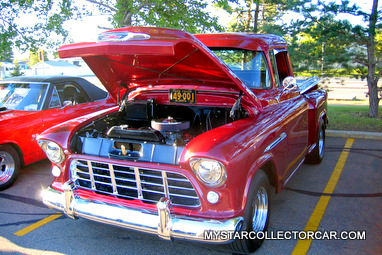 The old car and truck hobby is typically the stuff of dreams for car guys.
We all have our dream rides, but real life intrudes into the picture for most of us.
So most of us can only dream of a scenario where we are behind the wheel of our optimal fantasy car- the one with Marcia Brady riding shotgun.
Jim Thomas had always wanted a 1955 Chevy pickup truck. Marcia Brady never came up in the conversation with Jim, but he was more than willing to talk about his dream-come-true 1955 Chevy resto-mod truck.
Jim is the third owner of this very striking Chevy half ton. The previous owner had purchased it from the original owner in 1968. The Chevy had a facelift in 1988 when the previous owner painted it maroon and kicked the original green color to the curb.
It was pretty miled-out when Jim purchased it eight years ago, so he began a careful rejuvenation process for his dream truck. He did all the work himself in an old school knuckle-busting kind of way.
Slightly lowered from the removal of two leaf springs-the new stance really works well with the truck's body lines.
Jim dropped a mildly-cammed 350 into the truck and has captured a good blend of power and mileage from the combination. He can pull 20mpg at 65 mph out of the truck all day-every day. The variable is whether Jim feels the need for speed in his truck.
The current direction of gas prices might dull that need a tad in 2011. But the real need for Jim has been realized because he is the proud owner of his ultimate dream ride.And that is something that every guy wants in life.
Even more than Marcia Brady in most cases.

Jim Sutherland

For a great mix of truck stories please follow this link- https://www.mystarcollectorcar.com/3-the-stars/star-truckin.html