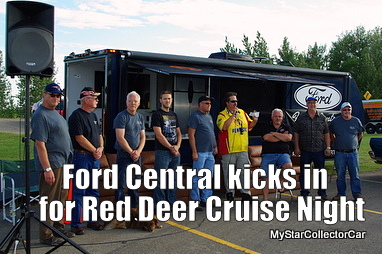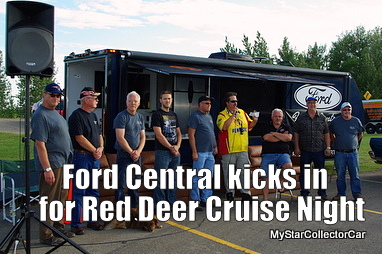 One of the fastest growing car shows in Canada takes place every Thursday during the summer in Red Deer, Alberta.
Red Deer Cruise Night was even given a Tourism Red Deer award as one of the favorite local attractions.
The event drew in a record 669 vehicles one Thursday in 2014 and organizer Dave Burden wants to topple that record at their new location at the Crossroads Church just outside of Red Deer on the old C&E Trail.
The new location has the parking space and Dave has the desire to keep building on his success, but the weekly event also requires a team of volunteers and significant financial investment to keep it alive and well in the future.
Dave likes to feature live bands and other attractions to cater to the large throng of visitors to his family-friendly event.
Each week is a challenge to cover the costs and keep the event on an upward swing so Dave relies upon donations to meet expenses.
Ford Central is a local club of Blue Oval enthusiasts who know how much time, effort and money it takes to put on a show because they host an annual Ford event in Red Deer.
They also hosted a major international Mustang meet a few years ago, so they are well aware of the ingredients needed for a successful car show.
Ford Central wanted to ensure that Red Deer Cruise Night continues to be a local tourist attraction so they doubled their previous contribution to the event and gave Dave Burden a 1000 dollar check to help with the event costs.
Ford Central members are well known for their generosity because they give their time and money to the car hobby in Central Alberta. They are an active club with a strong sense of community and are a big part of the local car culture.
MyStarCollectorCar wants to thank Ford Central for their generous donation to Red Deer Cruise Night. You people truly understand the basic car guy philosophy: lend a helping hand whenever you can.
Jim Sutherland
CLICK HERE to Like us on Facebook
CLICK HERE to Follow us on Twitter
CLICK HERE to Follow us on Pinterest
Please re-post this if you like this article.