Sometimes relationships just do not work for people or car companies.
The Kaiser-Frazer car company is a prime example of a case when two successful businessmen could not make their car company relationship work in the long run.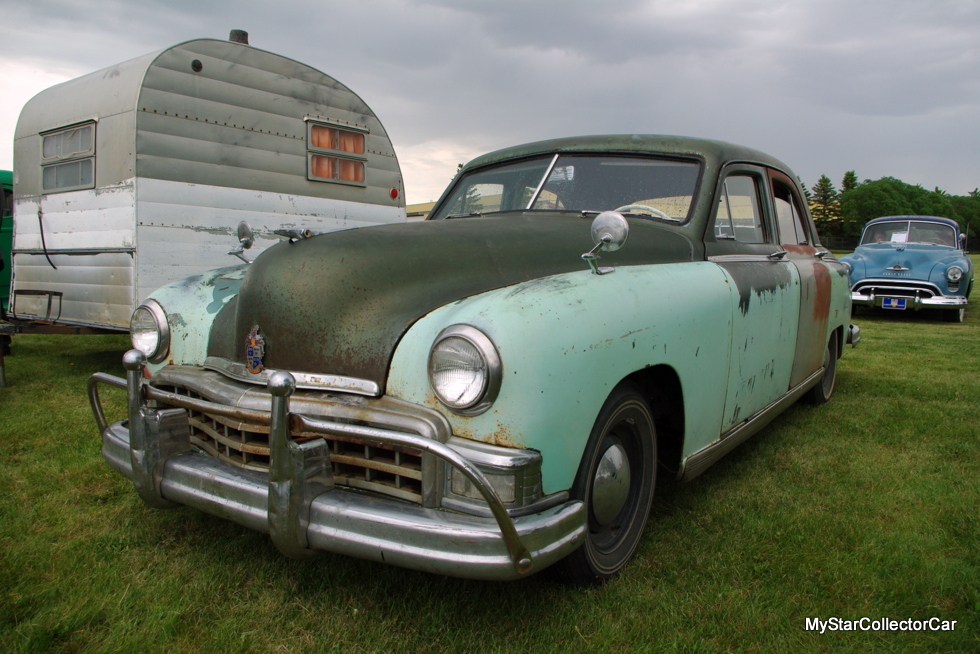 Henry J Kaiser and Joseph W. Frazer were the people behind the Kaiser-Frazer car company and its brief history in the domestic car industry. Kaiser was a rags-to-riches story that became a very successful industrialist who made a fortune as a ship-builder during World War Two. Frazer was also a rags-to-riches story who started his legacy as a blue collar worker at Packard and then ascended the ladder of success with that car company, along with GM and Chrysler over the years.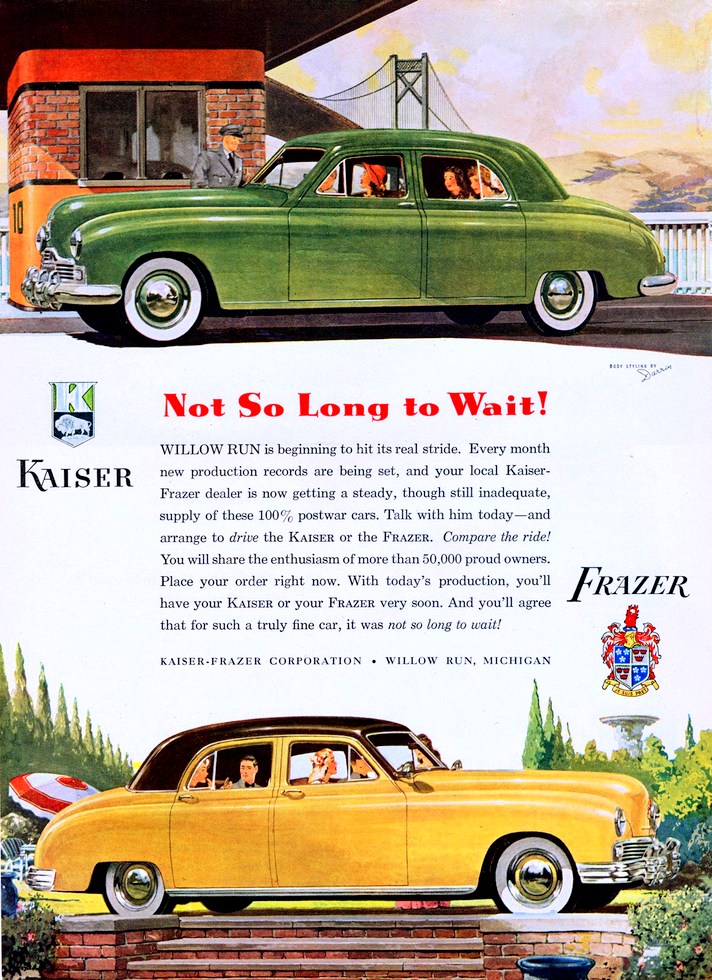 In fact, Frazer created the Plymouth brand during his marketing tenure with Chrysler before he left the Mopar world for a new role as president of Willys-Overland.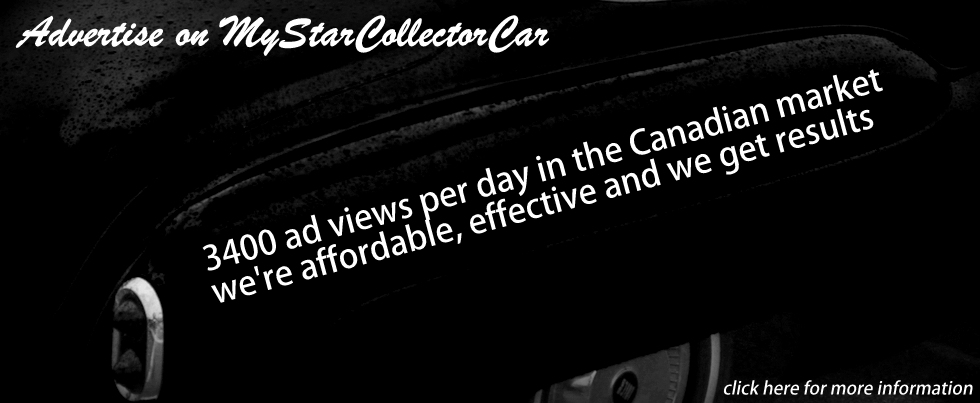 The post-war era was a notable period for domestic car builders because there was plenty of demand for new vehicles during that time frame. Frazer and Kaiser decided to combine forces and create a new car company for the North American market.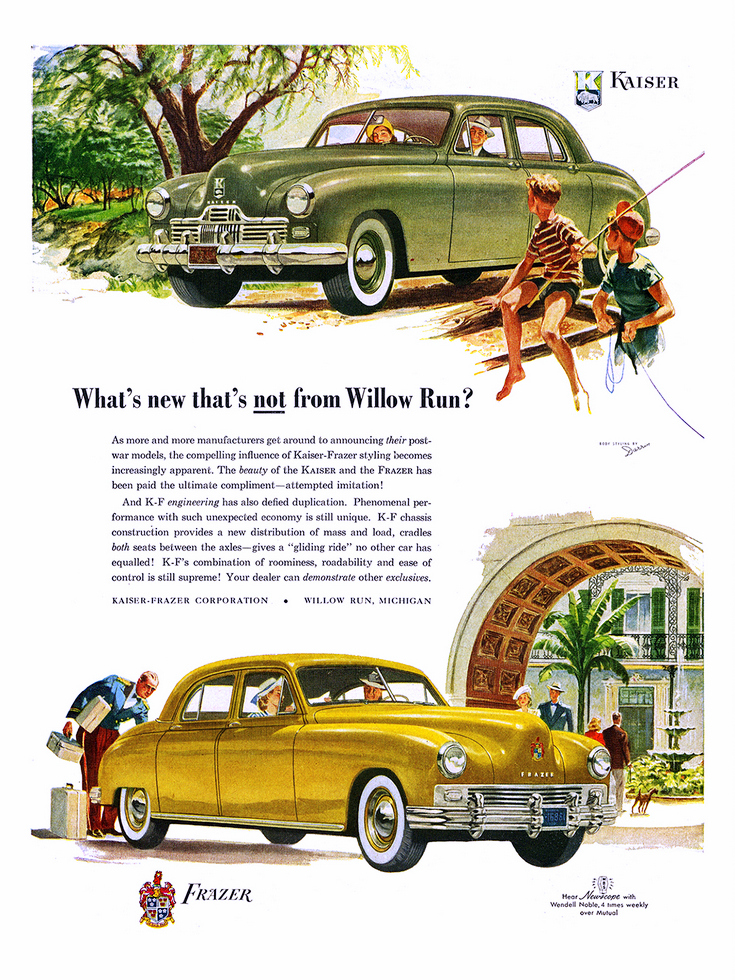 The Kaiser-Frazer car company hit the ground running when they acquired one of Ford's mothballed car factories and began to build both Kaiser and Frazer cars for an eager buying public.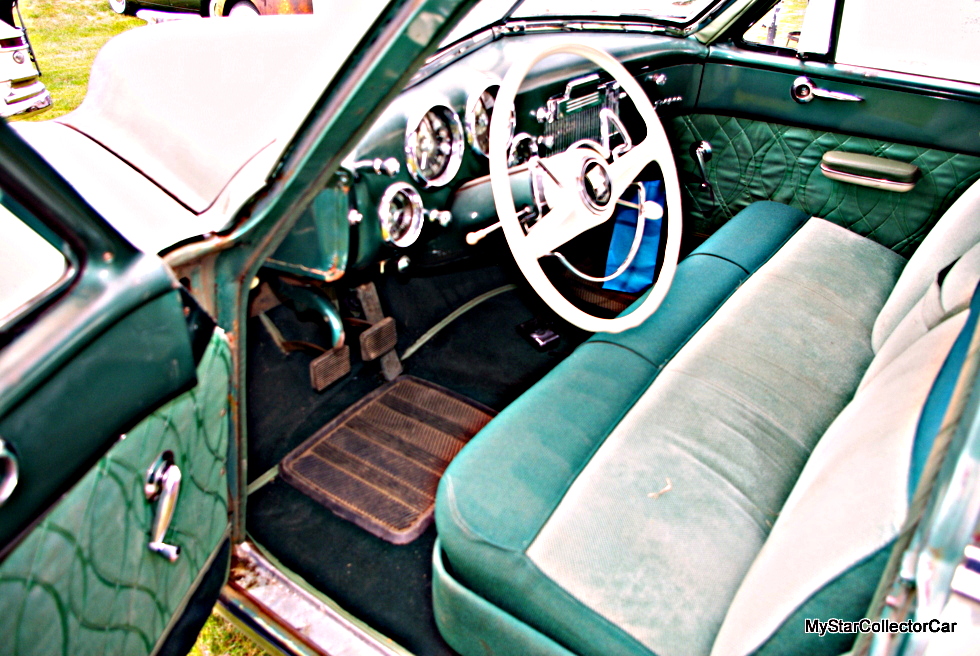 The early Kaiser-Frazer models were ahead of their time in many ways. Their brand new design had a sleeker and smoother body style that outgunned any of the Big Three products because Chrysler, GM and Ford were still locked into a late 1930s and early 1940s design that did not evolve because of the war effort.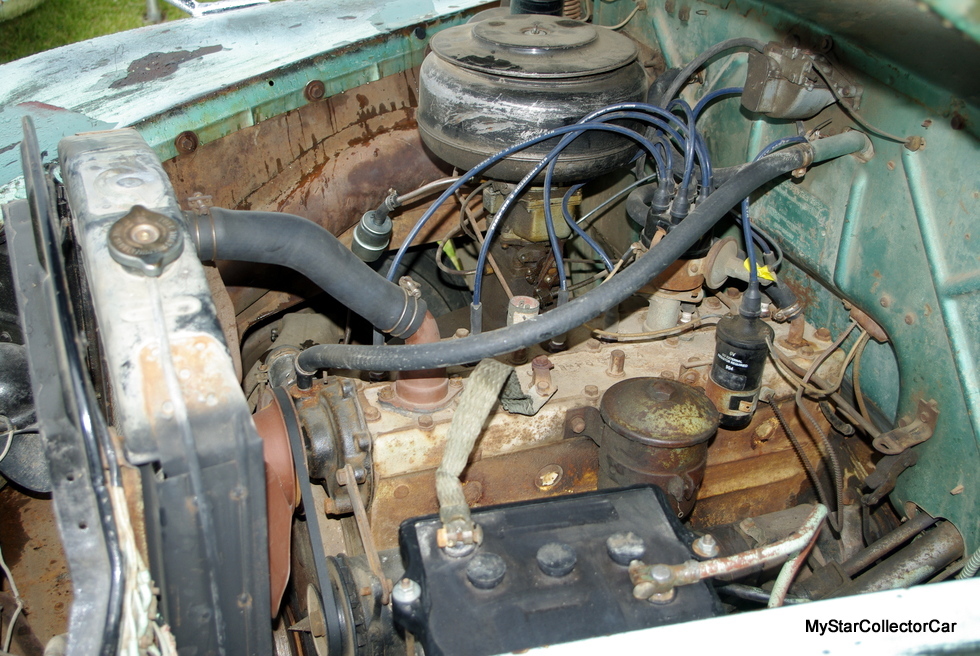 Kaiser-Frazer wanted to up the ante with numerous advanced features that added credibility to their advanced body style. Their cars were lower and sleeker than a car built by the Big Three, with narrower fenders that were welded in place-and not simply fat fenders that were bolted onto the body like the GM, Ford and Chrysler models.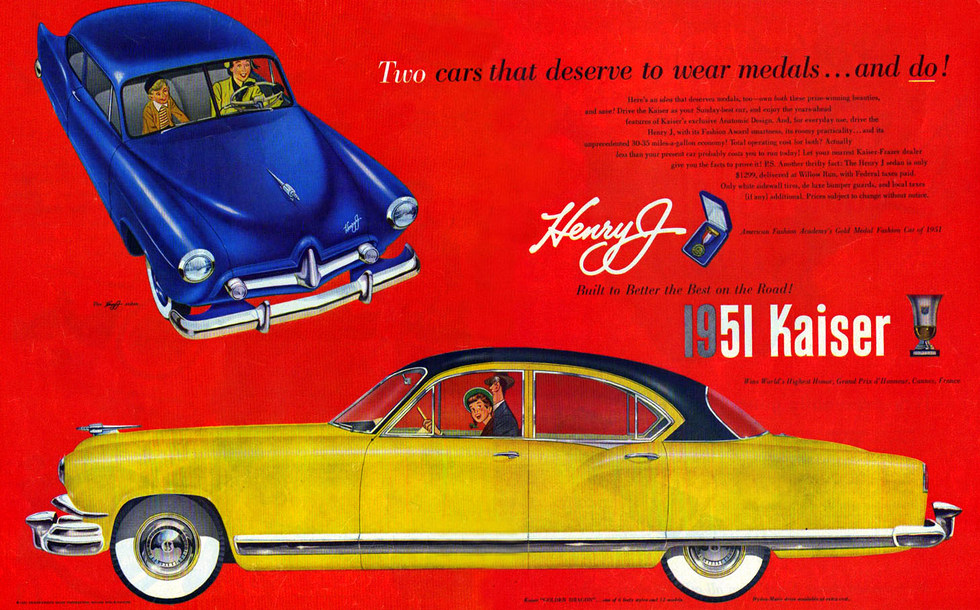 The Kaiser-Frazer cars offered more creature comforts such as independent suspensions, advanced fresh air heater systems, and even an automatic interior dome light system. Engine efficiency was increased with the introduction of aluminum alloy pistons for lighter weight inside the combustion chambers.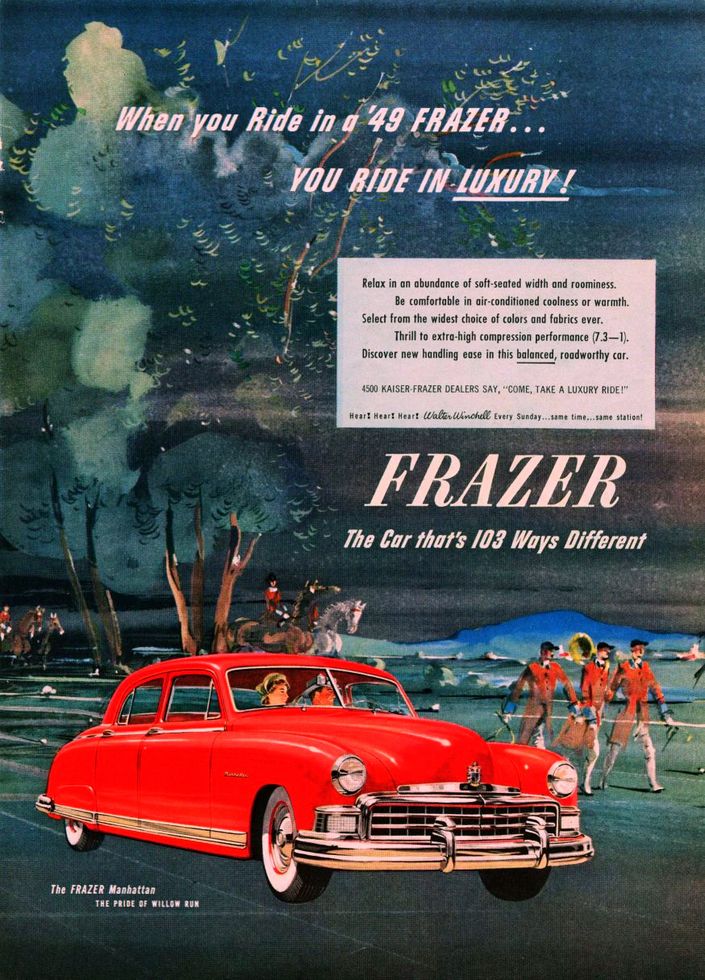 The result was a strong jump on the competition the early portion of the post-war years in North America; a place where kids and cars were produced at record rates. However, Kaiser-Frazer was unable to stay ahead of the competition as the 1940s came to a close because the big boys from Detroit caught up to them with a stunning array of new 1949 models.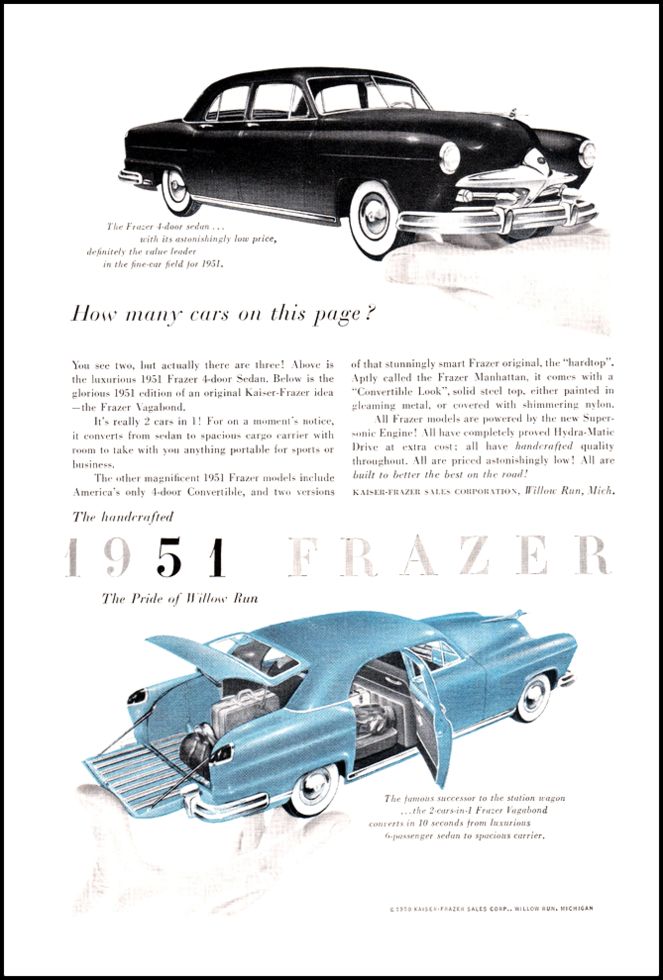 Kaiser-Frazer lost their "new style" advantage over the Big Three and were now forced to compete on a level playing field with the big dogs by 1949. Limited finances forced Kaiser-Frazer to make minimal style changes and instead concentrate on stretching their cars and budget. The limitations of a small car company created conflicts between Frazer's conservative approach to business–and Kaiser's aggressive approach to same.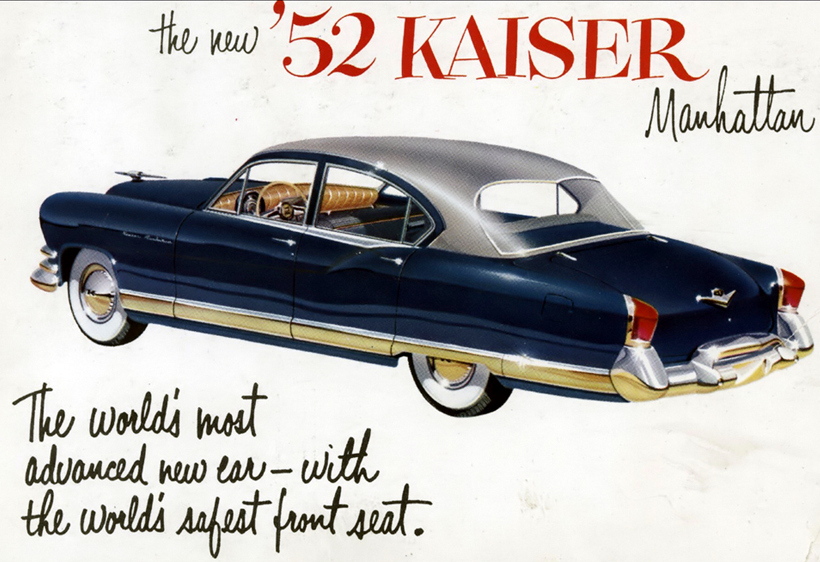 The clash of business philosophies between Kaiser and Frazer became a huge issue and the result was Frazer's resignation in 1951. The divorce was final and Kaiser-Frazer became Kaiser Motors Corporation until it limped into the dustbins of automotive history as Kaiser-Willys (most famous for its Jeep models) and built its last car models in 1955.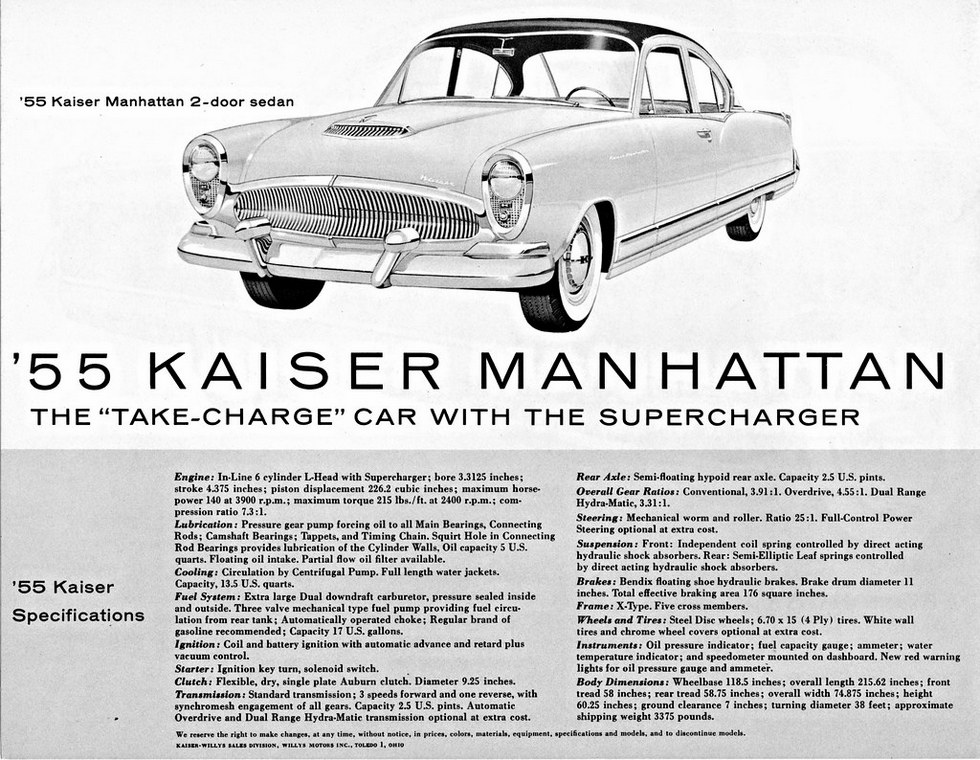 The Kaiser-Willys brand would keep the Jeep name alive, but the Frazer car was long gone by the time American Motors bought Kaiser-Willys in 1970, basically for the Jeep brand.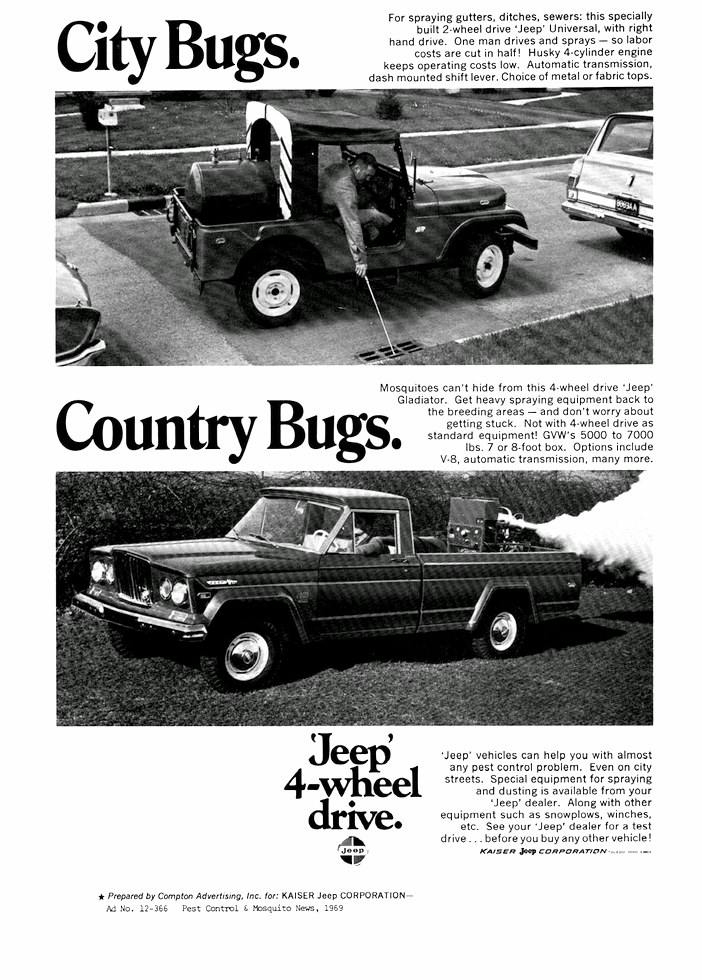 These days a 1947-51 Kaiser or Frazer will cause quite a stir at any car show because few people have even seen one in their lives. However, their post-war debut was a time when the little car company made a big wave in the car industry.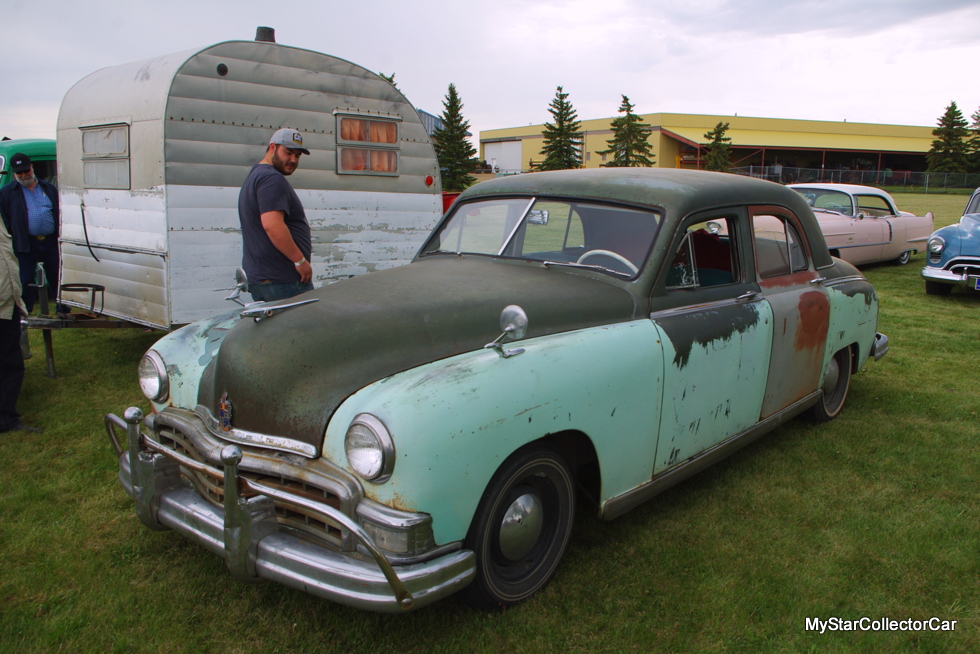 It was a brief moment in time before the honeymoon over for Kaiser and Frazer.  
BY: Jim Sutherland
Jim Sutherland is a veteran automotive writer whose work has been published by many major print and online publications. The list includes Calgary Herald, The Truth About Cars, Red Deer Advocate, RPM Magazine, Edmonton Journal, Montreal Gazette, Windsor Star, Vancouver Province, and Post Media Wheels Section.