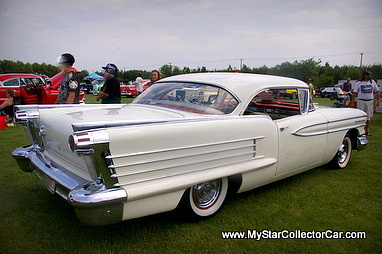 Very few people in North America have never seen a John Wayne movie.
The odds are astronomical because the Duke was a movie legend who rode the big screen with a flair and a presence that will never be seen again.
Ryan Rexin is one of those rare people because he's never seen a John Wayne movie.
But he owns John Wayne's 1958 Oldsmobile Eighty Eight.
Ryan explained the story behind the car, "It came out of a John Wayne estate sale and the guy who bought it was a John Wayne fanatic. It was part of his estate but it was a car that he probably never drove. If you worked for John Wayne you probably drove this car but it was registered in his name".
The next part is an all too familiar narrative as Ryan added, "He (2nd owner) had to sell it to get married so it showed up in an ad that my Grandfather saw in the late 70s. He bought it right away".
This is the kind of car that has a large presence on its own without the link to a huge Hollywood star. Ryan literally grew up with the big Olds as he recalled, "Me and my sister got to ride in this car when I was 6. He drove it a bit but mostly it sat a lot in the garage and that kept the miles down".
Ryan had some very fond memories of the big Olds so naturally when it came up for sale he was interested, "I bought it off Grandpa and it had 31,600 miles on it. Now it has 51,000 miles".
The car was virtually frozen in time as Ryan explained, "It still had bias ply tires from when Grandpa owned it plus it still has 3 original T-3 headlights".
The big Olds has no trouble with speed on the highway, "It's got the 371 under the hood, that was the last year but they downsized it by ten horses for better fuel economy".
The driving experience is exactly what you'd expect with a large, late 50s car that was built for the turnpike. Ryan outlined what it's like, "It's awesome on the road and it holds best at 65-70 miles per hour but below 55 the speedo clicks a little".
The Olds is little deceptive, "I have to look down because it creeps past 75 pretty easy so I have to look down and slow down because you have to see down the road to plan a stop in a big car like this".
Ryan doesn't treat this car like a trailer queen or Hollywood star so it sees a lot of real world travel. Anyone who has driven an old ride knows that this comes with a built-in adventure factor and Ryan has had a few as he recalled, " I was coming out of Radium (British Columbia) in a combination of rain and snow and the vacuum quit working so there went the wipers. But other than that the only other thing was a power steering leak and it's been on the road a lot".
Ryan is the kind of owner who really makes the grade at MyStarCollectorCar because he's a committed owner who loves his car and drives the wheels off it plus this Olds has that direct family connection to his grandfather.
The John Wayne connection makes this car even cooler and Ryan did leave with a promise to watch a few Duke movies to honor its original owner.
It just seemed right.
Jerry Sutherland