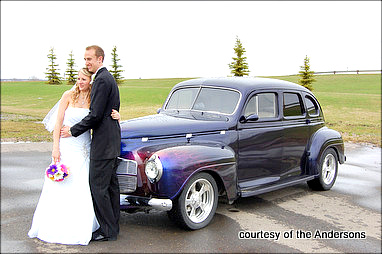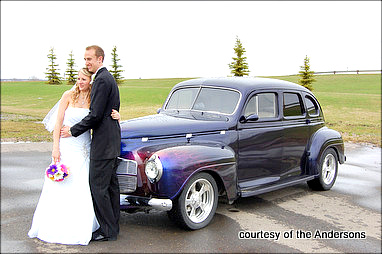 Long-term MSCC readers will recognize this car because it was in the first edition back in April 2009.
Tim and Nancy Anderson have quite an immediate family history with this 1940 Dodge because it was used in 3 family weddings.
That makes this classic Mopar an All-Star MyStarCollectorCar wedding car.
The latest wedding took place on May 5, 2012 and, as usual, the old Dodge was a big part of the family history so Melissa and Justin kept the Anderson tradition alive and well.
Tim made the ultimate car guy sacrifice that day because it was cold and wet-two things that gear heads hate more than death and taxes. He was philosophical about the brutal weather because he knew that the old Dodge would have been there even if it had to be towed to the church behind a truck. No sacrifice is too great for a traditional family wedding.
In reality, there was very little chance that the old Dodge would let the bridal party down thanks to Tim's involvement in the car from Day 1.
Here's part of the original text from 2009.
"Tim is a hands-on guy. He is one of those rare naturally talented guys that most of us aren't. 12 years ago Tim decided that he wanted to take on a street and strip car project. It came with two conditions: one, it had to be 100% Chrysler. That was Tim's condition. The second was his wife's condition…
The car had to be able to comfortably haul the kids so Tim was faced with the daunting prospect of building a 12-second soccer mom car. Try building a car to haul around the Walton family in comfort and still make it incredibly fast.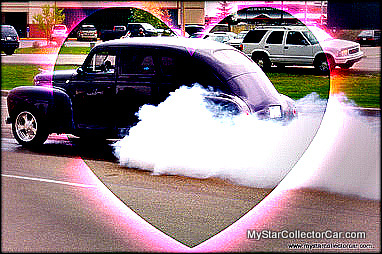 One more thing-the car had to be built on a strict budget that gave priority to things like schoolbooks over a new big block motor. Tim found the perfect car-a 1940 Dodge 4 door sedan. Lots of rear seat room for the kids and lots of room under the hood for a giant 458 cubic inch Mopar monster motor. He kept it fairly sedate looking to sell his wife on the functional suburban family hauler idea.
The family came first but a few years ago Tim debuted the car at a show and then the drag strip. You might wonder how the car did after years of building. Tim does a 12 second 109 mph quarter mile and hauls the family to as many shows as he can. In fact the car is such a part of the family it was the wedding car for his son and his new bride-no; they weren't late for any of the ceremonies.
Driving the thirsty Dodge in the summer of 2008 was less frequent simply because a tank of gas cost the equivalent of a mortgage payment. The hi-test stuff that Tim runs cost three mortgage payments per tank. That just goes to prove that car guys with families are always sticking to a budget-even after the car is done.
The car is a veteran of two family weddings and many other events as Tim's wife Nancy explained, "We've used the Dodge in two of our children's weddings. Our son James Anderson was married to Nicky Majak on June 14, 2008 . We've used it as special transportation for the kid's graduations as well as the weddings. It's a unique form of transportation that not many people have the opportunity of using and we feel privileged to be able to have it and use it".
In June 2010 the sensible street machine was invited to its second wedding and it was a big hit. Nancy added some detail to the event " This past summer, our daughter, Katelyn Anderson was married to Jeff Young on June 5, 2010. They used the 1940 Dodge again as their wedding vehicle and added a new Challenger as a bridal teammate.
The cars looked great, the wedding party looked great-in fact the only glitch came when Tim wanted to do a celebratory 1940 Dodge burnout (against his wife Nancy's better judgment) when he left the church with the happy couple in the back of the car.
Melissa and Justin were the latest members of the Anderson family to invite this big, bad 1940 Dodge to their wedding but there's little doubt that Grandpa Tim will be wheeling the family legacy to his grandchildrens' weddings.
That's how it works with All Star wedding cars.
Jerry Sutherland
Follow us on Facebook at-http://www.facebook.com/MyStarCollectorCar
Follow us on Twitter at- https://twitter.com/#!/MyStarCollecto1