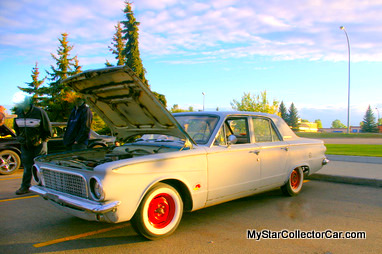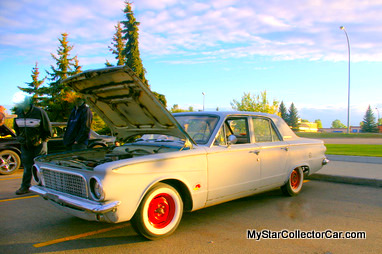 A 1963 Valiant six-cylinder is rarely the stuff of automobile dreams for most kids from Generation Y.
In fact, Andrew, the young owner of a 1964 Valiant, found that his buddies are also members of Generation Why? – when it comes to his retro-ride.
Andrew has always been a big fan of vehicles from the ancient time long before he was born into the tuner car generation.
Andrew has kept his car in primer because he wanted to spend a summer behind the wheel of his 1963 daily driver. He used it to commute to his job as an auto body mechanic. His shop was out of town, but an economical slant six engine in his light compact meant that Andrew saved money on gas.
Andrew could use the gas savings and purchase price ($800.00) to invest in his dream of an original color paint scheme for the little Mopar.
His buddies think his choice of wheels is hilarious, but Andrew is unfazed by their attitudes. He never was a huge tuner car guy so, if he has to go against the grain of his generation, then so be it-Andrew is not concerned about peer pressure.
In fact, one of Andrew's biggest automotive influences was an uncle whose first car was an early '60s Valiant.
Andrew has never driven a car that did not have power steering and power brakes before the Valiant.
But then Andrew never really worried about those features on his vision of a dream car built before he was built-by quite a large margin.
Jim Sutherland
Many more car stories at – https://www.mystarcollectorcar.com/