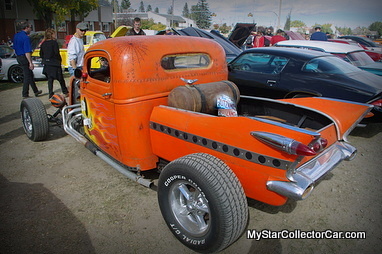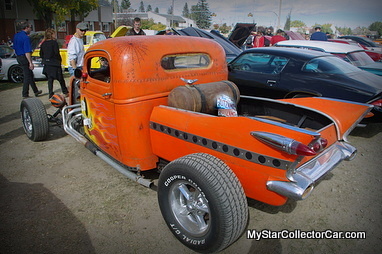 Rat rods are the ultimate mix and match rides.
They adhere to the old school, junkyard philosophy where you pick a part at a wreckers and make it fit.
Rat rod builders often refer to themselves as artists and you can really see this when you dig deeper on a rattie.
This Psycho Billy Cadillac is definitely a work of art.
Barry Tell is the proud owner of this rattie and he was happy to explain the history behind this unique ride. He recalled, " I wanted a rat rod and if I got one my girl friend got a new Camaro so it worked out".
He found this car in December 2012 and got into an online auction where he threw a frivolous bid at the rattie and won the bid, "reserve hadn't been met but nobody outbid me so I got it".
Barry had it shipped to Great Falls Montana, "That was tricky but I got lucky and did get an enclosed trailer and got it across the border".
That trip across the border meant new hurdles for the rattie, "It was barely together, it took a lot of work and tweaking to get it going and now it's got new headlights but I do need a new taillight. It was a big job to get it registered too because it was out of province". Barry is a persistent guy so he made it happen.
This '39 Chevy is an extremely diverse mix of car parts even by rat rods standards. Barry listed off some of the parts that make up this hybrid ride, "This is based on a '39 Chevy 1/2 ton truck that was pretty rough but the frame was from a '49 Ford truck".
There are a lot of other add-ons in the Psycho Billy, "The front and back bumpers are from a '53 Buick and the tail lights are from a '53 Pontiac. The right rear quarter is from a fridge door and the handle's still on it and the front bumper is held on by wood".
The icing on the cake is found on the back half of the truck as Barry explained, " My granddad had a '59 Caddy so I always loved the fins and this has them". The fins drew people to this truck like they were giving away free beer and it made this rattie stand out at a huge show.
The front grille is from a '29 Mopar and the seats are straight out of a Karmann Ghia, so the Psycho Billy is truly international in scope. That's a big part of the appeal for Barry.
Barry is proud of the basic power train, "It's a 305 Chevy out of a '77 Nova and it's got a 3:08 rear end so it does okay on the road. They were a pretty good engine".
Despite the reliable engine under the hood this rattie is a major challenge on the road as Barry admitted, "It pretty much goes where it wants to go.I've had it up to 100 and whatever direction it bounces, that's where you go because it's only 2000 pounds".
Ratties are definitely not built for comfort and the Psycho Billy is no exception, "It's pretty loud and it doesn't have any windows plus you smell like exhaust when you get out of it.You sure know when you ride in it because it takes a lot of work to drive it".
Barry is one of those guys who loves to tell a story so he's the perfect owner for the Psycho Billy because this rattie is a question generator at shows.
Jerry Sutherland