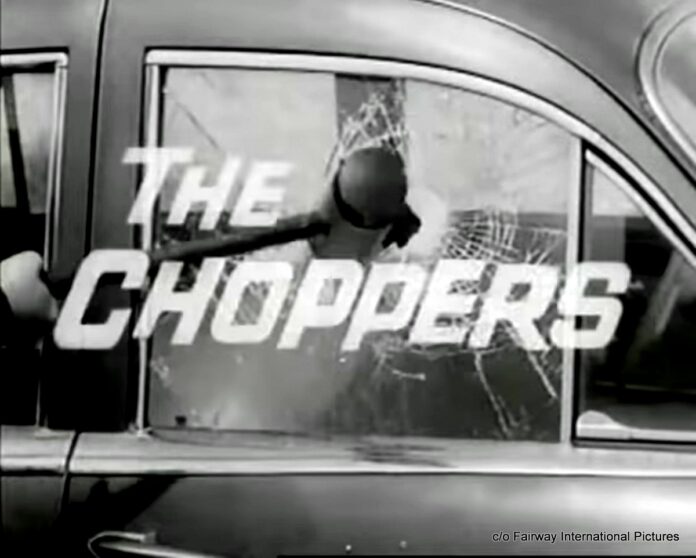 B-movies are what made drive-ins great because you didn't go to drive-ins to see a European art movie.
You went to drive-ins because you wanted to see a movie with a plot so basic a five-year-old could follow it.
The storyline is pretty simple. A group of punks strip cars and sell the parts to a morally bankrupt junk dealer. These guys run a well-oiled machine because they cover their tracks when they strip a car by driving a big farm truck—they can run any police barricades with the chicken-hauler.
The chicken-hauler was a 1947 Chevrolet Advance-Design 2-ton truck. The outside perimeter was full of chickens, but the inside was full of tools and more punks—it was the perfect cover–until it wasn't.
The second star of 'The Choppers' is a 1959 Buick Electra 225 convertible.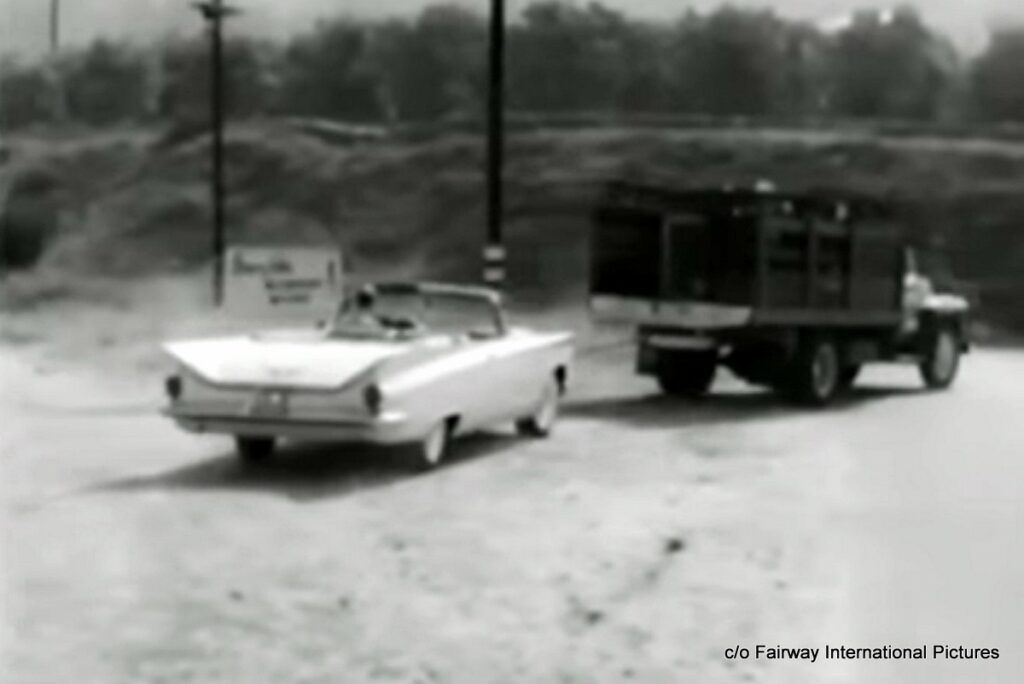 The crooks have a pretty basic game plan. They turn a car on its side and then strip everything they can in about five minutes. That's what they did to this 1959 Buick Electra 225 convertible—although it's clear the car they tipped wasn't a '59 Buick.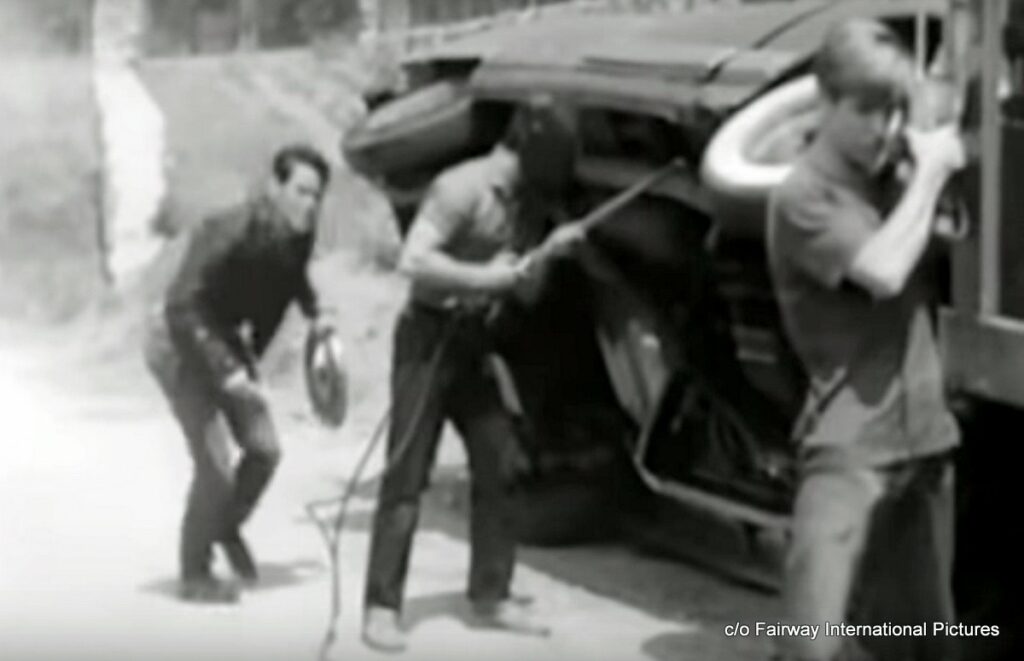 The third star of the movie is a 1959 Chevy Biscayne police car.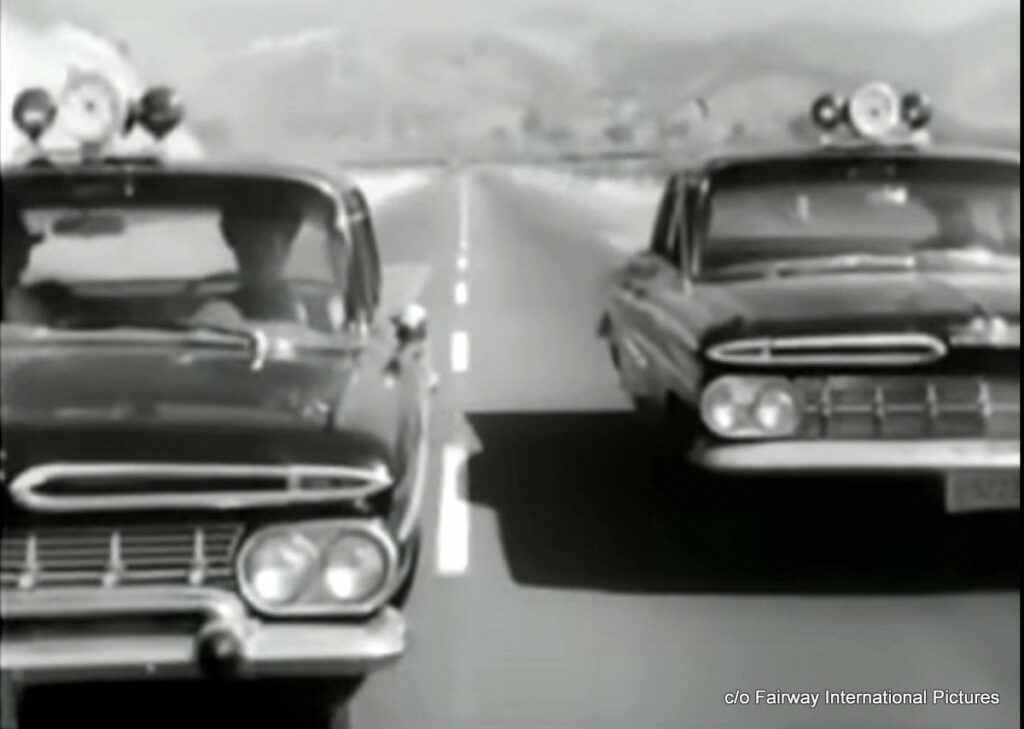 This is pretty realistic because '59 Chevys were affordable vehicles for law enforcement. You'll see a few of these Biscaynes put through their paces as they chase the parts-stealing punks—you definitely won't mistake them for today's road-hugging police SUVs.
The fourth star was another police car.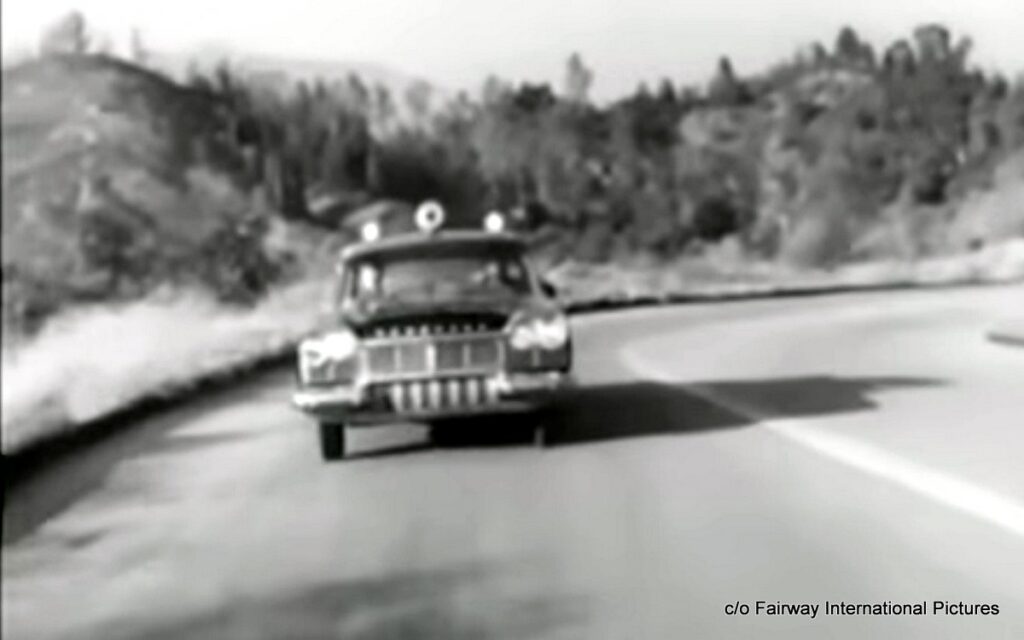 This time it's a '57 Plymouth Plaza. Police agencies loved these cars too back in the day because they were reliable, affordable, handled well, and had decent top speeds. In this case, the Plaza was only seen briefly when it pulls in behind the chicken truck—when the truck is stopped the Plymouth turns into a '59 Chevy.
The other thing that jumps out is when the driver puts his cowboy hat on backwards in one scene, then wears it properly in the next scene. This is the same kind of movie magic that can turn a '57 Plymouth into a '59 Chevy.
The fifth star is a T-bucket.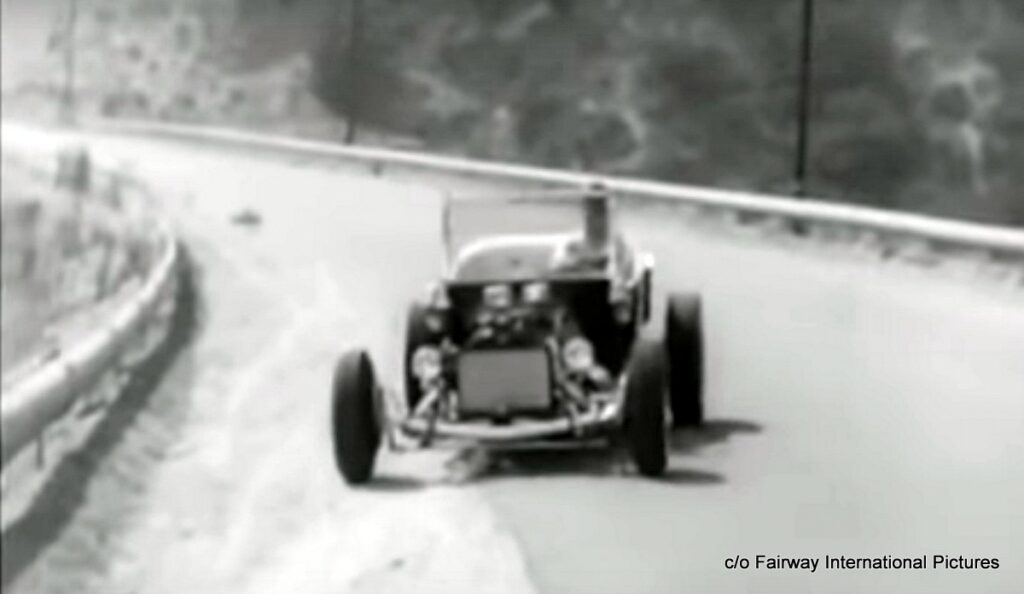 A T-bucket is a car star on its own, but back in 1961 these street rods were the default ride for aspiring young hoodlums. This car plays a role throughout the movie because it's a scout car and distraction for the police when they get too close to the operation.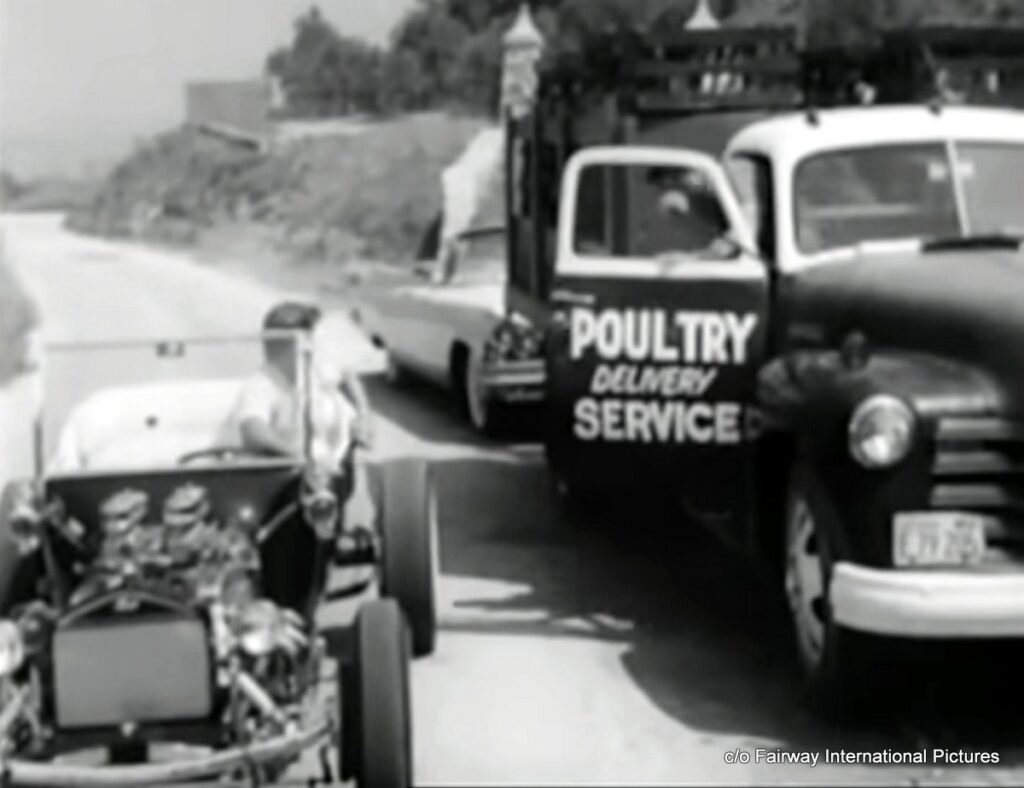 The cars were cool, but the ending was a bloodbath. Bullets fly and bad guys die over a stolen car ring. I was amazed at how many police resources were aimed at a group of punk car thieves.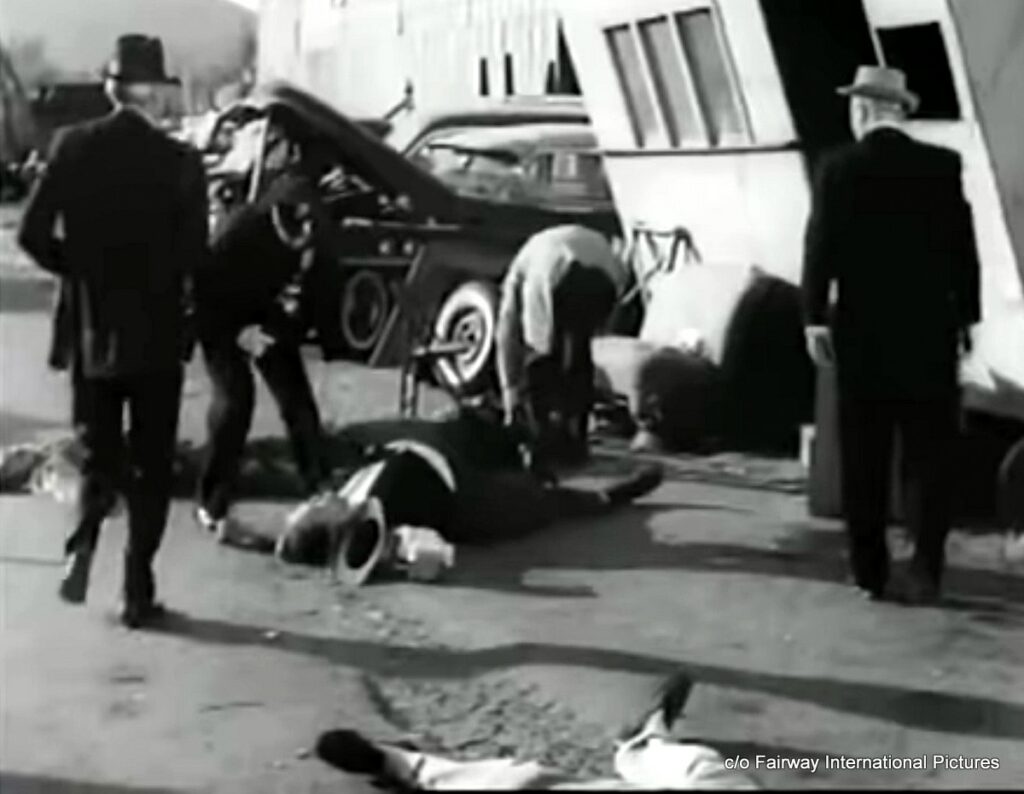 Police don't even chase car thieves anymore, but apparently back in 1961 they not only chased them—police took car thieves out faster than bad guys in a Quentin Tarantino movie.
By: Jerry Sutherland
Jerry Sutherland is a veteran automotive writer with a primary focus on the collector car hobby. His work has been published in many outlets and publications, including the National Post, Calgary Herald, Edmonton Journal, Ottawa Citizen, Montreal Gazette, Saskatoon StarPhoenix, Regina Leader-Post, Vancouver Sun and The Truth About Cars. He is also a regular contributor to Auto Roundup Publications.
Please re-post this if you like this article.