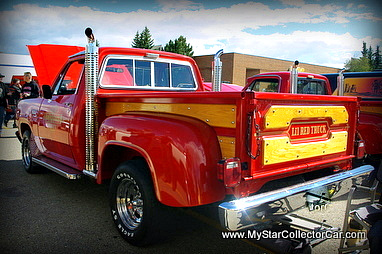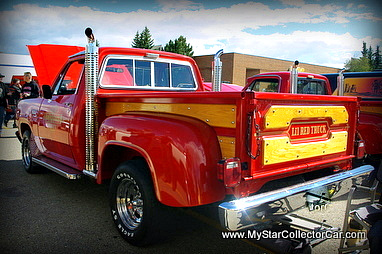 The late 70s were a tough time for popular music and Detroit iron.
The music and the cars had lost a lot of muscle and their neutered replacements were nowhere near their predecessors.
Imagine a decade that began with the promise of the Doors and ended with the Stones singing disco music, while late 70s Detroit completely hobbled the kind of horsepower that melted tires in the early 70s.
1979 was a rough time for brute force street machines and one of the few exceptions was the Dodge Little Red Express. Here was a truck that walked the walk in '79 because it offered a glimmer of hope that muscle was not completely off the table in Detroit.
The Little Red Express was outrageous because it was a fiery red short box pickup with exhaust stacks right behind the rear cab. It ran a 360 four barrel that could get from point A to point B much faster than anything outside of the Corvette in 1979.
We encounter a handful of Little Red Expresses every year at car shows-no more and no less because these trucks were not produced in huge numbers. Consequently we were happy to find Ken Carlson and his very original Little Red last summer at a Mopar meet.
Ken's truck was a survivor that had been used as a working farm truck by its previous owner. The former owner even used it to haul a horse trailer with four horses in it on a long road trip that started in central Alberta Canada and ended up in northwestern BC after a trip through the Rocky Mountains.
This Little Red Express had more than enough horsepower under the hood to haul the four horses in the trailer behind it.
Eventually the truck ended up with Ken when his cousin's husband decided that Ken wanted it more than he needed it and told Ken "it's yours". Ken had always liked the truck and was happy to get it back in 1991.
The Little Red needed little mechanical repair and Ken only had to change the outside ring on the oil pump along with the installation of new push rods. It is a very original survivor truck that even wears the wounds of a horse bite on one of the Little Red Express symbols. The running boards are original dealer installed add-ons.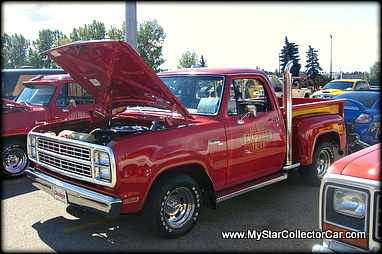 Ken used to trailer the truck to shows until one day when he asked himself "what the hell am I doing trailering this truck?" and was unable to find a good answer. Now he drives his Little Red Express to most shows and enjoys every minute of the trips, including one show in Kalispell Montana where he won an award because of its originality.
The truck is destined to stay in Ken's family for a long time because Ken's grandson made a big pitch for it when the kid was 3 years old and even put some sweat equity into the deal by polishing the Little Red's wheels among other things.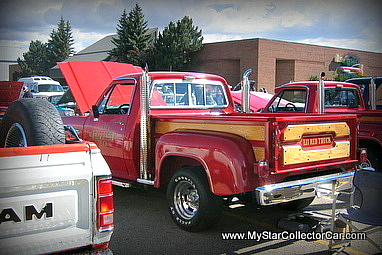 "Little Brandyn" will be 22 this year and he is still excited to be the heir apparent to his granddad's prized Little Red.
Great succession plan Ken, we at MyStarCollectorCar salute you.
Jim Sutherland
Take a look at this 2009 MSCC article about a 1981 Dodge 150 that stayed in the family.