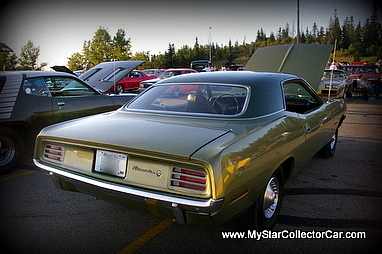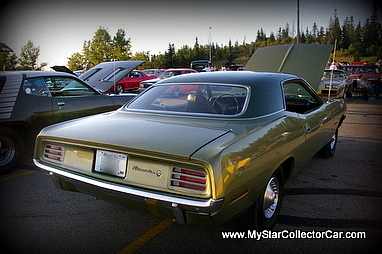 Dave and Tamara Lutz are the definitive car hobby couple because they bring "his and her" rides to the game.
Tamara is the proud owner of this 1970 Barracuda and Dave owns a 1972 Road Runner.
Clearly the Plymouth name plate resonates well in the Lutz family.
Tamara's Barracuda is a very stock-looking Mopar but it spent the 1970s as a non-factory street racer in Regina, Saskatchewan. This car was originally an entry level ride because it came with a pretty basic build sheet but Dave added, "it was street raced through the 70s and all the trim was gone. It was a basket case."
Despite the missing and altered pieces Dave adhered to the factory specs on this Barracuda, "This was a rotisserie job so the trunk and floor pans were replaced but the original door panels were kept but I did do the interior back to factory specs. It's totally stock and done to the build sheet".
The engine was another issue but Dave solved that problem, "they put a '73 340 in it and it still had the nitrous intakes. He told me it wouldn't run because there no gas tank but I solved that problem and the fact that it didn't have a gas pedal so I had to see if it would work with a manual throttle. It did".
Dave actually took this vintage Barracuda to a higher level than 1970 as he explained, "I replaced every nut and bolt on this car or refinished it better than new. I wasn't after exact factory correct , I wanted to take it to a higher level than that but I don't know if I'd take one to that extent again because I even went to matching paint under panels that will never be seen again".
Despite the clear attention to details, this car was done in a relatively short period of time, "I started the teardown in 2001 and build up in 2002. This car was running in the spring of 2003". That might sound like a long time to non-car people but to car guys this is speed of light efficiency in a car project.
The car is a regular driver as Tamara reported, " I've driven it about 9000 miles so far. We used to take it a few hundred miles to Mopar shows and we put a lot of miles on it in the summer going to local shows".
Tamara is now a veteran of the old car experience because she has spent time on the side of the road. Dave explained the problem, "She was out there playing in her car and the points were burned plus the float needle was stuck so it flooded and burned up a new filter but we were lucky because that was all that happened. What do you do? These things happen with older cars".
The end result is a great blend of the car hobby and marriage as Dave concluded:
"This one's the wife's car. It was a lot of work but it's the best car in my fleet. That's a good thing".
Jerry Sutherland