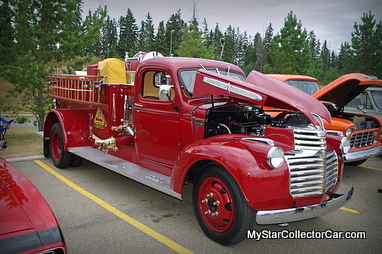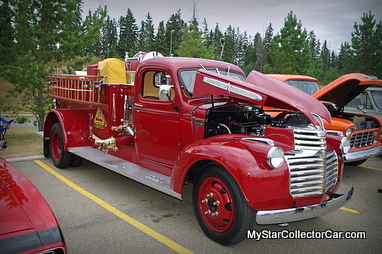 Dave Webster has one of the coolest full-sized toys we have ever seen: A 1942 General Motors fire truck.
Car guys were once car kids and most of us wanted a toy fire truck as a Christmas present, so we were very excited to find one under the tree.
None of us will ever dispute the fact that toy fire trucks make a great Christmas gift, but nothing would match Dave's full-sized version.
His 1942 General Motors fire truck with 6000 miles on it is the only one in existence according to Dave.
This rescue unit was used on a US airfield during WW II as a crash scene truck during a time when planes were a big part of the war effort.
The truck was built during the early stages of American WW II involvement and Dave pointed out various manufacturing issues found on the truck because of a metal shortage in 1942.
The GMC has many different bolt types because the manufacturers used what was available to them at the time.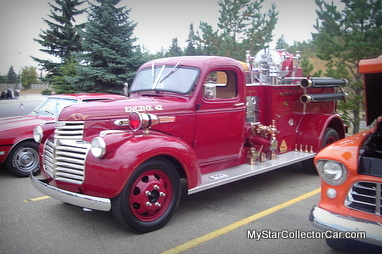 The welding did not exactly meet Dave's standards but he was quick to acknowledge his truck was produced during a time when quantity trumped quality for manufacturers.
Dave has enjoyed a long career as an oilfield firefighter and it seems appropriate that he has an interest in the antique fire truck hobby.
The truck took him 2 ½ years to restore after he purchased it. In Dave's words; "Once we started, we kept going every day".
The fire truck restoration was a frame-off process that Dave described as "very hands-on" and it really shows in the quality of work behind this project.
Every element of the truck has been re-furbished, from the interior to the instrument cluster.The details in the truck finish include flames in the roof paint and a helmet embossed in the door.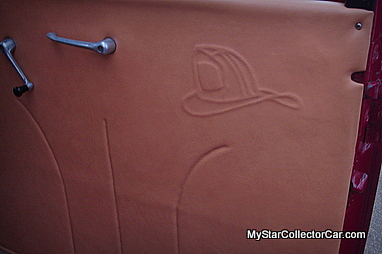 The fire truck retains its original power train and will do about 48 mph when Dave is in a big hurry.
However, Dave is rarely in a hurry behind the wheel of Engine 42 because the truck is so much fun to drive on the road.
The trick is to get the truck into fourth gear and then "everything goes silent", according to Dave.
He also adds its brake system takes a lot of real estate to stop the truck at higher speeds, so he is content to take his time and enjoy the scenery along the way.
Once he gets to a show or event he can expect to answer a lot of questions from very curious onlookers about his unusual conversation piece.
Dave likes to explain his fire truck's new role as a fire starter because his truck now houses an 80,000 BTU barbeque that could probably feed his city's entire crew of firefighters.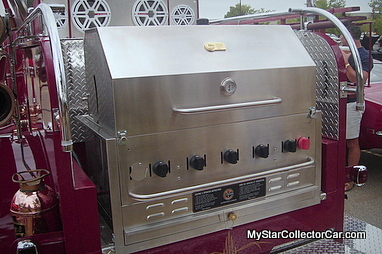 In fact the truck is a full-blown party wagon and has a crazy sound system to complement the BBQ feature.
The truck has become an ultra-cool entertainment center in its retirement years and now spends its time with Dave at golf tournaments, parades, company parties and car shows as a very clever marketing tool for his Canadian Firemaster business.
We doubt whether this fire truck has many equals when it comes to a creative sales and marketing plan judging from the reaction of people when they see this stylish piece of history from WWII.
Jim Sutherland