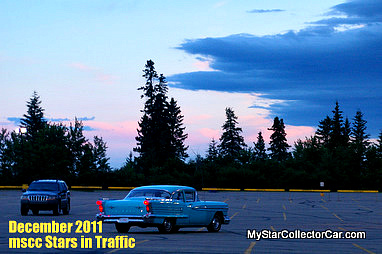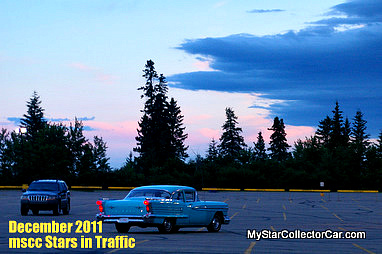 DECEMBER 2011 STARS IN TRAFFIC-BREAKING THROUGH THE TIME BARRIER
There are two sure ways to travel back in time-the Starship Enterprise is one way. Simply loop around the sun and get up to Warp 10 in reverse orbit and watch the clock roll back.
The other, more realistic way to travel back in time is much simpler. Look for the old iron in traffic because one well placed 67 Cougar or 55 Chrysler is an instant step back in time. Old iron takes a whole row of new cars back in time through sheer presence so a 48 Cadillac can confer an antique aura on a brand new Hyundai.
That's a good thing so here are some mscc Stars in Traffic for December 2011.
For past mscc Stars in Traffic please click here- https://www.mystarcollectorcar.com/3-the-stars/stars-in-traffic.html