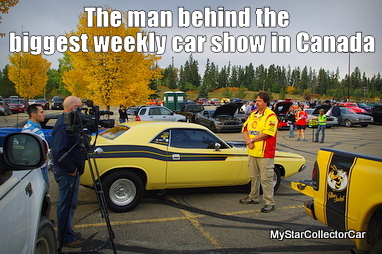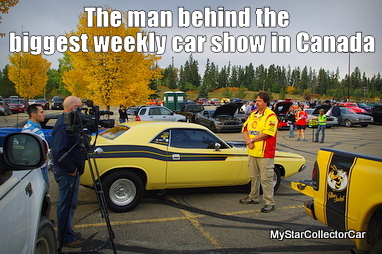 Challenger Dave Burden is one of those guys you need to make an event a success because he is willing to donate his time, energy and organizational skills to Canada's biggest weekly drop-in car show.
The weekly celebration of gearheads takes place every Thursday from May until October in Red Deer Alberta Canada and Dave is directly responsible for its growth and success.
Red Deer Cruise Night started as a modest little weekly drop-in gathering in a small parking lot in 2003 and has outgrown several parking lots along the way.
Dave was well aware of the car culture in Red Deer because he is part of the culture and owns a bright yellow vintage Challenger that has become his signature car, thus the moniker "Challenger Dave".
The role of a volunteer is a thankless job because you will be the lightning rod for any and all issues for the event.
However, Dave is the right guy for the job because he wants to showcase the car hobby and give it the spotlight it deserves in his town.
His Cruise Night has become a premier event on the car show circuit and Dave has been able to bring car guys from all over Alberta, western Canada and even the United States to his weekly gathering of gearheads.
In fact, the event now has a life of its own and attracts hundreds of cars to the weekly show. Dave has also added food vendors, kid-oriented play areas, official Cruise Night photographer Christina McCauley, and live bands to Cruise Night.
The show also coincides with a midway once a year. The result is a weekly event that has broad appeal and a festival atmosphere for all participants.
However, the main stars are still the wide range of cars and trucks at the show.
Dave has an inclusive philosophy at the show, so he includes new age tuner cars and new muscle cars in the mix. But the big stars will always be the vintage rides at his show and they range from mild to wild every week.
The sheer volume of vehicles at Cruise Night will satisfy a broad range of interests and tastes in the car hobby. You will see anything from large military vehicles to ¼ mile rockets to bone stock survivors at Cruise Night-and everything in between.
The warmer the weather, the bigger the show and this year Dave nudged 700 rides on his biggest night.
We mentioned how Dave has outgrown several parking lots along the way, but he is happy with his current location because it gives him enough space to handle the volume for the foreseeable future.
Dave will continue to set the bar higher and wants to hit 800 in 2015. He is very weather dependent and needs perfect conditions every week to meet his expectations for a good turnout.
Dave totally understands the car guy philosophy and knows they will only bring out their rides in good weather, so he is a big fan of sunny days on Thursdays.
We at MyStarCollectorCar.com are very grateful for Dave and his weekly gathering of the car guy faithful.
He has provided us with access to some great stories over the years and we look forward to many more in the future.
Jim Sutherland
CLICK HERE to Like us on Facebook
CLICK HERE to Follow us on Twitter
CLICK HERE to Follow us on Pinterest