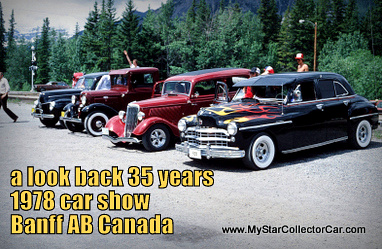 Many people regard the mid-late 1970s as the Dark Ages for music.
Car guys thought the same thing because engines were choked off by legislation so a factory big block was cranking out some lukewarm horsepower numbers.
The clearest statement was made by the '78 Dodge Little Red Express because it was the quickest factory ride that year.
Despite the overwhelmingly de-tuned new cars in 1978, car guys ignored them and stuck to building what they knew best…hot rods.
These guys never heard a disco song they liked back then, they stuck with Chuck Berry so the Bee Gees singing Stayin' Alive every five minutes on the radio was irrelevant.
Real car guys just plugged in cassette tapes with a mix of real music like Gene Vincent and Buddy Holly.
This car show in Banff, Alberta, Canada is a time capsule because it shows you where the hobby was 35 years ago. There are a lot of 20s and 30s rides, some 40s , a little 50s iron, one 60s hippie van and no muscle cars.
These rods rode a little higher without air, the roof wasn't chopped and the wheels weren't 2013 state of the art but the real message is that these car guys kept the faith during a very bland automotive era.
First Gen Hemis and other options were under the hood because crate motors were not too common with the old rods back in 1978.
The guys who built cars for this show are a lot older now and some have gone to that big car show in the sky but two things are certain-they're still building classic rides and they never switched to disco.