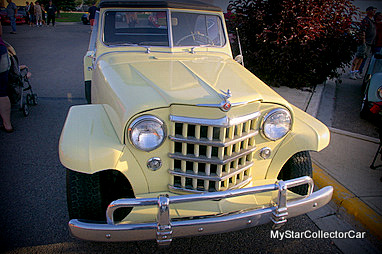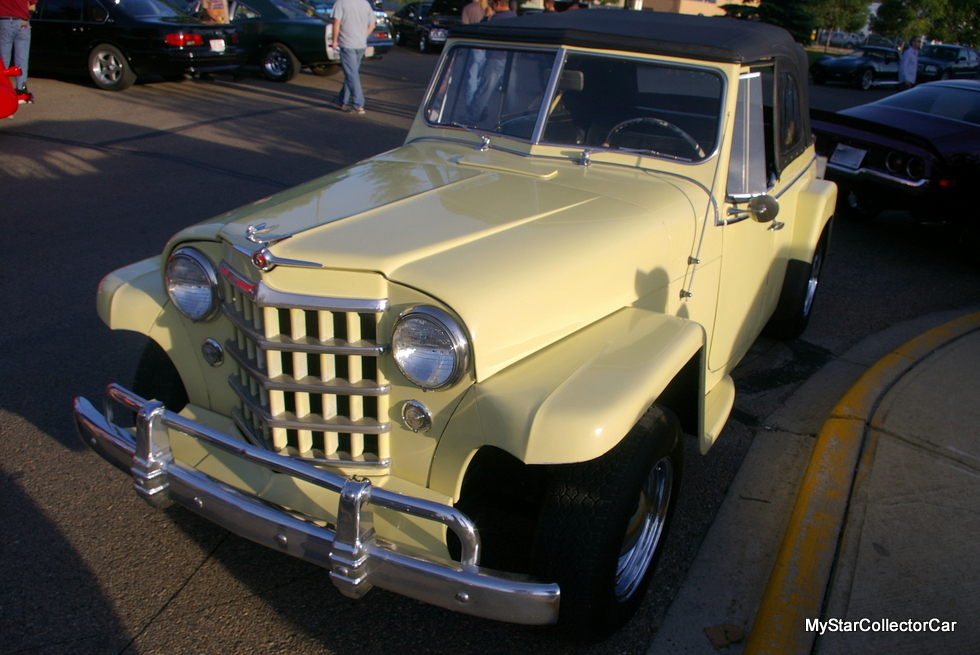 Bruce and Marlene like an adventure as much as they like old vehicles.
'Bruce had always liked the look of the Jeepster ever since he spotted one back home in his native New Zealand at the age of 15.'
He has long since moved to North America where the chances of owning one increased by a large margin.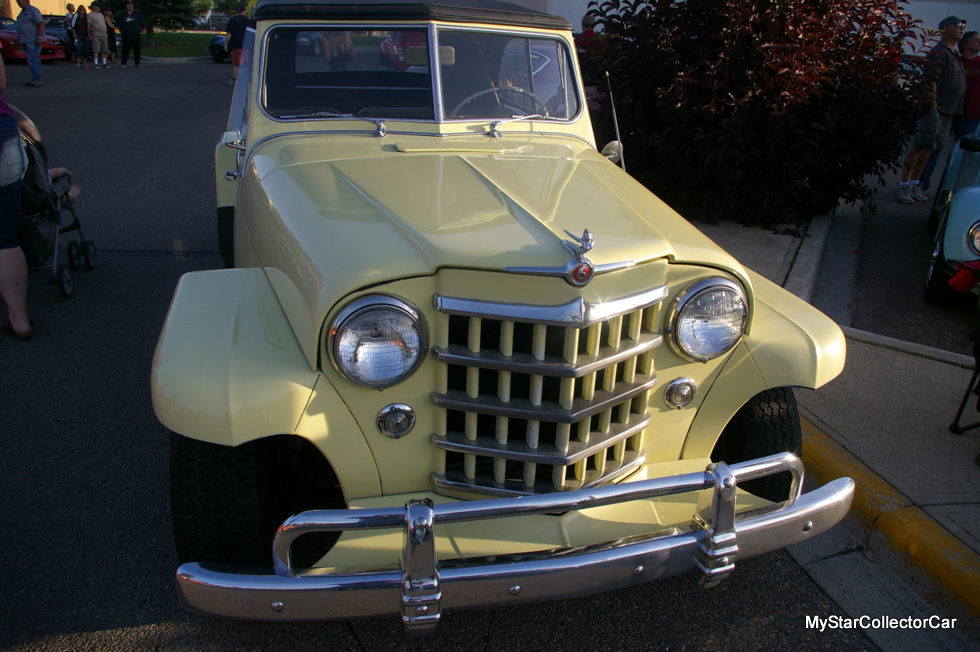 But even over here, the chances of finding a solid Jeepster in original condition were not excellent. Despite the odds, Bruce and Marlene kept their search alive for the vintage specialty Jeep, and found it in a very odd place-a 2 month old California edition of the Bargain Finder.
The owner still had the Jeepster and he was a motivated seller.
Bruce and Marlene live about 1000 miles northeast of California, so the natural assumption would be a trailer and a fast trip home with the Jeepster onboard.
Not likely in Bruce's world where vehicles must perform their primary duty on the road, and not on a trailer.
So Bruce and Marlene picked up the Jeepster and began their 50 mph top speed journey home. As stated earlier, Bruce and Marlene like an adventure, so the game plan has always been the same- their vehicles have always been drivers–under all circumstances.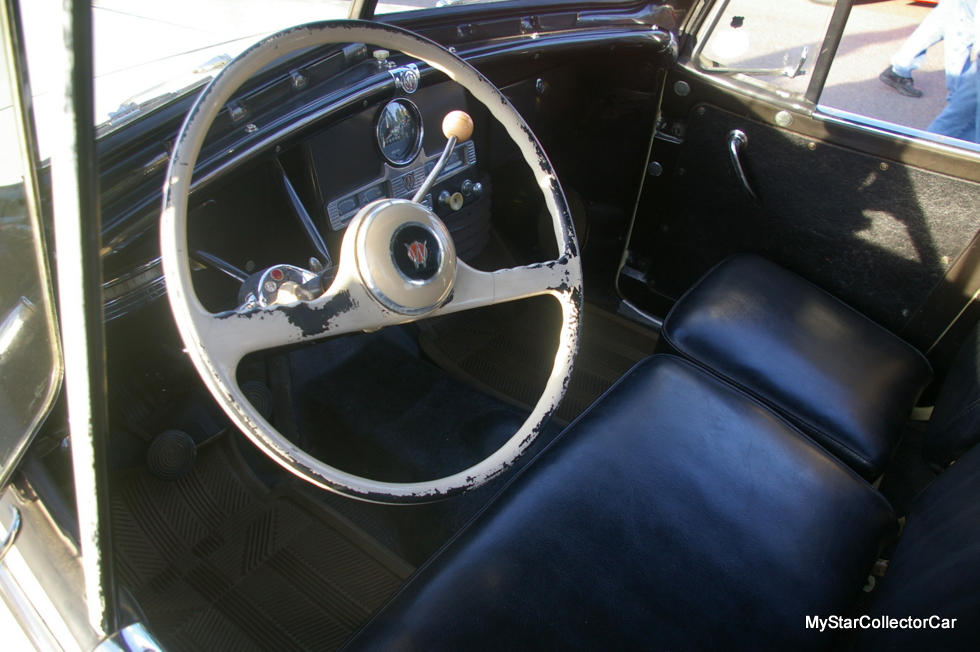 The journey home was slow and reasonably uneventful with the exception of one flat tire, one burned-out headlight, and a highway stretch in Montana where a major snowstorm meant chains or four-wheel drive vehicles only on the road.
The highway guys assumed that the Jeepster was a four wheel drive and let them continue their trip. It wasn't a four wheel drive, but it easily managed to plow through the bad roads with only two wheel drive.
Maybe the Jeep DNA was enough to handle the tough sledding even without four wheel drive.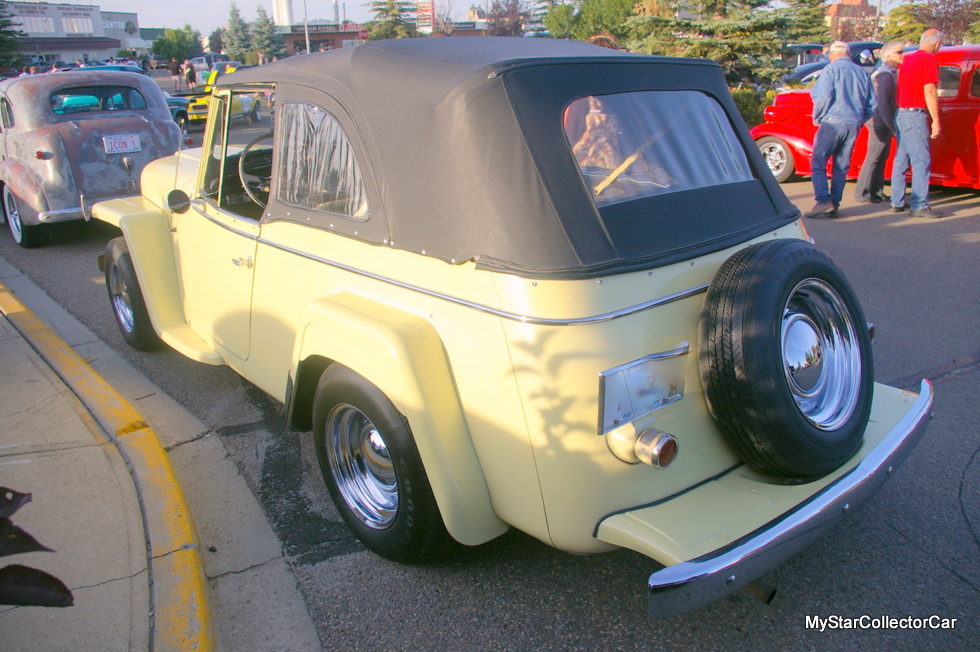 Happily, the Jeepster found its way to a new home and a new life of leisurely adventures with Bruce and Marlene. And they have kept it bone stock with the exception of a Humber hood ornament that he spotted on a Toyota at a dealership while on a vacation back home in New Zealand. A case of beer got him the hood ornament from the car salesman at the dealership.
So the Kiwi finally got his Jeepster, with a lot of help from his understanding and observant wife Marlene.
She's the one who usually finds the vehicles, even if they happen to be in a two-month-old Bargain Finder.
Jim Sutherland

CLICK HERE to Like us on Facebook
CLICK HERE to Follow us on Twitter
CLICK HERE to Follow us on Pinterest
Please re-post this if you like this article.