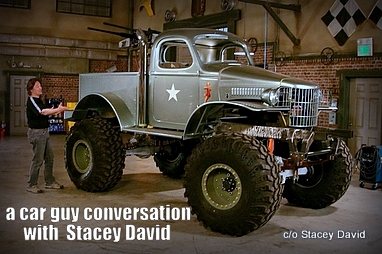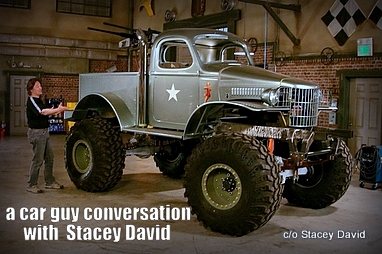 There are plenty of car shows on TV, but one of our favorites is 'Gearz' because of its host Stacey David.
Stacey is no stranger to the TV car show concept because he was the original host of 'Trucks' before he moved onto 'Gearz'.
'Gearz' is actually a better fit for Stacey because he can tackle a much wider variety of projects when he is not limited to trucks as a subject matter.
Make no mistake about it, Stacey loves trucks, but he loves everything that has a mechanical operation to it. Anything from guns to big rigs appeals to his inner engineer and garner his interest.
We were fortunate enough to get an interview with Stacey and discovered pretty quickly that he is indeed a consummate car guy and the TV Stacey is the real deal.
His trademark enthusiasm and friendliness was pretty obvious from the start of the interview.
We started with a basic car guy question for Stacey:
What was your first car?
"Kind of a loaded question because my first car was not street legal- it was a VW dune buggy made for off-road use. My first street-legal car was a 1930 Model A coupe with a 351 Windsor in it. I was a big fan of the Milner car in 'American Graffiti' at the time and the Model A was my tribute to his car."I learned a lot on that car and it was a great car to learn on. The gas gauge did not work, so I had to use a paint stick to check my gas and tended to run out of gas a lot."
Did you have a favorite type of ride when you were growing up?
"I really liked them all. I liked hot rods, sports cars, muscle cars and everything in between. I owned a Jeep with a 'Vette engine after the Model A and then I owned a 1965 Mustang fastback. I am a gear-head and gear-heads like everything."
What were your influences when you were young?
"One had to be John Milner and his hot rod in 'American Graffiti' Another had to be the 1968 Charger and Mustang in 'Bullitt'. One time I saw a bad movie called 'Take This Job and Shove It' that starred a great truck called Bigfoot and I became a fan of the famous truck.My dad also took me to a lot of races when I was a kid, so I got interested in everything from sprint racing to drag racing. Builders like Ed Roth, Tom Daniels, Dean Jeffries and George Barris also influenced me when I was a kid. I always liked the crazy custom stuff, but particularly Tom Daniels' vehicles because I could see his rides would be able to run on the road and I like the drivable side of custom builds.
For me, my projects need to run and I want to make sure they will run very well upon completion".
Did building models as a kid influence your career choice?
"Absolutely, I went through 3 stages of building models. The first was to build them to play with them and I found out they were too fragile to use as play toys. The second was to build them and blow them up with firecrackers. My final game plan for models was to build them for display purposes.
I saw a collection of high quality scale models and now I build my own collection for displays, in fact many of them have been shown on 'Gearz'. I find model-building to be very relaxing, unlike many hobbyists who get frustrated by the experience.
I like to customize some of my model cars and have a Batmobile with a blown Hemi sticking out of the hood which I think is even cooler than the original.You should build models before you build the real deal because it is an excellent learning experience."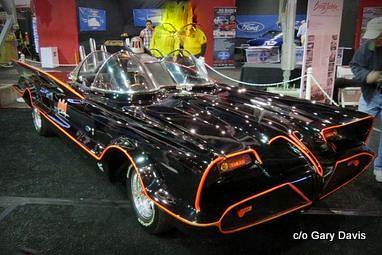 How long does it take to shoot the episodes on 'Gearz'?
"It takes about two weeks to shoot each episode but I have 3 approaches to the episodes.
The first approach is a simple project on a newer vehicle that could be done in a weekend by most car guys, something like a winch installation.
The second approach is something a little more advanced like a suspension or exhaust upgrade, possibly a little tweak under the hood and again on a newer vehicle.
The third approach is a full-on build with no time limit on the project. You cannot do these builds on "TV time", which is not an accurate portrayal of the enormous time required to do the job-and you most definitely cannot build them in a week.
We do a how-to show and we need to answer the how-did-you-do-that questions very carefully during our projects.
Some shows give people unrealistic expectations about build times.
I tell people the expectation of success for a completed quality build in a week is roughly the same as giving yourself a heart transplant. There is no such thing as instant gratification in a quality rebuild.
Our shows move around a lot because we like to cover a wide variety of topics, so you will not see the same project three weeks in a row."
What was your toughest build?
"The Banshee Miata was a big challenge because I had to draw sports car people into a hot rod project and the two worlds are not typically compatible. The logistics behind putting a V-8 engine into a small Japanese sports car were also enormous from an aftermarket parts supply point of view.
I need to build vehicles that can handle my changes and the Miata required upgrades like a custom disc brake system upgrade to slow it down with the new V-8 under the hood. I want a well-built finished project that is also safe on the road".
What is your favorite build?
"The easy answer would be the project I'm working on right now because I love the build process, but the right answer would most likely be my Sergeant Rock project. I actually have a long history with the 1941 Dodge 4×4 because I remember it from my days as a young kid in Idaho when it was used as a snowplow on a local airstrip runway.
I will fast forward to 20-odd years later when I spotted the truck sitting in a field and decided to buy it. The truck is a long term project and a good example of patience when it comes to these situations because it has been an ongoing project for many years.
I don't see any situation where I would sell Sgt. Rock because the truck has been a part of my life for so long now.
My 1967 Cougar V-8 Interceptor project is also one of my favorites because I loved these cars when I saw one for the first time with its hidden headlights and sequential tail lights".
Do you have some favorite factory cars?
"I like the 1967-68 Mustangs because of 'Bullitt', likewise the 1968 Charger. The movie cars were set up to do impossible tasks by real stunt drivers and I love sequences like the Mustang wheel hop in 'Bullitt'.
Another one I like is the second generation Pontiac Trans Ams because John Wayne drove one in a car chase during his detective movie 'McQ'. Incidentally, I still go to movies to see the car chase sequences.
The 1970 Dodge Super Bee was also one of my favorites because of its funky front end".
What is your favorite style of racing?
"I have raced both quarter mile and road tracks. I love the road racing experience when you push the car-when its engine and suspension start to talk to you- when you hear the engine and feel the pull".
How fast have you gone?
"Well if you include my ride with the Blue Angels- supersonic. I have driven at 185 mph and hope to push my SL-C supercar project over 200 mph in a future run, maybe even this season. We will test the car very thoroughly before we attempt to break the 200 mph barrier. The car has 1000 horsepower and we want to do it right."
These days the horsepower potential has gone through the roof and I have concerns about whether drivers can handle the vehicles. Many of them don't have a chance to drive the cars under heavy acceleration and may not be able to control that many horses under the hood. I would love to see a test program to ensure they are ready for the road or track."
Last question, what is your favorite driving song when you drive fast?
"Anything by CCR makes the grade for me; I would say 'Travellin' Band' for one. Bob Segar's 'Katmandu' also springs to mind along with Van Halen tunes. I was a professional musician before I was a full time builder; in fact I ended up in Nashville because of music and made a good living at it before I got into this business full time."
MSCC would like to thank Stacey David for taking some time out of his busy schedule to talk with us.
He delivers one of the best car guy half hours on TV with 'Gearz' and we look forward to more of his creative projects in future episodes.
Jim Sutherland