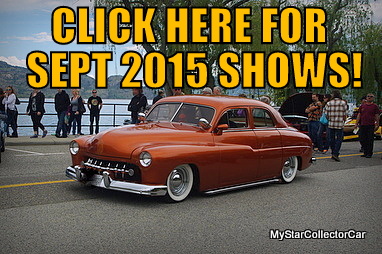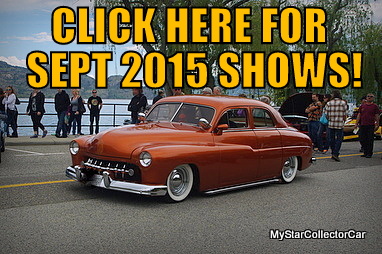 SEPTEMBER 2014 CAR SHOWS AND EVENTS-PLEASE TELL US ABOUT YOUR CLUB EVENTS AND CAR SHOWS
*Please note-these events are subject to change at any time
SEPT 1: LANGLEY BC Canadian Falcon Fairlane Comet Club Picnic In The Park 604.589.2451
SEPT 1: REGINA SK 7th Annual Access Community Children's Fund Labour Day Show and Shine Kathleen 306.565.5306
SEPT 3: CALGARY AB  Grey Eagle Wild Wednesday Car Show  5pm – 9pm EVERY WEDNESDAY NIGHT Free Registration, Free Weekly Draw, Free Food & Beverage, All Vehicles Welcome
SEPT 4-7: LYNDEN WA TCT Vintage Trailer Rally 253.431.9709
SEPT 5-6: NELSON BC Queen City Cruise 250.352.6843
SEPT 5-7: MOOSE JAW SK Majestics Run to the Oasis 306.569.1606
SEPT 6: RED DEER AB Deer Park Alliance Church Show and Shine
SEPT 6: ROUND HILL AB Show and Shine Allen 780-672-6104
SEPT 6: BROOKS 15th Annual Rod,Car,Bike,Show and Shine Warren 403-501-8878
SEPT 6: YORKTON SK Kambuster's 1/8th Mile Thunder Drags
SEPT 6: EDMONTON AB AIIPC-EC 5th Annual All Pontiac Show and Shine Dave 780.940.2641
SEPT 6: CALGARY AB The Dalhousie Community Association is hosting its first Show n Shine from 1 – 3 in the afternoon. This coincides with a family open house event. Registration is free from 12 – 1. Spectators will vote on their favourite vehicle. All vehicle types welcome, from old to new, fixed to needs fixing. Barry Olsen president@dalhousiecalgary.ca  403-286-6655
SEPT 6: CREMONA AB 3rd Annual Show and Shine Clarke 403-337-4082
SEPT 6: BIGGAR SK Show and Shine 306.948.3376
SEPT 6: EDMONTON AB Reach Up for Crystal Kids Fund Raiser Marilyn 780.455.2413
SEPT 6: LANGLEY BC Good Times Cruise-In 604.530.6656
SEPT 6: CAMBRIDGE, ON- Tyrods Fall Cruz and Car Show. Featuring the "PROUD TO BE CANADIAN TOUR" For Pre 1980 Vehicles. Rain Date Sept 9th. Highland Plaza at Main & Dundas Streets, Cambridge ON
SEPT 6: KITCHENER ON Galaxie Club Ontario Meet & Greet 519.742.8414
SEPT 6: BARRHEAD AB Chariots Car Club 5th Annual Show & Shine Charles 780-674-3353 reubclow@gmail.com
SEPT 6: WINDSOR, ON Autumn Classix Car & Bike Show. WFCU Centre 8787 McHugh St. 
SEPT 6: WINDSOR, ON – OLDE SANDWICH TOWNE FESTIVAL CAR SHOW. Rain Sandwich & Russell David Grimaldi 519.254.2880 mrssanta@mnsi.net  Russ Morency 519.966.4473 Ron Morency 519.734.1479 rmorency@hotmail.com 
SEPT 6-7: STRATHMORE AB Harleys & Hot Rods Charity Poker Run
SEPT 6-7: VANCOUVER BC Luxury Supercar and Shaughnessy Concours d'Elegance 604.612.9784
SEPT 6-7: MONCTON NB Classic Car and Bike Show
SEPT 7: LAMBETH ON Harvestfest Show and Shine, Br. #501 Lambeth Legion, 7097 Kilbourne Rd. 519.652.2067 www.harvestfest.on.ca
SEPT 7: ABBOTSFORD BC British Car/Motorcycle Hougen Park Picnic 604.824.2382
SEPT 7: ROUND HILL AB Ag Society Harvest Show and Shine Allen 780.672.6104
SEPT 7: ECKVILLE AB 3rd Annual DTSR Poker Rally Clint 403.392.3424
SEPT 7: MILLARVILLE AB 12th Annual Motorcycle Swap Meet Bobby 403.230.9269
SEPT 7: LANGLEY BC Speedway Reunion and Show 604.897.1297
SEPT 7: MARKHAM, ON- Auto Classic Main St., Markham Rd. and Hwy 7, 8 a.m. to 6 p.m. Proceeds to support the Centre for "Dreams."

SEPT 7: EDMONTON AB Grace Point of God Show and Shine Guy 780.489.6773
SEPT 7: BRAMPTON ON – Cruisin' for a Cure for Prostate Cancer Powerade Centre, 7575 Kennedy Rd. S. benefiting Prostate Cancer Canada and Wellspring Chinguacousy. 905.453.3038 jfdorsey@yahoo.com  www.c4acc.com  
SEPT 7: ELFRIDA ON All GM Show, Hwy 20 and Hwy 53 GTO Club April 519. 647.2090
SEPT 7: UXBRIDGE, ON Fall Fair Cruise-In Elgin Park Main St. S Dave 905-852-5040
SEPT 7: BOBCAYGEON, ON Cruisefest Antique, Classic and Custom Car/Truck Show, Fairgrounds, Mansfield St. Bobcaygeon Chamber of Commerce 705. 738.2202

SEPT 10: CALGARY AB  Grey Eagle Wild Wednesday Car Show  5pm – 9pm EVERY WEDNESDAY NIGHT Free Registration, Free Weekly Draw, Free Food & Beverage, All Vehicles Welcome
SEPT 12: REGINA SK Dub Show and Shine 2701 Avonhurst Dr 306.545.6441 avonhurst@sasktel.net 
SEPT 12-14: FT SASKATCHEWAN AB Touring Tin Car Club Picnic 
SEPT 13: EAST OF CHESTERMERE AB (RR 270 off Highway 1) Straight Shooter Car Show 403.272.5354
SEPT 13: CALGARY AB Diablos Car Club Greaseball Bash
SEPT 13: INNISFAIL AB WHEELS Show and Shine/Shootout give Debra a call at 403.227.4218
SEPT 13: CALGARY AB Lana Normore Chaparral Community Association Chaparral Show N Shine Held at Gates of Walden, corner of 194 Ave & Walden Gate SE,11 – 2 PM $5 Registration To Register call Lana 403-225-0365 or Email events@chaparralcommunity.com Prizes for each category
SEPT 13: EDMONTON AB Beulah Alliance Churches 8th Annual Show and Shine. Our location is 17504 – 98a Ave, Edmonton. Vehicle and Motorcycle registration is 9-10 am. (no registration fee). The show runs from 10-2 pm. BBQ, Prizes, Classic Cars, Motorcycles, Music, and more 780-486-4010 ext. 348

SEPT 13: VANCOUVER BC 2nd Rolling Thunder Against Cancer 604.818.8162
SEPT 13: CAROLINE AB Ride/Cruise in our Road Trip for Redevelopment 403.845.8044
SEPT 13: LETHBRIDGE AB 8th Annual Classic Car Show Barry 403.328.7755
SEPT 13: OLDS AB Mountain View Pistons Charity Poker Cruise Olds AB Trevor 403.994.1454
SEPT 13: CALGARY AB 3rd Annual Calgary Swap Meet 2014 403.275.3830
SEPT 13: HOLLAND LANDING ON Sharon and Holland Landing Lions Club Steak For Sight BBQ Car Show Anchor Park Doane Rd.E of Yonge St. 905.478. 2625
SEPT 13: CRESTON BC Creston Valley 4th Annual Auto Swap Meet 250.254.0009
SEPT 13: ARKONA ON Lions and Lioness Car Show, Rock Glen Conservation Area, 8680 Rock Glen Rd.
519.828.3433
SEPT 13: WINNIPEG BEACH MB Under the Boardwalk Car Show 'n Shine 204-389-5126
SEPT 13: SASKATOON SK Saskatoon Mustang and Classic Ford Club Fall Windup Barb 306.382.6774
SEPT 13: ROSWELL GA 12th Annual Georgia Car & Bike Show General Motors Georgia IT Innovation Center 2010 Warsaw Road yrozati@ups.com  Phone Number: 404-828-7385
SEPT 13: BLOOMINGDALE ON Amanda's Poker Run/cruise and Car Show for Juvenile Arthritis Kolmonia
Church 519.576.8764 pitcrew@amandascruise.ca  www.amandascruise.ca

SEPT 13: CAMBRIDGE, ON 5th Annual Preston Music Festival Classic Car & Bike Show Westminster Drive South at King Street pmf.drive.and.ride@gmail.com
SEPT 13: HUNTSVILLE, ON Downtown Antique, Classic and Custom Car Show 705.789.1400 www.DowntownHuntsvilleAdventures.ca

SEPT 13: RENFREW, ON Car show and Swap Meet for Dad Fairgrounds donation to cancer. 613.432.0705 Ray
SEPT 13: VANCOUVER BC 2nd Annual Rolling Thunder against Cancer
SEPT 13: SUMMERLAND BC Endless Summer Show & Shine, Main Street Summerland B.C. twisterspecialgt@shaw.ca or 250-404-0447 Garry
SEPT 13: SARNIA, ON The Bluewater Austin Healey Club Invade The Close Car Show Rutherglen Close Dan Moore 519. 542.3848
SEPT 13: STOUFFVILLE ON – Stouffville Motorfest Novopharm Grounds, Main St., 9:30 a.m. to 2:30 p.m. Denny 905.640.3202 carguys@motorfest.ca  www.motorfest.ca

SEPT. 13: UNIONVILLE, ON International Model A Ford Day unmodified Model A's only), Historica Main St. Huronia Wire Wheel Chapter Model A Owners Club of Canada, Inc glenn40b@gmail.com 
SEPT 14: ASHCROFT BC 4th Annual Ashcroft Show & Shine 250.453.0063
SEPT 14: COCHRANE AB Classics Car Club Fall Colours Show and Shine Ken 403.304.1677
SEPT 14: PARIS ON – PARTS 'N' SWAP MEET. 139 Silver St Will 905.544.8900 Alan 905.467.2632 Paul 519.578.9619
SEPT 14: LANGLEY BC Model A Swap Meet 604.980.3767
SEPT 14: COLWOOD BC English Car Affair In The Park 250.383.9473
SEPT 14: VICTORIA BC English Car Affair In The Park Fort Rodd Park 250.590.5858
SEPT 14: CLOVERDALE BC 1st Annual Bill Larson Memorial Run 604.351.8275
SEPT 14: SECHELT BC Sunshine Drag Racing Test & Tune 604.230.5067
SEPT 14: PORT MOODY B.C. Volvo Club's Courtenay Car Cruise Bob 250.658.0126 lbscuthill@shaw.ca  http://volvoclubofbc.com
SEPT 14: EDMONTON AB 4th All Ford Show and Shine Daryl 780.446.6690
SEPT 14: MISSION BC Galaxie Club Fraser Valley Cruise 604.287.6565
SEPT 17: CALGARY AB  Grey Eagle Wild Wednesday Car Show  5pm – 9pm EVERY WEDNESDAY NIGHT Free Registration, Free Weekly Draw, Free Food & Beverage, All Vehicles Welcome
SEPT 19: RADIUM BC Cruise to Radium, Show and Shine Meet at 22x Petro Fri 1pm 403.968.9669
SEPT 19-21: CRESTON BC 26th Creston Valley Fall Campout/Show & Shine 250.428.5122
SEPT 19-21: WATERDOWN ON Fall Swap Meet Car Show Rockton Fair Grounds, Centre Road 905.304.9560
SEPT 19-21: SUN PEAKS BC Run to The Sun Car Gathering 778.689.5912
SEPT 20: EDMONTON AB Ritchie Community League Presents its Classic Car Show in Ritchie Park 
SEPT 20: SASKATOON SK 3rd Annual Show and Shine Jerry 306.667.5589
SEPT 20: LETHBRIDGE AB 8th Annual Pig & Pumpkin Festival Car Show 403.381.0756
SEPT 20: SWIFT CURRENT SK 3rd Annual Show and Shine contact City Hall at 306-778-2723 or email admin@swiftcurrent.ca.
SEPT 20: BON ACCORD Equinox Show and Shine Al 780.948.6036
SEPT 21: ST ALBERT AB Edmonton Thunderbird Club Show and Shine
SEPT 21: BRONTE PROVINCIAL PARK ON Toronto Triumph Club 31st Annual British Car Day
SEPT 21: KAMLOOPS BC All GM Show & Shine 250.372.2551
SEPT 21: VICTORIA VIMA Salvation Army Christmas Fund Toy Run 250.881.1423
SEPT 21: CALGARY AB 4th Annual Cars 4 Fun Show and Shine 403.813.6800
SEPT 21: EDMONTON AB Edmonton T-Bird Club Show & Shine Harold 780.930.2165
SEPT 21: RADIUM BC Columbia Valley Classics 23rd Autumn Show and Shine
SEPT 24: CALGARY AB  Grey Eagle Wild Wednesday Car Show  5pm – 9pm EVERY WEDNESDAY NIGHT Free Registration, Free Weekly Draw, Free Food & Beverage, All Vehicles Welcome
SEPT 27: KINDERSLEY SK 31st Plainsmen Show and Shine Glen 306.463.2889
SEPT 27: MOSSLEIGH AB Vintage RV and Classic Car Show Jason 866.440.3500
SEPT 28: KAMLOOPS BC Georges's 19th Pumpkin Run 250.372.5339
SEPT 28: HIGH RIVER AB River City Classics Car Show
SEPT 28: SURREY BC 3rd British Autojumble/Swap Meet Sullivan Hall
SEPT 28: HIGH RIVER Calgary Fifty 567 Club Fall BBQ High River AB Lorne 403.637.3985
SEPT 28: ROSETOWN SK Dusty Wheels 29th Annual Car Show 306.882.3197
SEPT 28: WHITE ROCK BC Westcoasters Car Club Swap Meet 604.539.1202
SEPT TBA: CALGARY AB Quarry Park and Polish all proceeds to MADD 180 Quarry Park Blvd SE
SEPT TBA: WARNER AB 2nd Annual Lions Club Show and Shine, Swap Meet and Cruise Brian 403.360.9659
SEPT TBA: ALDERGROVE BC Fifty 567 Club Aldergrove Lake Picnic 604.290.9220
SEPT TBA: PARKSVILLE BC 7th Parksville Baptist Church Show & Shine 250.752.2064
SEPT TBA: SHERWOOD PARK AB 9th Annual Show/Shine Baseline 60 Broadway Boulevard Al cell 780.984.6036 or work 780.921.2042
SEPT TBA: CALGARY AB 2nd Annual Toy Run Winston Heights-Mountainview Community Association Hall 520 27th AVE NE
SEPT TBA: CALGARY AB 2nd Annual Swap Meet 2013 403.275.3830
SEPT TBA: EDMONTON AB Beulah Alliance Church Show & Shine Gerald 780-990-5850 grlos@shaw.ca

SEPT TBA: FALLON AB Fall Weekend Show and Shine Bob 780.797.3810 jcarcare@xplornet.ca
SEPT TBA: COQUITLAM BC Centennial High School 67-68 Reunion Car Show 604.939.7119
SEPT TBA: DEVON AB Classic Car Show (This is co-sponsored by the Edmonton Thunderbird Car Club and The Corvette Club, so let's all get out and help and show our cars Terry 780.920.8624
SEPT TBA: KAMLOOPS BC Classic Car Gathering 778.689.5912
SEPT TBA: LETHBRIDGE AB 7th Annual Classic Car Show Barry 403.328.7755 barry@logiclumber.com

SEPT TBA: ROSWELL GA 11th Annual United Way Car & Bike Show Event Date: September 21, 2013 10:00 AM – 3:30 PM Location: GM Georgia Innovation Center 2010 Warsaw Road
SEPT TBA: RIMBEY AB Central Alberta Raceways Mud Bogs (Truck, ATV & Sled) race@caraceways.ca  1.855.746.2397 403.843.3125
SEPT TBA: CALGARY AB Cars 4 Fun 3rd Annual Show & Shine 403.813.6800
SEPT TBA: LANGLEY BC Lambs Fall Crawl 604.590.3079
SEPT TBA: CHESTERMERE AB Straight Shooter Show n Shine Mike 403.272.5354 emargsmart@hotmail.com
SEPT TBA: HIGH RIVER AB Calgary Fifty 567 Club Annual Fall BBQ Lorne 403.637.3985 
SEPT TBA: LANGLEY BC Westcoasters Firehall 5 Show & Shine 604.539.1202
SEPT TBA: SURREY BC  3rd British Autojumble and Swap Meet Surrey Sullivan Hall
FOR OCTOBER 2014 CAR SHOWS PLEASE FOLLOW THIS LINK