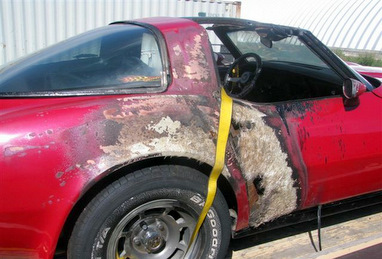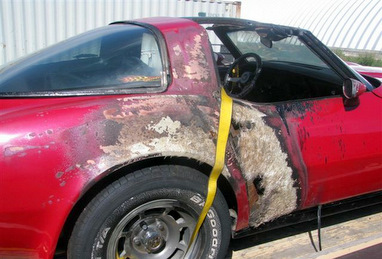 There are a lot of car stories out there that have nightmare written all over them. The story behind Kevin Eliuk's 1980 Corvette falls well within that category. Kevin purchased the car after a short test drive five years ago.
The drive proved that the 'Vette needed a fair amount of work in order to meet Kevin's standards, but many late nights and Kevin's mechanical skills made the Corvette like new. Now all he had to do was enjoy the 380 hp red rocket on the summer car show circuit.
Then the horror story began:
Earlier this year: Kevin's prized Corvette, complete with countless hours of sweat equity, became a crime victim. Some lowlifes from the bottom feeder Hall of Fame broke into Kevin's garage and tried to steal the 'Vette. The problem was these clowns were more criminally inclined than mechanically inclined. Stupidity lapsed into frustration for these morons so they decided to burn down the garage.
The lack of oxygen meant that the fire starved itself before the garage burned to the ground, but it was too late for Kevin's Corvette. It was a total write-off so Kevin faced the process of insurance claims as well as the financial and emotional loss of his car.
Kevin had good collector car insurance and that is where his story took a turn for the better. He got full appraised value for his loss plus he negotiated a salvage release of the car back to him for the financial losses of his spare parts in the claim.
Now the deceased Corvette will provide a heart transplant for a 1941 Chevy pickup that is Kevin's latest project. Many other parts of the car's components will also be used in the new rod project. So the spirit of Kevin's Corvette will live on in a WWII retro-mod Chevy pickup. It was not the storyline that Kevin had planned for the Corvette, but it will have a happier ending than any Stephen King book.
We plan to touch on insurance and security issues for vintage rides in future tech tip segments so that we can help prevent nightmares like Kevin's Corvette story.
Stay tuned for advice from the experts.