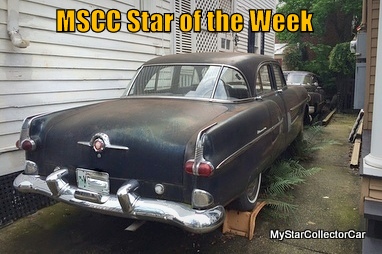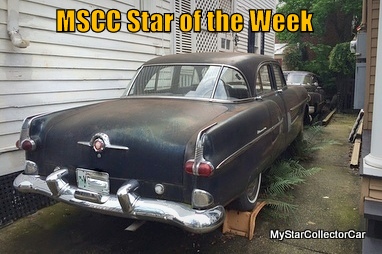 MSCC APRIL 26 STAR OF THE WEEK: CLASSIC PACKARD—NEW ORLEANS JUST GOT COOLER
New Orleans is the cool capital of the world.
This is a city that invented jazz and classic R&B so the party never ends in the Big Easy.
This MSCC Star of the Week Packard was spotted in New Orleans yesterday.
The Big Easy just got cooler.
MSCC APRIL 25 STAR OF THE DAY: BIG, BAD '68 MUSTANG-BULLITT LOOKS PRETTY TAME
The Bullitt Mustang was one of the most iconic pony cars to ever star in a movie.
The link to Steve McQueen didn't hurt but that green Mustang stole the show back in '68.
Despite the Hollywood pedigree there are lesser known Mustangs that would turn Steve McQueen's ride into mulch.
This MSCC Star of the Day big, bad Mustang is one of them.
MSCC APRIL 24 STAR OF THE DAY: '69 CHEVROLET IMPALA CONVERTIBLE—MOON LANDINGS AND MUSIC FESTIVALS
1969 was a year with two major historical events.
The first one took place on July 20, 1969 when a man stepped on the moon…something they haven't done in 43 years.
The other event (Woodstock) took place on August 15-17, 1969 and it was a massive Baby Boomer party…something they haven't done in 43 years.
This MSCC Star of the Day '69 Impala convertible wasn't on the moon or at Woodstock but it did share a year with two very cool events.
MSCC APRIL 23 STAR OF THE DAY: '49 MERC LEAD SLED—ETERNALLY COOL CLASSIC 50S RIDE FOR HOODLUMS
There were two ways to be high school cool in the 50s.
One way was to be a star athlete because jocks attracted girls like magnets in the early 50s.
The other way was to graft on cool via a leather jacket and a tricked-out car.
This MSCC Star of the Day '49 Merc lead sled is the eternally cool 50s classic ride for hoodlums.
MSCC APRIL 22 STAR OF THE DAY: 1964 RAMBLER AMERICAN STATION WAGON—IT WASN'T ALL BEATLEMANIA
1964 is always associated with events like the Beatles on Ed Sullivan, a New York World's Fair and a young heavyweight champ named Cassius Clay.
Those events made '64 one of the most dynamic years in the back nine of the 20th century.
They were glorious days but most people still lived ordinary lives where a big night out was a trip to the dry cleaners.
This MSCC Star of the Day '64 Rambler American wagon is what average people drove when Beatlemania exploded.
MSCC APRIL 21 STAR OF THE DAY: TORINO COBRA JET – EARLY 70S MAYHEM ON WHEELS
The early 1970s can be distilled down to a simple phrase-fast living and fast cars.
The early 70s were basically an extension of the 1960s but there were casualties on the way.
Janis Joplin, Jimi Hendrix and Jim Morrison were victims of the excess and fast living that defined the era.
This MSCC Star of the Day Torino Cobra Jet is an example of this early 70s mayhem extended to the automotive world.
MSCC APRIL 20 STAR OF THE DAY: '79 CHRYSLER 300-KEEPING THE MOPAR LEGEND ALIVE
1979 wasn't one of those memorable years.
Disco had a death grip on music so number one songs were gems like 'Ring my Bell' by Anita Ward, 'Bad Girls' by Donna Summer and Gloria Gaynor's 'I Will Survive'.
'79 was a profoundly bad era for music and cars suffered too-thanks to heavy handed smog laws.
Despite the odds, Chrysler still came out punching in '79 with an MSCC Star of the Day 300 model just like this one at a 2013 auction.
For past MSCC Stars of the Day please follow this link.
CLICK HERE to Like us on Facebook
CLICK HERE to Follow us on Twitter
CLICK HERE to Follow us on Pinterest
Please re-post this if you like this article.
Star of the Day page sponsored by Southside Dodge