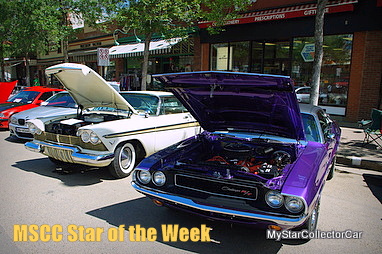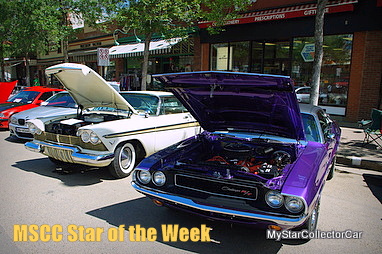 MSCC JULY 6 STAR OF THE WEEK: '57 FURY/CHALLEY RT-TWO GENERATIONS OF MOPAR MUSCLE
There's a popular misconception that Mopar muscle began in the 60s with cars like the '67 GTX or '68 Charger and hit its peak with E-Bodies like the 'Cuda or Challenger in the early 70s.
That's a serious misconception.
Mopar muscle evolved from the first hemis and officially began in '55 with the C-300.
Plymouth followed with the '56 Fury and in 1957 they upped their game with a 350 cubic inch, 305-horse street machine.
These Furys were clearly muscle cars.
This MSCC Star of the Week picture was from a show yesterday where two Mopar muscle cars from two different generations took center stage.
MSCC JULY 5 STAR OF THE DAY: A ROW OF CLASSICS – THE 47-54 CHEVY/GMC ERA
GMC and Chevy trucks took a big step in 1947 because that's when they built the first Advanced-Design trucks in the summer of '47.
These trucks had such a classic look it lasted for the next seven years.
Brian Boutin is the proud owner of a 1954 Chevy truck and he decided to get a fleet of vintage Chevy and GMCs together for a group photo at a recent Red Deer Cruise Night.
This was definitely an MSCC Star of the Day moment.
MSCC JULY 4 STAR OF THE DAY: '27 MODEL T AND TWO FLAGS SAY IT ALL
The United States is 238 years old today and it's had a colorful history since Day One when the first shots were fired in the War of Independence.
This is a proud country with many ups and downs in its history, but Americans have an incredible ability to power through the worst and celebrate the best.
That's why no one throws a better party every year than the United States on July 4th.
The 20th century was huge for the States because that's when they came of age as a world power thanks to their innovation and incredible sense of optimism.
This MSCC Star of the Day really sums up American innovation and optimism – a '27 Model T flying two American flags on the front bumper.
MSCC JULY 3 STAR OF THE DAY: SEE THE USA IN YOUR '73 CHEVROLET IMPALA CONVERTIBLE

Chevy had one of the best campaigns when they kicked off their "See the USA in your Chevrolet" campaign in 1949.
Dinah Shore owned this song a few years later when it became synonymous with newfound freedom in fifties America.
People started rebuilding so after two decades laced with World War II and a Depression, they could finally hit the road in their Chevy and have a real vacation.
This MSCC Star of the Day 1973 Impala convertible on a beautiful July afternoon yesterday was only missing one thing…
Dinah Shore.
MSCC JULY 2 STAR OF THE DAY: TR6 – WANT TO MAKE AN OUTSTANDING ENTRANCE?
There are entrances and there are entrances…
A bad entrance is like one the Three Stooges made at high society affairs.
They'd enter with a flurry of eye-pokes, hair-pulling and skull-cracking then they'd knock over tables and end with a trademark pie fight.
Sure it made an impression but Moe, Larry and Curly never got invited back for obvious reasons.
Contrast that mayhem-filled entrance with this MSCC Star of the Day Triumph TR6 entrance at a car show yesterday.
Subtle, classy and dignified – the opposite of a Three Stooges entrance.
MSCC JULY 1 STAR OF THE DAY: '60 CADDY – THIS IS HOW YOU CELEBRATE CANADA DAY
Today is Canada Day and the whole country is celebrating 147 years of nation status.
Canada is 35 million people spread out over the second largest country in the world and the celebrations go on from sea to sea to sea over vast areas.
Canadians take pride in many things but one of their biggest sources of pride is found in the simple red and white flag with the maple leaf in the middle.
This MSCC Star of the Day is a 1960 Cadillac with two Canadian flags and driven by a guy who really knows how to celebrate Canada Day.
HAPPY 147th BIRTHDAY CANADA
MSCC JUNE 30 STAR OF THE DAY: 1957 DODGE CUSTOM ROYAL – THE FORWARD LOOK IN FULL FLIGHT
The Chrysler Forward Look fin cars of the late fifties are symbols of a space age era where anything was possible.
These cars took the functional Detroit look of the early 50s to another level because they were flashy expressions of post-war American optimism.
In essence, Mopar fin cars were as cool as Elvis.
This MSCC Star of the Day 1957 was at a show two weeks ago and it captured the spirit of a long gone era that will never return.
That's our loss.
For past MSCC Stars of the Day please click here.
CLICK HERE to Like us on Facebook
CLICK HERE to Follow us on Twitter
CLICK HERE to Follow us on Pinterest
Star of the Day page sponsored by Southside Dodge.