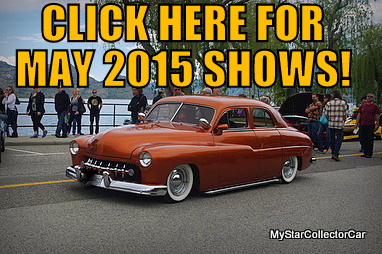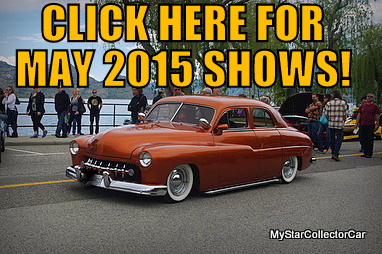 MAY 2014 CAR SHOWS AND EVENTS-PLEASE TELL US ABOUT YOUR CAR CLUB AND COMMUNITY EVENTS
MAY 1: RED DEER AB Cruise Night begins Thursday evenings from 6-9 Parkland Mall NE lot.
MAY 1: RED DEER May thru Oct. 2014 6-9 pm every Thursday Night Parkland Mall Red Deer NE Parking lot Red Deer Cruise Night
MAY 2-3: RED DEER AB Central Alberta Vintage Auto Car Club Swap Meet Westerner Park Jim 403.342.2840

MAY 2-4: KELOWNA BC Wheels for a Cure Tour and Car Show

MAY 3: PENTICTON BC 24th Annual South Okanagan VCCC Swap Meet Ron 250.462.2111
MAY 3: KELOWNA BC 4×4 Show and Shine/Swap Meet
MAY 3-4: LINDSAY, ON A.A.C.A Antique Automotive Flea Market AACA–Ontario Region Longest Running Automotive Flea Market & Car Show East of Toronto. Lindsay Exhibition Grounds. Flea Market, Cars for Sale, Car Show, Camping.
MAY 3-4: STIRLING ON Antique Automotive Flea Market, Rec Centre, Fairgrounds
MAY 4: MISSION BC Galaxie Club Poker Run & Cruise 604.287.6565
MAY 4: LANGLEY BC Poppy High School Car Show 604.530.2151
MAY 4: COMOX BC Comox Valley Swap Meet 250.339.4117
MAY 4: DUNCAN BC Antique Engine/Tractor/Farm Swap 250.746.7292
MAY 7: MEDICINE HAT AB Cruise Night Kick-off
MAY 7: LLOYDMINSTER AB Just Kruzin Specialty Car Club 1st Kruz Night of the season
MAY 10: PETERBOROUGH ON VTG Tour Vintage Touring Group invites members with 1942 & other vehicles on a tour around Rice Lake
MAY 10: DIDSBURY AB Annual Show and Shine
MAY 10: LUMSDEN SK Rusty Dogs "Attack of the Hot Rods" Show and Shine 306.539.3625
MAY 10: EDMONTON AB Air Riders VW Club Swap Meet and 1st Show and Shine
MAY 16-20: SUMMERLAND BC Blossom Run 2014
MAY 16-17: VANCOUVER BC All British Classic Car Show
MAY 16-18: KELOWNA BC Corvette Car Club Cruise into Summer  
MAY 16-19: REVELSTOKE BC May Tour 2014 "Steaming Into Revelstoke"
MAY 16-19 MANOR SK Moose Mountain 6th Annual Cruise-In 306.634.8178
MAY 17: REVELSTOKE BC Vintage Car Club Show and Shine
MAY 17: RED DEER AB Shelby Dodge car show open to all 1980's and 90's turbo Dodge and K car related vehicles. www.wc-tm.com  or  number6_1973@live.ca
MAY 17: GODERICH ON Circle City Cruizers Show "n" Shine Car Show Ray Marshall 519.524.2477

MAY 17: VANCOUVER BC All British Classic Car Show Van Dusen Botanical Garden, Oak & 37th Street stewart@westerndriver.com  604.736.6754
MAY 17-18: KELOWNA BC Datsun Matsuri 2014
MAY 17-18: KELOWNA BC The Knox Mountain Hillclimb 
MAY 18: CRESTON BC 9th Annual Creston Valley Blossom Festival Car Show 250.428.5005
MAY 18: GRANDE PRAIRIE AB Collector Car Auction Show & Shine Evergreen Tech Centre Derek 780.978.8424
MAY 18: PEACHLAND BC World of Wheels Show and Shine
MAY 18: GRENFALL SK 1-47 Cruisers 4th Indoor Show and Shine and Cruise 306.697.3453
MAY 18: KASLO BC 16th Kaslo May Days Car Show 250.353.2500
MAY 18: VANCOUVER 2014 All British Whistler Run Park Royal Shopping Centre to Whistler Olympic Village
jstewart@westerndriver.com
MAY 19: CRESTON BC 9th Annual Creston Valley Blossom Festival Car Show 250.428.5005B
MAY 19: MIRROR AB Show and Shine (after the parade)
MAY 21: CALGARY AB  Grey Eagle Wild Wednesday Car Show  5pm – 9pm EVERY WEDNESDAY NIGHT Free Registration, Free Weekly Draw, Free Food & Beverage, All Vehicles Welcome

MAY 21: SASKATOON SK 567 Club Kick Off To Summer 306.221.4557 jerry@centaurproducts.com 

MAY 22: CALGARY AB Central Memorial 3rd Annual Show and Shine

MAY 23: WATERLOO ON Cruzin on the Public Square
MAY 23: REGINA SK  Dub Show and Shine 2701 Avonhurst Dr 306.545.6441 avonhurst@sasktel.net

MAY 23-4: ABBOTSFORD BC 45th Annual Coastal Swap Meet 604.540.6141
MAY 23-5: DEVON AB 2nd Annual Sunday in the Park Show and Shine
MAY 24: DRUMHELLER AB Boogie in the Badlands 18th Annual Show and Shine Bryan 403.321.0091
MAY 24: EDMONTON AB May Madness Car Show and Shine – 3rd Annual fundraiser for STARS NAIT South Campus, 7110 Gateway Blvd
MAY 24: SHERWOOD PARK AB Got Chrome 3rd Annual Show and Shine Debbie 780.417.5533
MAY 24: CALGARY AB Airport Trail Tunnel Opening Show and Shine james.peachey@calgary.ca 403.312.1163
MAY 24: INNISFAIL AB Heritage Historical Village Pancake Breakfast and Vintage Car Show

MAY 24: MEDICINE HAT AB 7th Annual Harleys and Hot Rods Show and Shine Jay 403.527.9235
MAY 24: MEADOW LAKE SK Cruisers Show and Shine
MAY 24-5: WILLIAMS LAKE BC Lakers Car Club 20th Spring Roundup Show and Shine
MAY 24-7: KELOWNA BC Okanagan T-Birds Show and Shine & 3 Day Tour 250.766.1503
MAY 25: ST ALBERT AB Cruisers Annual Autorama
MAY 25: COALDALE AB Custom Cruisers Show and Shine
MAY 25: RED DEER AB Show and Shine Costco parking lot
MAY 25: WEST KELOWNA BC Cops for Kids Car Show and Kid's Carnival
MAY 25: SYLVAN LAKE AB Club Vee Dub Volkswagen Show and Shine
MAY 25: NANAIMO BC Vancouver Island Mustang Association. Spring Spectacular 250.881.1423
MAY 25: QUALICUM BC VI Cruisers 4th Annual Picnic & Spamathon 250.338.6134
MAY 25: GRANDE PRAIRIE AB Charity Show & Shine In support of the Stollery Children's Hospital Erin 780.538.2788
MAY 25: REGINA SK Collectors Car Club 30th Annual Charity Show 306.949.6590 whataboutbob@sasktel.net
MAY 25: MAPLE RIDGE BC Senior Secondary Dry Grad Show and Shine Maple Ridge, BC 604.463.4175
MAY 25: CLOVERDALE BC "Ride to Live" Classic Car & Motorcycle Show & Shine 604.922.8176
MAY 25: CALGARY AB Firebird Club Show and Shine
MAY 25: VANCOUVER BC GVMA Spring Mustang Show 604.858.6763
MAY 25-26: WLLLIAMS LAKE BC Lakers Car Club "Spring Roundup" 250.398.7924
MAY 25-26: MISSION BC 26th Annual British Columbia Historic Motor Races 604.922.2722
MAY 25-28: KELOWNA BC Okanagan T-Birds show and Shine and 3 Day Tour 250.766.1503
MAY 26: CALMAR AB Show and Shine Gary 780.985.2590
MAY 28: CALGARY AB  Grey Eagle Wild Wednesday Car Show  5pm – 9pm EVERY WEDNESDAY NIGHT Free Registration, Free Weekly Draw, Free Food & Beverage, All Vehicles Welcome
MAY 30: MAPLE RIDGE BC Cruise-In Opening Celebration 604.463.5712
MAY 30-31: REGINA SK Hooligans Car Club JDRF Fundraiser Poker Run 306.944.2759 evan.hanson@hzsd.ca
MAY 31: CALGARY AB Central Memorial High School 2nd Annual Show and Shine Kyle 403.305.9627
MAY 31: CAMROSE AB Cruisers Show and Shine 100 ft shoot out Ken 780.679.8347

MAY 31: ELK POINT AB Annual Show and Shine Ed 780.724.2527
MAY 31: BARRHEAD AB  Chariots Car Club Show and Shine reubclow@gmail.com

MAY 31: NORTH VANCOUVER BC Lynn Valley Days Car Show
MAY 31: EDMONTON AB Krystal Kids Charity Show & Shine
MAY TBA: COQUITLAM BC Charity Car Show & BBQ 604.942.1686
FOLLOW THIS LINK FOR JUNE 2014 CAR SHOWS