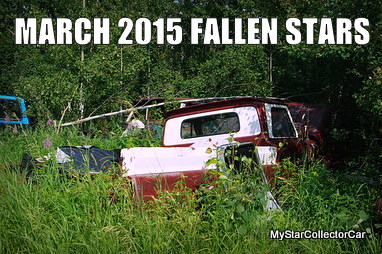 Most of these MSCC Fallen Stars were found in a very scenic area.
There are people with links to organizations like Greenpeace who would see no beauty in the array of cars and trucks in this natural setting.
They couldn't be more wrong.
These classic old working machines fit like a glove in the high grass and trees because they contribute automotive history to a walk in the woods.
There is nothing like the smell of an old truck on a hot July afternoon (when these pictures were taken) because slowly but surely we're losing places like this to self-serving bureaucrats and acreage owners with no soul for old iron.
Enjoy this walk in the woods while you can.
For a look at past MSCC Fallen Stars click here.
CLICK HERE to Like us on Facebook
CLICK HERE to Follow us on Twitter
CLICK HERE to Follow us on Pinterest
If you like this MSCC article please re-post it. Thanks