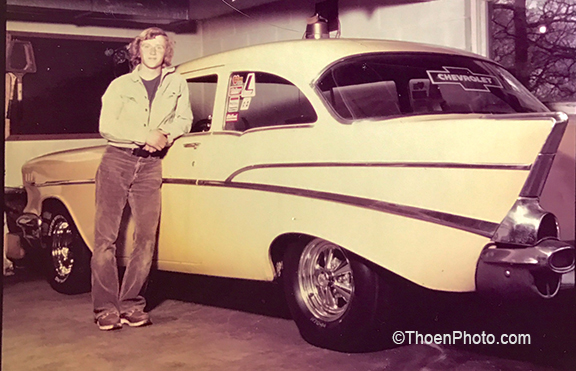 High school days are steeped in nostalgia.
High school represent an era just before the era when you crash into the real world because you're living at home, you've got a social group dedicated to fun and mayhem and your biggest problem in life is a C in Math class—life is pretty simple.
It's a great era and one of the things that made high school even better was a cool ride but most of us leave that car in the memory banks.
Greg Thoen didn't leave his '57 Chevy in the memory banks because he still owns it. Take a look at his story.
"For whatever reason, I'm one of the few people that still have the car they had in high school.  And now that it's been a few years since high school (ha-ha), I'm very glad I kept it."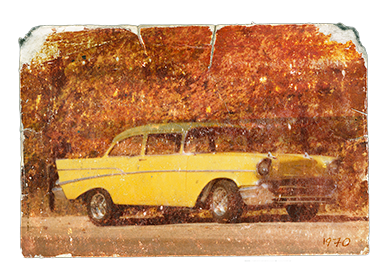 1970 Early Spring
"I was tooling down Hwy 12 in my '62 Impala SS convert when I saw the '57 210 sedan at a wayside stand by Long Lake, Minn.  A guy had just brought it back from California."

"The interior was fresh from Tijuana, the body had 47,000 with a tired 265–3 speed and a bad yellow paint job.  He was getting married & needed $$'s.  For a kid in high school and working as a pump jockey at a Standard Oil station (remember those) making $60 a week, this was a stretch but… gas was only 32.9¢"               
Purchase price $400.00
"I added the tach, 4-speed, poodle fur, dice and a Hula girl in the back window. Now, new carpet, gauges, wiring, tilt column and disc brakes make it a bit easier to drive, but I opted for no power steering!"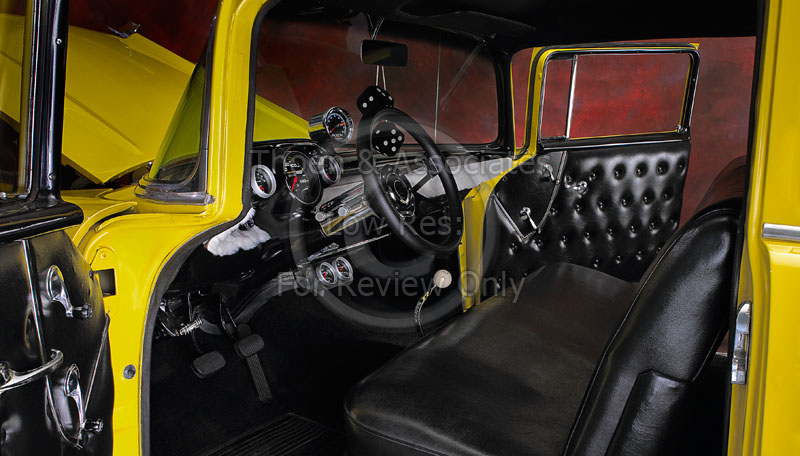 Fall 1970
"Before I sold the '62, I swapped out the 327 block and 4-speed and bored it .30 over, 11 to1 pistons and a solid lifter .512 high lift cam, T10 4-speed and a 4.11 pumpkin from a junk yard."
"I gutted the heater, wipers, radio and misc so it tips the scales at 3100 lbs.–perfect for drag racing. I averaged 5 mpg and leaded premium gas was 42.9¢. It was lucky my boss let me go full time and very lucky that with no heater or wipers so I had to store it for the winter – think no rust."   
Motor / drivetrain / misc.  $875.00

"The '62 327 looks the same as it did when I put it in, other than updating to an alternator, dual master cylinder, radiator and electric fan. With no smog equipment, it can still pass the emission tests. People find it hard to believe the headers are over 40 years old but I had to pull the heater out to make them fit, so it's never been driven in the winter."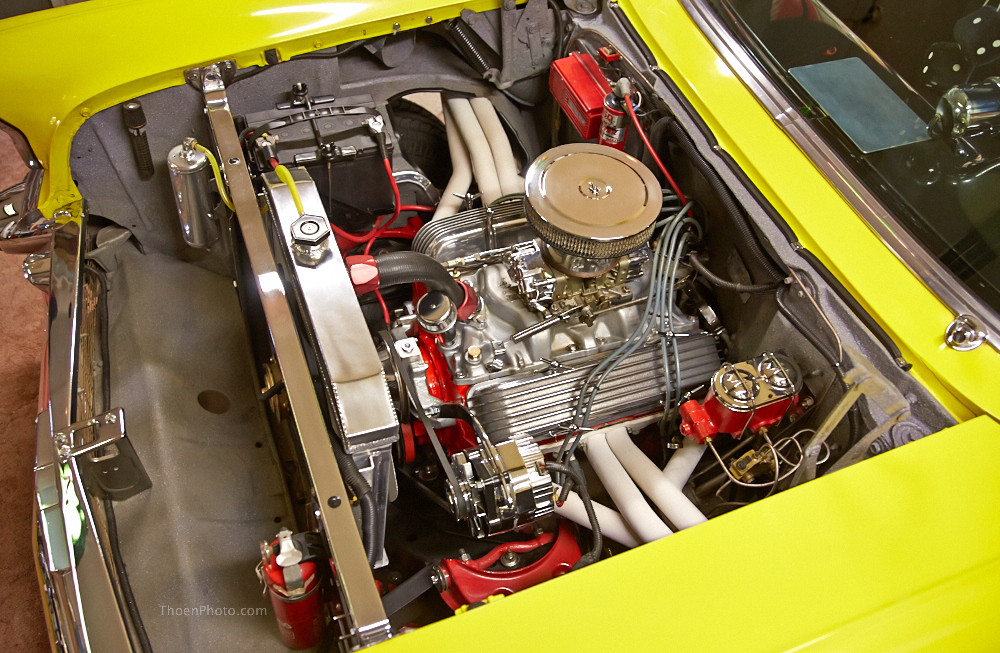 1971 – 73
"Still working f/t but now as a grease monkey at the station, I got a deal on some 60 series bias-plys. I had some super wide, low profiles on for one season but really had to pump the air shocks to the max. I hung out at Snuffy's Drive-in, cruised Lake Street & graduated from Minnetonka high school.  Draft # was high enough to not worry about Viet Nam.  I ran a 12.90 at Minnesota Dragways on a borrowed pair of Cheater Slicks but fried the clutch–a long, slow trip back home. They shut down MN Dragways & TC Speedway before I ever got to run it again.  Donnybrook (BIR) was too far to drive."

Misc. $300.00 
1974
"Three friends stripped 12 coats of paint, redid it with '74 Corvette yellow enamel. I was too cheap to pop for lacquer, but now over 40 yrs. later, it's still yellow."
$400.00   
"I re-chromed the bumpers, a few junkyard finds, NOS grille, misc. and misc. "
$500.00 
1975 – 77
"I started working for my father. It was always garaged and even stored it for a while at my girlfriend's place. Sweet, she's got potential! Married my girlfriend that spring but got to keep the car."
"She loves it and still does!  We bought our first house and it got its own garage now so everything else but the motorcycle parked outside.  It got a new set of 2.02 heads electric fuel pump and $20 collector plates and premium is now at 59.9¢  Ouch, it can't keep going up like this… "
$1,000.00   
1978 – 86
"We have three kids now, work is going gangbusters, but my Dad dies suddenly in '81, so the car takes a big back seat while I buy the business and set up my mother – another 10 year blur."
1987
"There were big plans to get serious with this car so I took every nut & bolt off the bottom of the car – glad it never saw a MN winter. I left the short block in, tweaked the interior, bought all new steering/suspension, every rubber bushing/seals, disc brakes/dual master cyl. alternator and new wiring.  I'm not sure why I didn't pull the body off but I must have been trying to preserve the $400 paint job.  I kept the same bias-plies and mags then I just lost motivation but I'm glad I at least bought all the parts in '87.  Leaded Ethyl is now a thing of the past and unleaded premium is now at $1.35. It's got to come down before I get it back together. "
$2,500.00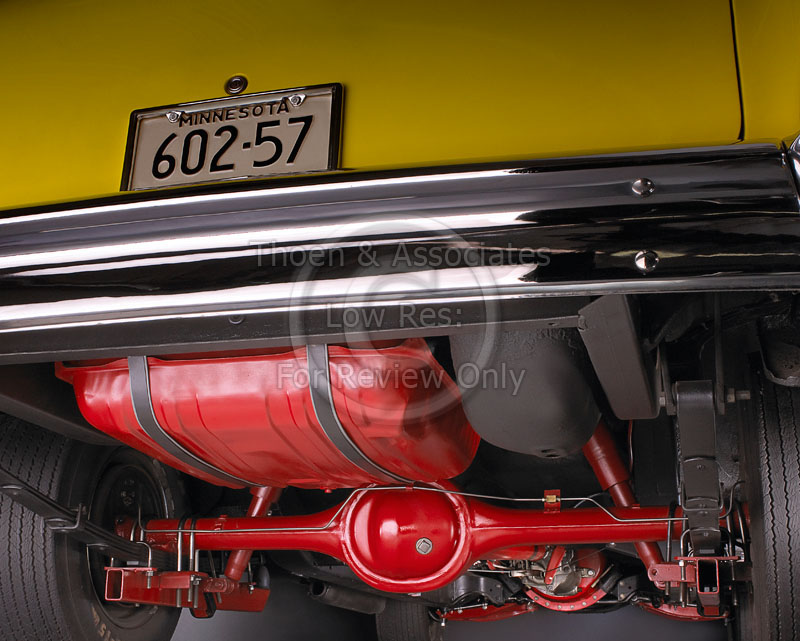 1988 – 2001
"I built two houses, both with dream garages, but spent all my time with the wife, kids, work, motorcycles and helping a friend run a Pro-mod Vette in the 6-second range.  In 2001, after painstakingly moving all the parts & pieces (remember, not a nut or bolt left on the chassis), I got motivated and finally put it all back together.  I was able to pitch a lot of boxes but now unleaded premium at $1.60 and now the engine needs lead additive & octane booster. Old school used to be  simple."

Misc.$1,200.00  
2002 – 2009
"Thirty eight years later, it's still yellow and pretty much the same car from high school other than now it rides, runs and stops better. Glad I kept it. Kept the wife too! "
2009
"Premium is now at $4.00 so I'm thinking of making it a hyper-miler next time—only 2,500 miles to date, just fuel & yearly oil changes."
$400.00
2010
"I decided it was time to upgrade the 40-year-old bias-ply tires to radials but I'm too cheap to go new so I got a used set and paid to have the front end aligned. I also bartered for a pair of mufflers. Excluding the Standard station & body shop, it's the first time it's ever been in someone else's shop."       
$225.00   
2011
"The highlight of the year was 1st place at the Watertown car show but not many miles were put on this year – mainly Mtka. Drive-In. All in all, I still love this car!  Can you believe gas has finally come down?. I paid only $3.09.9 early in the year, but short lived–now back over 4 bucks."
2012 – 2015
"It ran like a '57 with updates… radials with the new suspension is definitely better than built in '57 but it's no highway cruiser.  It corners better but it's setup for going straight. With the old school cam, etc, it idles @ 1,600 RPM and I'm averaging 6 MPG. What can I say – it's the way I built it!"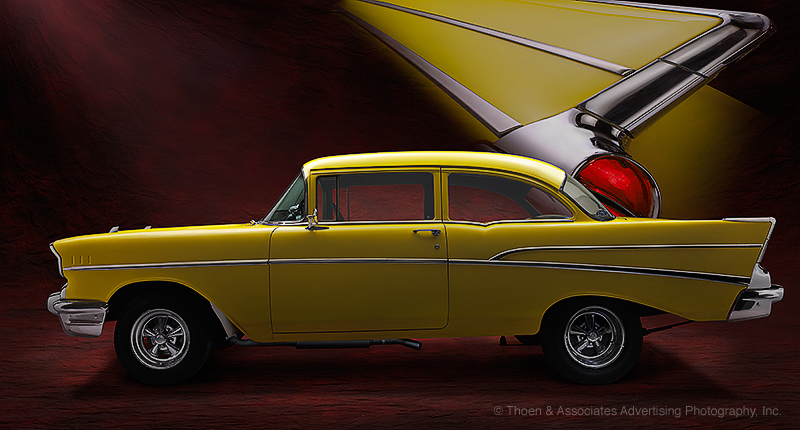 2016
"I put in a new aluminum radiator so it finally runs cool at 160. I should have done that long ago."
$200
"Looking forward, maybe I should think about starting over by tubbing it, twin-turbo motor, auto w/ highway gears, A/C, tunes, other creature comforts and painting it black."
Priceless   
"But thinking back of the way it's been since high school and I'm still cheap, I'll run it like this till I'm too old, then try to sell it to see if I can recoup some of my $$."

Total cost to date $8,000.00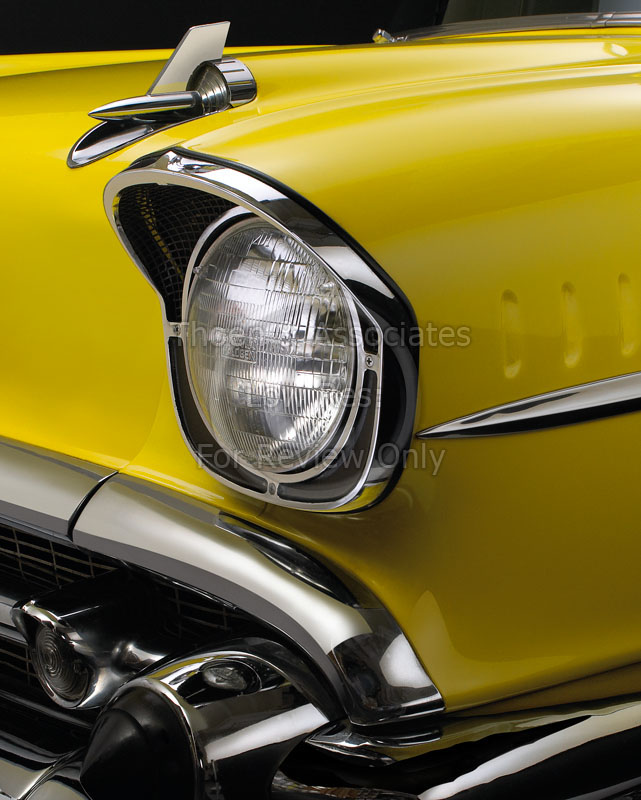 That's how Greg kept his high school dream ride for 47 years.
Jerry Sutherland
CLICK HERE to Like us on Facebook
CLICK HERE to Follow us on Twitter
CLICK HERE to Follow us on Pinterest
Please re-post this if you like this article.