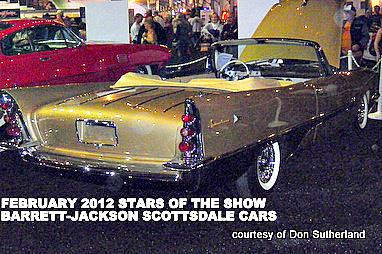 The Barrett-Jackson Scottsdale Auction is like an oasis in the middle of a winter desert for car guys. Love it or hate it, the big show puts the car hobby on prime time TV.
The show itself is a guilty pleasure for fans of the old car hobby because nobody wants to admit that they just spent 11 hours straight watching old iron cross the auction block on TV.
Some guys like to skip the self-serving stuff where Speed TV and Barrett-Jackson spend 25 minutes selling a brand new Mustang for charities like the "Free the Antarctic Penguins Trapped in New Zealand Fund" but in general it's a good show.
They'll PVR the show to skip the 231 "extremely rare" Vettes that pop up every year but the real show is on the direct Internet feed.
That upped the ante this year because you literally get to see every car cross the block and they do pump some interesting iron through the sale.
It's far from perfect, but Barrett-Jackson and Speed TV have created a big car event in the dead of winter and the total coverage on the live feed takes it to another level. In the end, anything that promotes the hobby and brings in new fans is clearly an asset and a welcome sight in January.
Here are some of the cars and trucks from Scottsdale 2012.