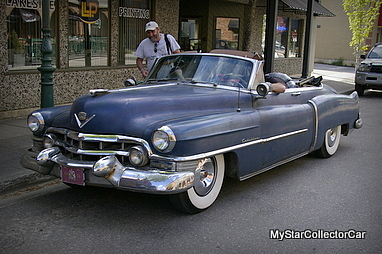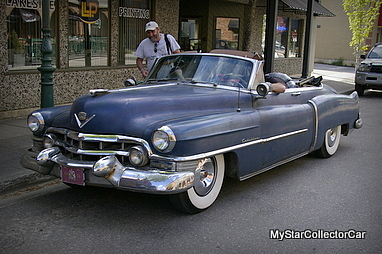 1951 Cadillac convertibles are rare in 2014 simply because they were rare in '51.
Add 63 years to the equation and the casualty rate approaches that of the passenger pigeon.
Add a connection to Queen Elizabeth II and you have infinite odds.
Jim Carpenter is the current owner of this 1951 Cadillac convertible and history was clearly on his side when he acquired this incredibly unique classic.
He explained how he found this car: "I used to work at BC Tel and I commuted in a 30-year-old Dodge".
Old cars often strike up conversations about other old cars—that's a common thread in a car story and this Caddy was true to the plot line: "So the owner told me about her dad's old car that she'd had for thirty years. She told me if you're going to buy it, buy it now".
There was a long gap in the car's history and Jim found out why there was a hibernation period for this '51 Caddy convertible: "It had sat since 1969 so this was the first time it had been anywhere in 45 years.It had been through a bunch of owners until it had an engine fire in '69.Then it was parked but by then they'd put over 80,000 miles on it ".
Men had just landed on the moon, Nixon was President of the United States and Woodstock was a current news story when this classic last hit the road.
Jim is a pragmatic car guy so he assessed the car from a realistic point of view: "It was a father-son project from the start. We did things like boil the carb in oil and we got it this far. I'm a little hesitant to take it any further than this. My sons definitely helped me re-do it".
This Caddy is not a pristine car by any means because it shows the wear and tear that almost 65 years will do to a car. Jim explained how that translates into superficial details: "It's supposed to be black but now it's not".
Despite the fact that it's not a points car, this Caddy has a presence that is clearly enhanced by its history: "This was a Royal Tour car back then and it carried Princess Elizabeth and Prince Phillip back in October 1951".
This tour was a huge event in 1951 and they literally had to hold back the crowds during the young soon-to-be Queen's tour.
The Cadillac was a huge factor in the tour because you can't ask a future monarch to ride in the back of a Fargo pickup during a major Canadian tour. There are remnants of that historical tour in this car but there is little doubt it simply evolved into outdated old car status by the time it retired in 1969.
Fortunately, for the Carpenter family specifically and the automotive hobby in general this Caddy did survive a long hibernation in relatively good shape. The connection to royalty is a bonus but this big convertible would be a star on its own.
Jim and his sons have a family connection to the car in its present state and most likely this survivor state may be its final fate because tampering with history can often change it and that can only have one result.
Her Majesty would not be amused.
Jerry Sutherland
CLICK HERE to Like us on Facebook
CLICK HERE to Follow us on Twitter
CLICK HERE to Follow us on Pinterest
Re-post this article if you like it…thanks.