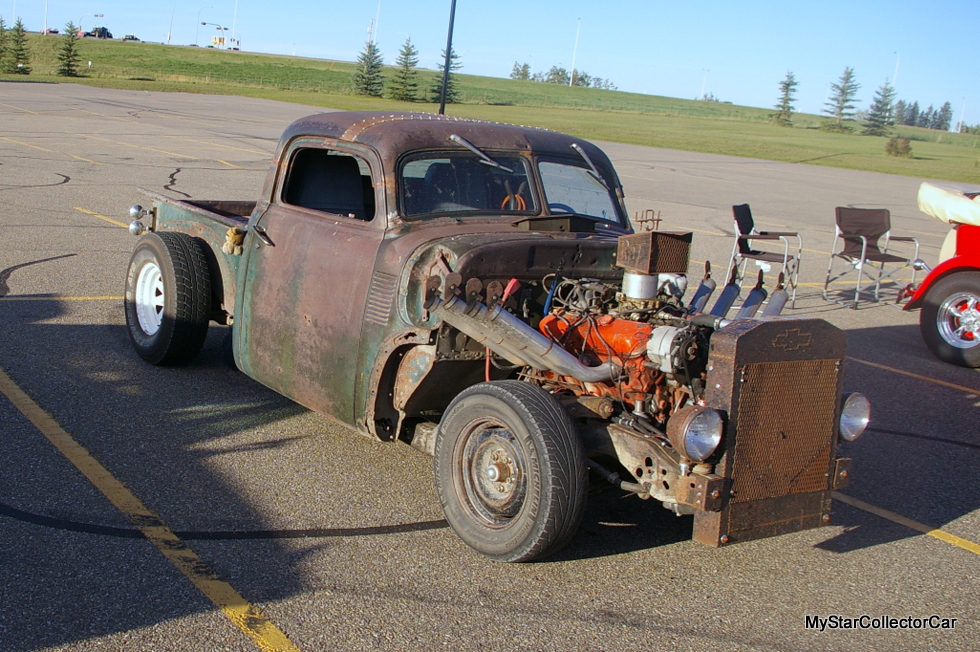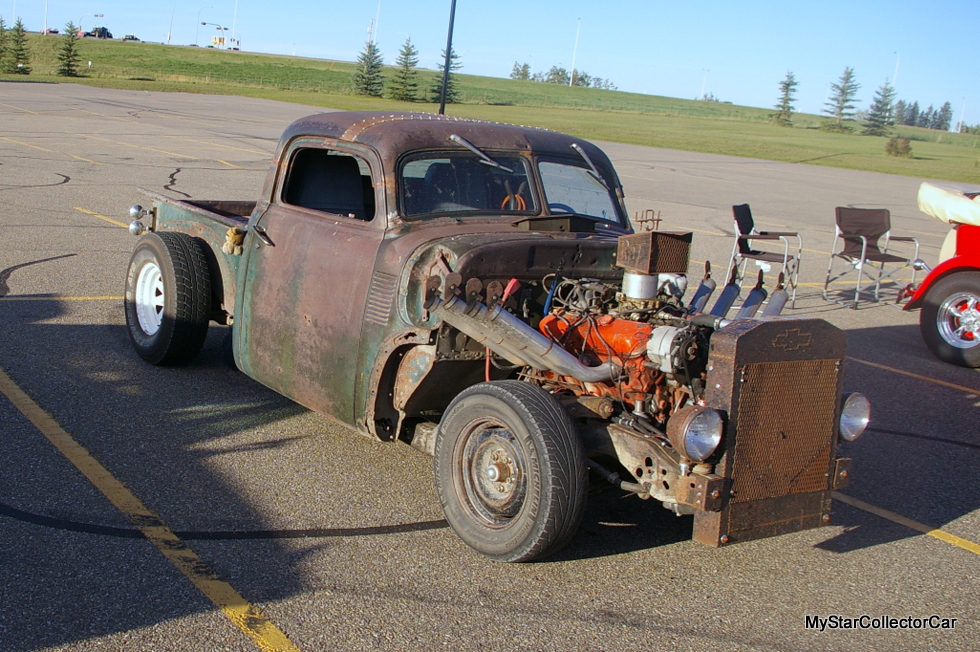 Rat rods continue to enjoy enormous popularity in the car hobby because they are a personal statement vehicle.
A rat rod is a free-form style of ride which rely heavily upon the creative mind of the builder and any available collection of spare automotive parts.
'Some may dispute that simplistic description of a rat rod because some of these rides have been designed and built by master builders, but most are the product of imaginative car guys who build them on a tight budget.'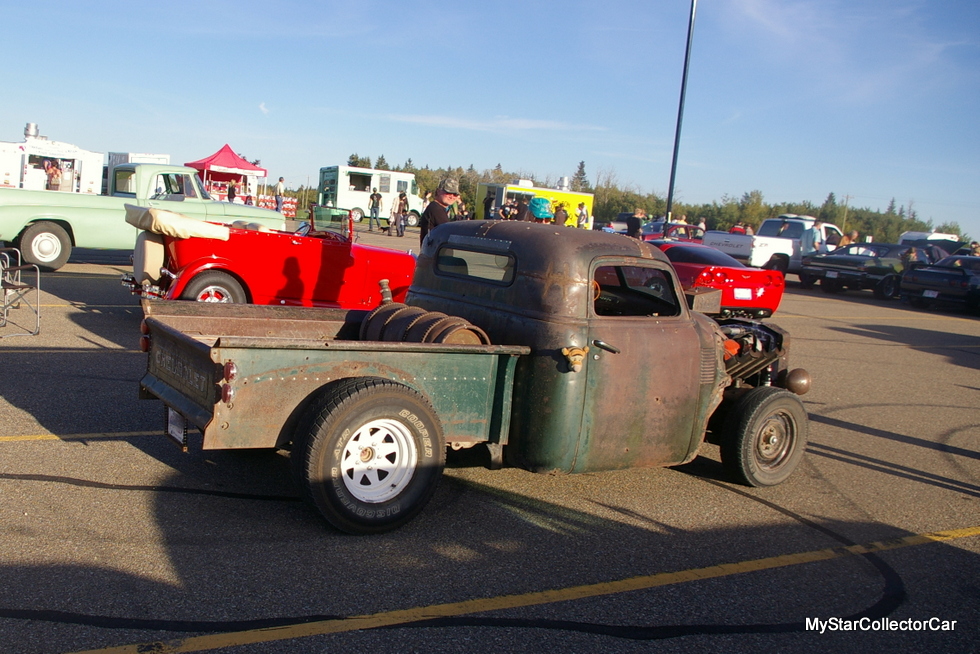 There is no right or wrong way to build a rat rod except for a common sense approach to a safe build. The rat rods need to look cool and roll safe when the dust settles on a project.

Rod Peter is a farmer with enough talent to take a battered old 1951 Chevy pickup truck out of a neighbor's pasture and breathe new life back into the old work horse. Rod said he was "kind of interested in rat rods" and the rusty old Chevy truck was a great base vehicle for his project.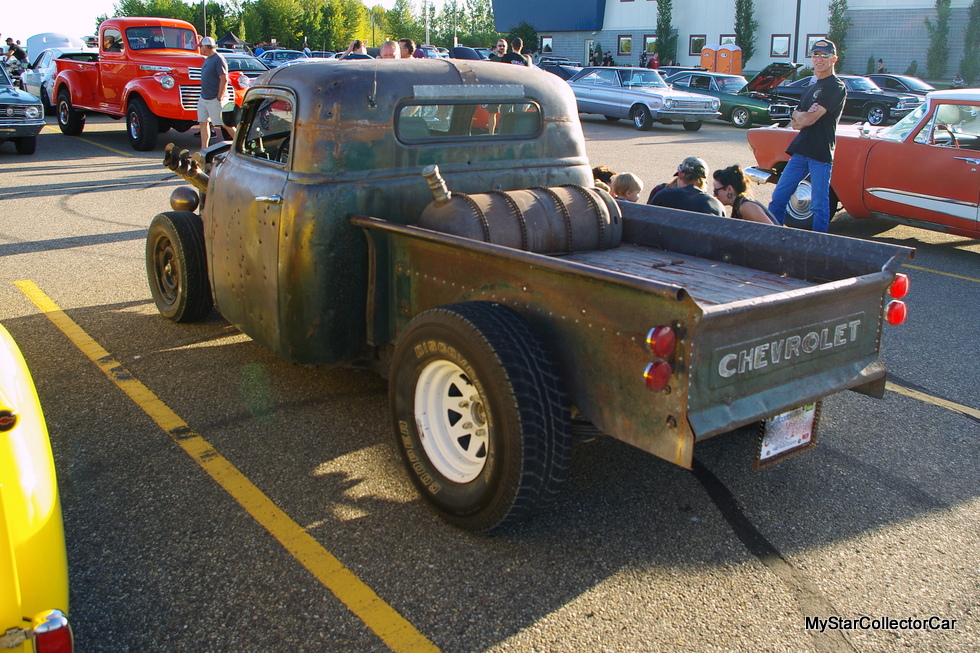 Rod started with the Chevy body and fitted it onto a Chevy S-10 chassis. He is a practical guy with a farmer's frugal approach to a project like his rat rod, so he searched for an engine and got a great deal on a 454 Chevy big block through a mechanic buddy. The big block is equipped with some pretty impressive zoomies with tractor exhaust caps just in case Rod wants to make some noise.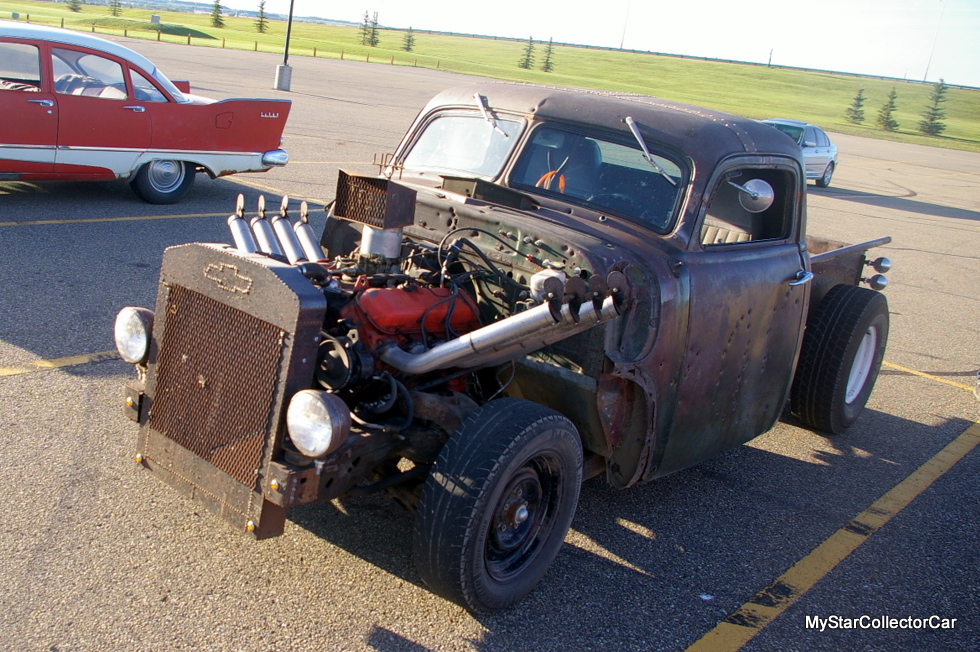 He built a custom gas tank from a 100 gallon propane tank and shortened it to fit his truck bed. The custom tank can hold 25 gallons of gas, according to Rod.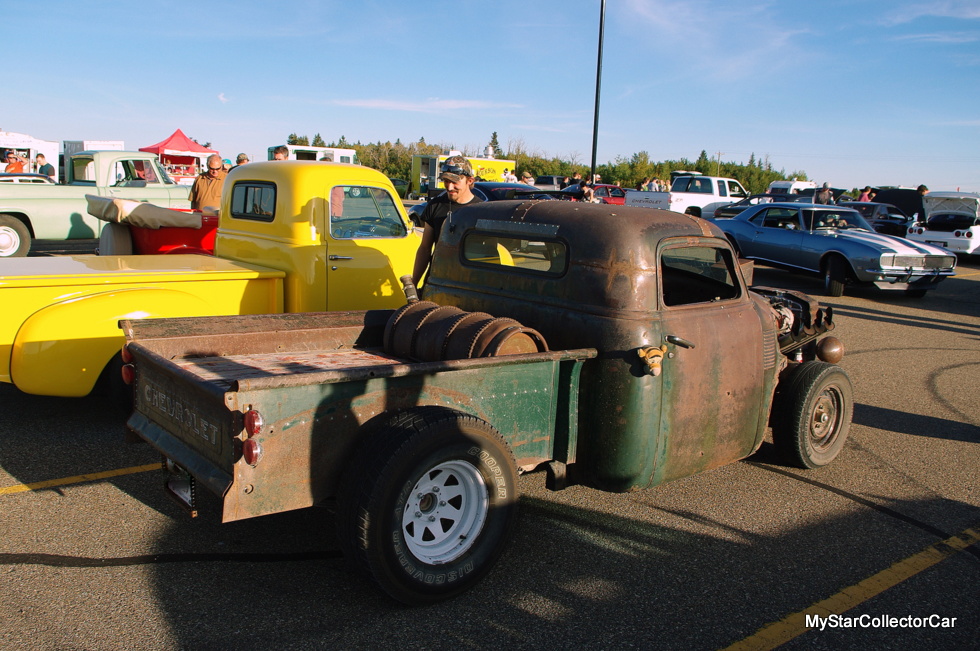 The Chevy's tail lights were donated by a 1976 Honda motorcycle in the finest tradition of rat rod creativity.

One of the most intriguing features of the rat rod is the gear shift handle which was built from an old grain shovel. The grain shovel belonged to Rod's late father and was used by him for many years on the family farm. We asked Rod what his father would have thought of his rat rod and Rod's short answer was "not much."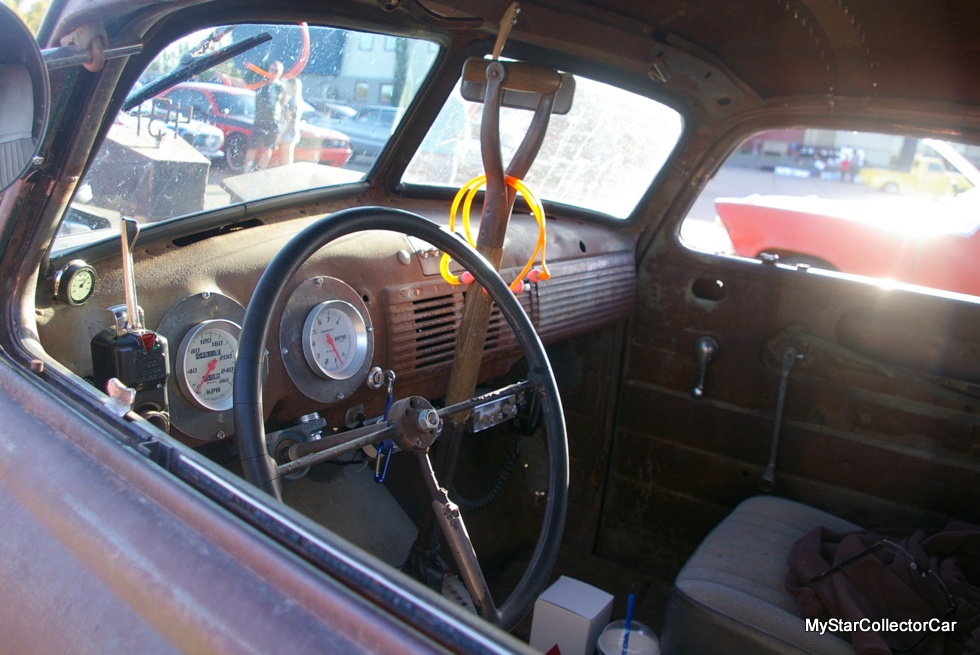 The old truck bears the family cattle brand in the box and over the air cleaner.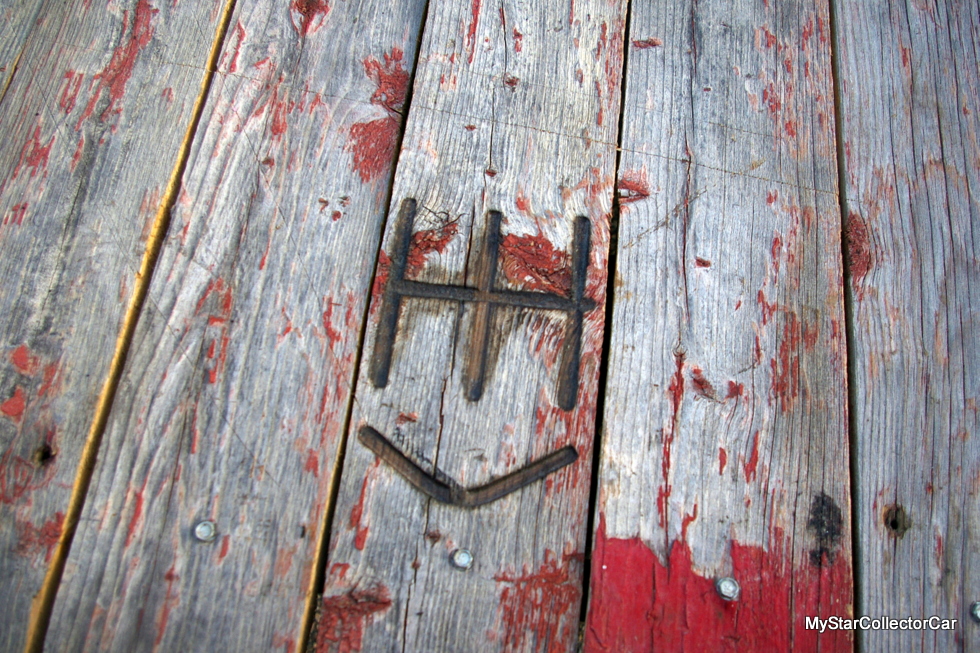 The brand is three generations old and Rod wanted to include that family farm legacy in his build.We liked Rod's salute to the process behind the truck's condition with this message on it: Paint and Body by Mother Nature.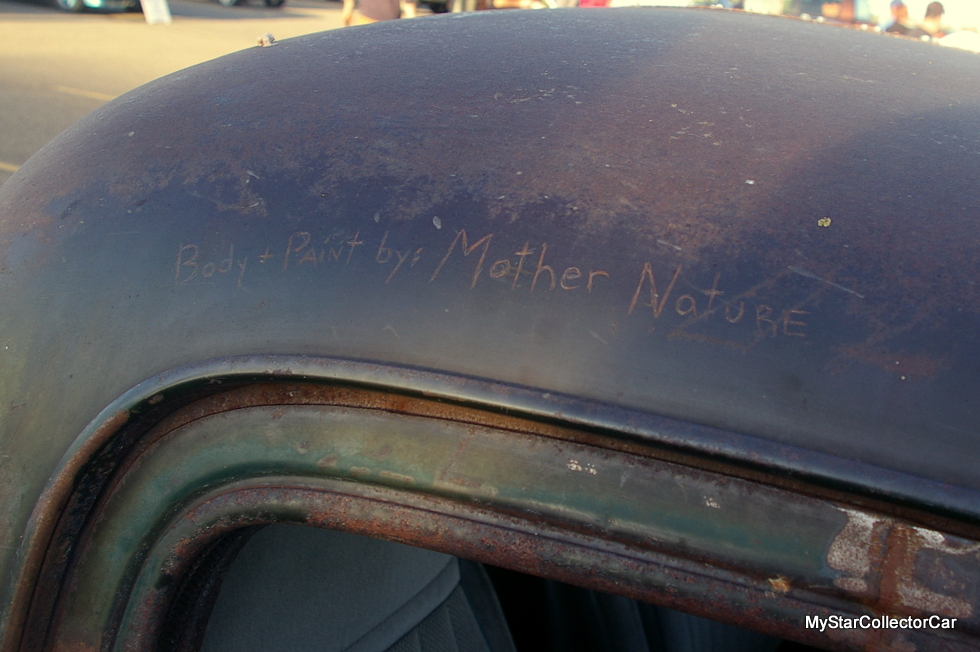 Rod should have included Bullet Holes by Gopher Hunters in his message because the truck also has a few of them.

The air cleaner has its own message: In Rust We Trust; a concept that reflects the basic idea behind a typical rat rod build. Some builders even add fake rust if the vehicle is a little shy in this department, but Rod's truck had no rust shortages after all those years in a pasture.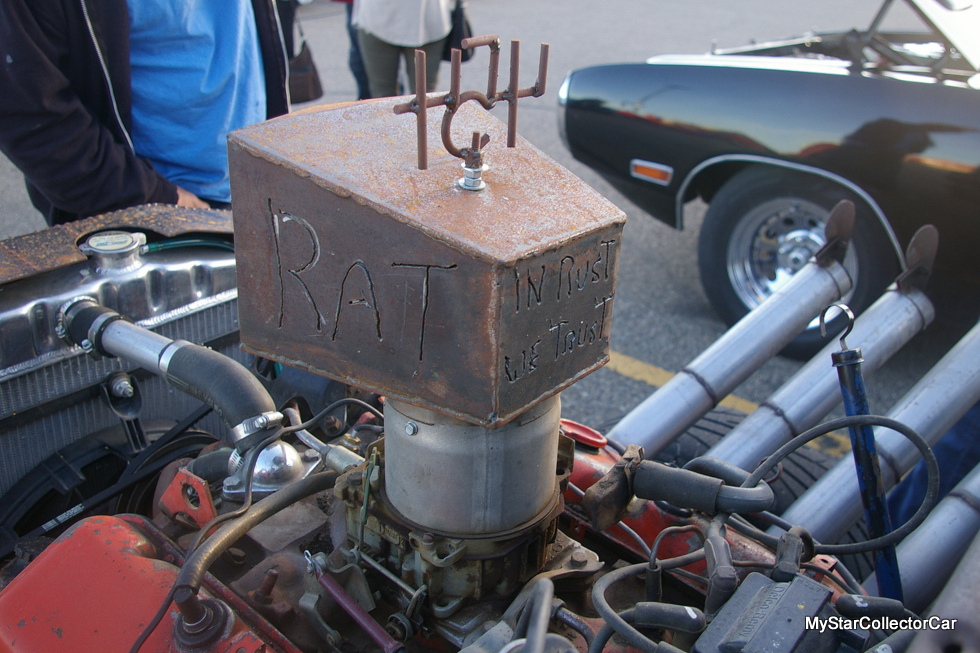 The project took Rod two years to complete and now he can enjoy time behind the wheel when he can take time away from the farm.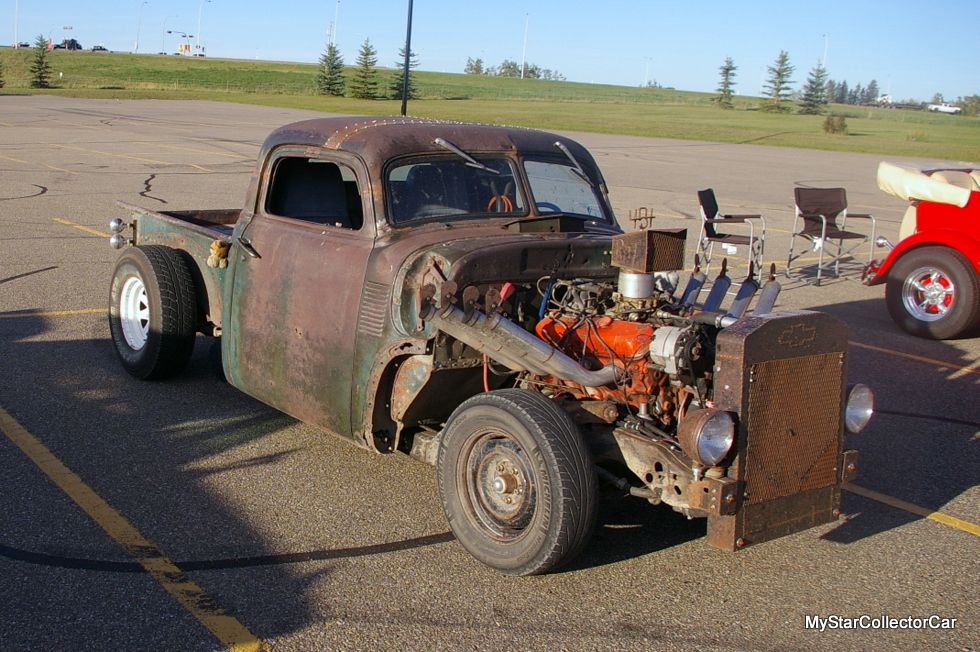 In Rod's words; "I built it to drive it".
'We spotted the truck at a few shows after he finished it and will verify that Rod is a man of his word.'
Jim Sutherland
CLICK HERE to Like us on Facebook
CLICK HERE to Follow us on Twitter
CLICK HERE to Follow us on Pinterest
Please re-post this if you like this article.