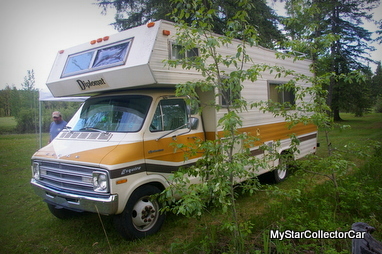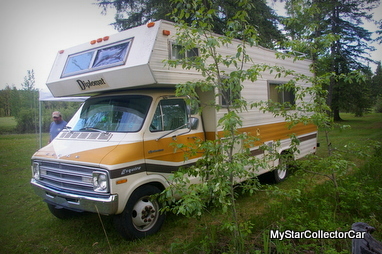 Recreational vehicles rarely make best of show because they were built for a totally different purpose.
You'll never see one parked next to a '32 Ford at any car event.
Despite this kind of lukewarm attitude, there's no doubt vintage holiday trailers are some of the hottest commodities in the old car hobby.
This 1976 Dodge Diplomat motor home is definitely on the low end of "what is collectible?" debate but this old ride will be 40-years-old in two years. That puts it well past 25-year antique status.
Jim Millard didn't factor in the Dodge's age ten years ago when he bought this disco-era RV. His reason was simple, "I wanted something to go camping with my son Jack on the weekends. Something we could jump into, head west and do some fishing".
The camper sold itself as Jim explained, "My neighbors had it and they weren't really using it.It was her parent's vehicle and they knew the story behind it for sure".
The history of this old Dodge extremely well-documented. Barrett-Jackson would love the paper trail on this old RV as Jim explained, "They kept records on it from Day One.I still have every manual, every maintenance record-it even has the factory build sheet.They kept everything on it, every piece of paper".
Jim knew the background and he also knew the owners "weren't suited for it" because there were some things about the old RV that represented 70s old tech. That didn't matter because this Dodge was a perfect for Jim and his son. He explained, "They'd upgraded the interior with newer stuff so it looked a lot more modern plus the van itself was solid".
The reason it was solid is based on the rigorous maintenance schedule and the 26,000 miles on the odometer. This Dodge was barely broken in when Jim bought it.
He didn't have to do much with it, "I had to work on the paint a little because it was oxidized and I replaced a taillight and rewired the trailer wiring.I detailed and painted the wheels too but it was pretty minor stuff".
Jim is realistic about the old RV, "I don't take it too far, maybe about 50-60 miles west and then I park it near a place where we can do some fishing. We go out for about three or four days at a time.Jack was pretty young on one of the first trips and he kept asking about coyotes so when he was just about asleep I snuck out and did my best coyote impression. He was awake for awhile after that".
This old Dodge has plenty of power for keeping up with traffic, "It can run at 65 miles per hour pretty easy but nobody does that these days. It cruises right along no vibrations or anything.This is a solid ride because it sits on a truck chassis so all the stuff like ball joints are heavy duty".
Mileage is a key factor these days but Jim was realistic about his RV, "It's okay, it's not too thirsty. It's probably about 12-15 miles per gallon. If you don't really pound on it, it's probably closer to 15.
There's only one real concern about this RV, "It's got 16.5 inch wheels and they don't make tires for those anymore so that's kind of a problem".
This is a 70s-era vehicle but it's still functioning as a father and son weekend getaway vehicle but the real value of this 38-year-old Dodge is priceless. Jim summed it up in one sentence.
"Jack and I have had a lot of laughs and lots of fun in this unit so it's been a great investment".
Jerry Sutherland