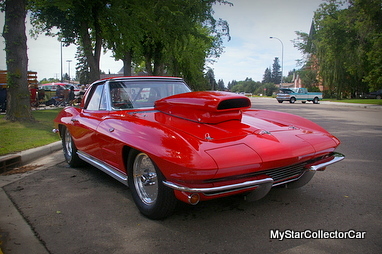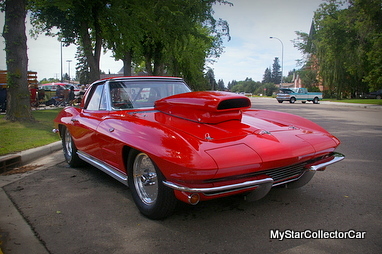 Very few people can edit a masterpiece and get positive results because masterpieces are generally regarded as a perfect finished product.
The 1964 Corvette is definitely a masterpiece but occasionally one of them will get modified.
The results can be a spectacular brute force street machine.
This is one of them.
John Pyper is the proud owner of a 1964 Corvette but his car is light years away from the car that originally rolled out of the factory.
He explained the history behind the Vette, "I wanted a Bel Air but the history and documentation was so good I bought it. I'm the fifth owner of it so it's pretty cool that there are not many owners".
This is a heavily modified Corvette with a short, but colorful history on the road for obvious reasons, "It only has 5000 miles from new because it was a track car. It was raced a little and garaged a lot. ".
The miles were piled up a quarter mile at a time from Day 1.
The biography of the car created some problems as John explained, "The insurance company wanted some phone numbers to back up what I was telling them so they went to the appraisers for an explanation".
John filled in some more blanks on this classic Vette,"I'd like to take all the credit for what it's like now but this car was built by a guy in Jacksonville Illinois-he does pro-street conversions and to authenticate it they put a serial number on it. The car still has the stock interior it was salvaged through all the years and the changes".
The previous owner had a long history with the car, "He bought it, had it for twenty years and then I brought it to Canada".
The Vette was a beast in its original incarnation, "This was a 540 big block car but it's a 355 car now. It's a little more civilized now but with a 5:11 rear end this could easily be an eight and a half second car". This car looks like it's all business and the numbers indicate that it is all business.
John doesn't put many miles on his '64 Vette but he does enjoy some time behind the wheel of this monster, " It's more for show than go now but I do take it for the odd run".
The car isn't factory smooth but it's manageable on the street, "It's got a pretty lumpy cam so it doesn't like to idle and it has very little vacuum but it's not too bad".
The real problem lies beyond the idle stage as John admitted, "It drives pretty nice down the road but you have to be a little resistant on the throttle. I don't like breaking stuff so even at half throttle this car is wild".
John practices sanity behind the wheel of this monster Vette but he doesn't have one hundred per cent support on the conservative approach, "Younger guys like my nephews like me to roast the wheels on it".
The biggest reason John bought the car is because it runs contrary to ordinary thoughts on vintage Vettes, "Most guys don't go pro-street on a Vette if they own one so this one was definitely different".
A modified masterpiece.
Jerry Sutherland