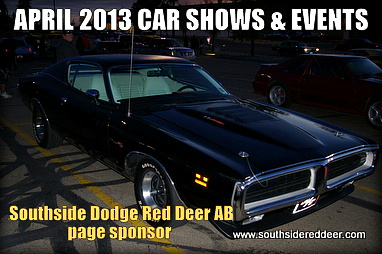 APRIL 2013 CAR SHOWS AND EVENTS PAGE

*Please contact us about your Car Shows and Events
APRIL 6: MEDICINE HAT AB MDHRA 6th Annual Swap Meet Gary 403.527.5152

APRIL 6: SEDALIA MO 23rd annual D.A.R.E. Fund Raiser Event & Car or Vehicle Show/Display @ 2nd Street & Osage Avenue. Racecar Bob Hiller @ 660.826.9166 or mkoeller@charter.net
APRIL 7: ROCKTON, ON HASC Antique Car Flea Market, Fairgrounds, 812 Old Highway #8 Gord 905.627.0277 email: gord.kosterewa@hotmail.com
APRIL 7: ALBANY OR April Fool's Car Show, Albany, Oregon South Albany High School 3075 Columbus St. SE Albany 97322 Doug 541.990.7338
APRIL 13: CALGARY AB Get Acquainted with Museum Quality Restoration 1:00-4:00 PM Gasoline Alley Museum $25 per Participant Advance Registration Required. Please call Heritage Park Historical Village; 403-268-8500 "Randy Kvill, Head Curator at the Reynolds Alberta Museum takes you through the entire vehicle restoration process. Participants will be introduced to a step by step method designed to eliminate restoration project frustration. You'll come away with the understanding that even an amateur can create a high quality product".
APRIL 13: REGINA SK AAC Swap Meet 306.779.1365

APRIL 13-14: REGINA SK Majestics Car Club 47th Annual Car Show
APRIL 14: MOUNT HOPE ON Drag Strip Memories Canadian Warplane Heritage Museum info@dragstripmemories.com
APRIL 14: SAANICHTON BC British Car Restoration Fair & Swap Meet 250.544.1371
APRIL 14: RICHMOND HILL, ON Richmond Green Indoor Automotive Flea Market, Richmond Green Sports Centre, 1300 Elgin Mills Rd. ACCCC Rouge Valley Region and RG # 149 Early Ford V8 Club of America 416.266.1628 or 905.683.4316
APRIL 14: WOODSTOCK ON Swap Meet Oxford Auditorium,875 Nellis Street,WoodstockPre-registration,make cheque payable to W.O.M.O. Inc. Mail to: Reg Gurney,746985 Twp.Rd.4,Princeton Ont. N0J1V0  Reg Gurney 519.458.4692 or Carl Clayton 519.539.0767
APRIL 19: RUSSELLVILLE AR 9th Annual BestRide Hot Rod Show & Shine @ Old National Home Center parking lot. Open to Hot Rods, Trucks & Bikes. Door & Raffle Prizes gdaughtry@cogswellmotors.com  Gene Daughtry @ 479.967.3192 Jerry Evans 417.970.6100.
APRIL 19-21: ABBOTSFORD BC Classic and Custom Show
APRIL 20: REGINA SK Collector's Car Club of Saskatchewan Steak Night
APRIL 20: PENTICTON BC 23rd Annual South Okanagan VCCC Swap Meet Ron 250.462.2111
APRIL 20: FORT MACLEOD AB Spring Break-Out Car Show Ted 403.553.4596
APRIL 21: CALGARY AB The Nifty Fifty's Ford Club of Calgary will host the 'unofficial' launch of the southern Alberta cruisin' season Sunday April 21 – 10am – 4pm. Conveniently located at Deerfoot Mall.Deerfoot Trail and 64 Ave. N. 403.250.7046
APRIL 21: MAPLE RIDGE BC 32nd Annual Golden Ears VCCC Swap Meet 604.941.7791
APRIL 21: FT LANGLEY BC St. George's Day British Motoring Show 604.857.1837
APRIL 27: BURNABY BC Memorial Cruise for Your Cause – In memory of Larry Bowering
APRIL 27 – 28: PETAWAWA, ON Petawawa Civic Centre, 16 Civic Centre Road. www.ontarioshows.com or Ryan 613.587.4609
APRIL 28: PERTH ON 36th Annual Festival of the Maples Car Show mikealberty@ripnet.com www.perthchamber.com
APRIL 28: ANCASTER ON 29th annual flea market sponsored by Roadrunners Car Club. NEW Ancaster Fair Grounds. Exit 55 off 403 Hwy. Follow signs to gates. Wayne 905 570-6895
APRIL 28: TSAWWASSEN BC Classic & Vintage Motorcycle Swap, Show & Shine 604.299.0020