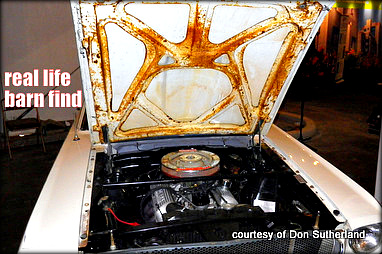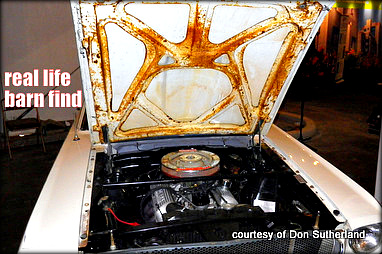 A 1965 Mustang Shelby GT 350 sold for $350,000 at Barrett Jackson.
It was a legendary barn find car that was actual fact instead of complete high grade barnyard BS (see tired email/urban myth story about the cars in Portugal that has rattled around the Internet for several years and still refuses to die a well-deserved death).
This was the real deal.
The Pony was a poster child for the ultimate survivor car, largely because it was stored and forgotten for several decades. A 1965 Shelby Mustang is a rare horse, but a '65 Shelby with complete documentation and an obviously original look (I hesitate to use terms like provenance and patina because they suck in an uppity non car guy way) is Secretariat rare.
The car had an original stripe package that had not worn the years very well, plus it has some surface rust under the hood. Every car guy that has lifted a hood on a long parked car will come to one conclusion: that 'Stang is the real deal.
The guy who bought the car from the original owner was a smart man. He recognized that the car had serious market value in a Billy Joel 'Just The Way You Are' kind of way, and somebody showed him 350,000 excellent reasons why he made the right call on the car not to mess with it.
Most car guys love this kind of story because it gives them hope that they will open a door on a ratty old garage, barn or just plain shack and find the motherlode-an original low mileage survivor with huge appeal to the masses.
Car guys love a car that signifies a time and place when the car was a head-turner that owned the streets long before it became a prisoner in solitary confinement waiting for the light of day.
Fittingly, we salute a brother car guy who was smart enough to leave well enough alone when he discovered a rare pony in a broken-down barn.
You, my friend are a hero, and so is the guy who bought this car because he will leave it in its time capsule of originality.
Jim Sutherland
Many more happy endings at-https://www.mystarcollectorcar.com/