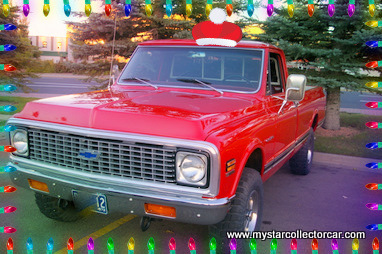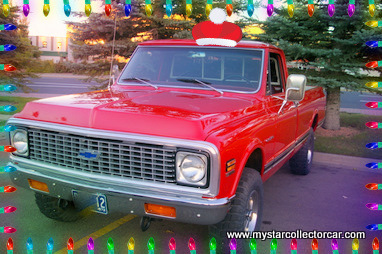 Today's Car of Christmas is actually a truck.
'The 1972 Chevy truck was the last year in a body design that began in 1967. This style of Chevrolet truck was a big departure from the 1966 model, and many considered it to be ahead of its time when it hit the GM dealerships.'
The 1972 model was one of the most popular pickups ever built.
It was a refined version of the original 1967 model, plus it offered enough creature comforts and power options to sell the truck on its style and performance.
The 1972 Chevrolet pickup was a comfortable vehicle with a solid feel on the road. In many ways, it was a pioneer for today's pickup trucks where a marriage between high- end luxury car features and a truck are the rule.
The 1972 Chevrolet was a handsome truck with a stylish front end and grille.
The body lines were sleek and clean, with chrome trim that emphasized the lines.
My brother bought a 1972 Chevy pickup in the 80s. It was tired but solid and he was always a big fan of the 1972 model.
He did a complete restoration on the truck and enhanced the stock look with an ingenious two-tone green paint combination that was nothing short of spectacular. He used the truck as a daily driver and got tired of notes under the wiper from interested buyers.
I can remember a winter road trip with him in the mid-80s on a major highway during a blizzard. The truck performed like it was a summer day even as we watched a major pile-up as it happened in the other lane.
My brother phoned in the accident from a then-new cell phone in his truck. The emergency people thought it was a crank call, even though radio telephones were somewhat common at the time.
Unfortunately, the truck met its final fate later that year on a dry street in the summer. A momentary lack of attention turned the beautifully restored 1972 Chevy truck into crumpled junk beyond repair.
It was a tough farewell for one of Chevy's best truck designs.
Jim Sutherland @mystarcollectorcar.com
For many more stories and features have a look around our site www.mystarcollectorcar.com
COMMENTS
ANGUS SUTHERLAND:"Jim-Loved your article on the '72 Chev truck. I have to admit that truck was pre-Angus-car-awareness as something other than rolling playgrounds. I do remember it parked on Broadway in Blackfalds in front of a guy named big Mike's (or something) house. It's funny 'cause I knew of the truck before I knew dad owned it. If that makes sense. Not as a '72 Chev but as an important waypoint for a rudimentary bicycle-based navigation language: "Turn left on the street after the house with the green truck in the yard".
It was one of the vehicles he didn't go into a lot of detail about. I guess for a guy who, vehicles were to him, like babes were to Sam Malone – you can't wax philosophical about them all. Hell – I can't say much about it myself as – at 31 – fast approaching 32 – I've logged quite a few everyday drivers already.
There is an epilog to that truck story that is one of my favorite weekends, or maybe just one of the most well remembered, was with him and Neal finally moving that truck off that property and moving a Scout he owned off a farm out by Sylvan Lake.It must have been a weekend in the spring of 1989 or 1990 – Bruce had borrowed a one ton and trailer for the weekend – I assume from Terroco. At one point, on Saturday, while hauling the '72 the back window of this one ton shattered. For no reason at all – just completely crystallized as we drove. Eventually safety shards started dropping out and Neal was quickly promoted to shared-shotgun position. I have no idea where that '72 was hauled to – to this day – but I remember that window shattering. I've never seen that happen since.
The next day we picked up the Scout and it had been parked on this farm for such a long time that a 8 inch around Poplar had grown in front of it. It's pretty common to see that now but I remember being gobsmacked as a 10-11 year-old. After loading the Scout and hauling it for a bit, dad noticed there was a cat inside the Scout. The cat was standing on the top of the back bench seat and pretty surprised to be tooting down the road at ninety clicks. We pulled over and I was dispatched to remove the cat and release it to the wild of a dirt road Northeast of Sylvan Lake.
When we reached Red Deer – no idea where we were going but Red Deer was a stop – the Scout had moved on the trailer and one front wheel was off the trailer and it look like it was going to do a barrel roll off the right front of the trailer. We pulled into a Bobcat dealer and had a guy lurch it back on with a skidsteer.
This weekend must have been right around or maybe a year earlier than the purchase of the green Impala from Midwest Auto Salvage – that (I believe) started my car passion.
There are other things I remember from that weekend – riding in the truck box of that one ton around town. It would be some of the last days of doing that. I also remember singing a fairly disgusting version of Terry Jack's Seasons in the Sun that included a line about flicking boogers at the sun.
We also were treated to breakfast by dad in the Blackfalds Motor Inn Saturday morning. Maybe pretty common to other kids – "this restaurant thing" but it was quite unheard-of around the Brucey household – and very special – I felt.
Cheers,
Angus