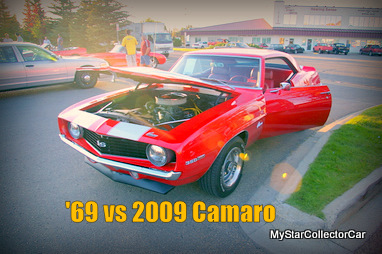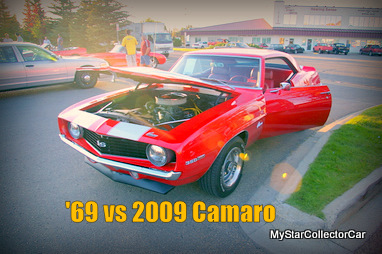 The 1969 Camaro is an automotive icon.
Because of this juggernaut tag there are tens of thousands of these late 60s pony cars restored or under restoration.
The late Reverend Jimmy "drink the Kool-Aid" Jones would have been humbled by this kind of blind loyalty-the sole reason the '09 Camaro exists was GM's critical need for a home run.
But which car is going to be more valuable in 2019?
Even after 10 years of service as a daily driver?
To make this fair you have to start with an equivalent value-in this case the '09 is an entry level Camaro 2LT (retails at $26,580) and a 1969 Camaro (base model, 350 V8, NADA guide high retail price-$26,335).
To make this even fairer the 69 Camaro has to encompass, within reason, the same daily driving experience as its much younger 2009 cousin. The cost of this retrofit should offset the obvious-a 69 Camaro makes money while parked in your garage whereas the 09 Camaro's value gets ambushed before you pull out of the dealer's lot.
Now you have to outline the 21st Century upgrades that make the new Camaro much more realistic as a reliable, functional chariot with modern handling and braking.
Things like a fuel injected 304 horsepower V-6 with 29 mph highway mpg and 19 city mpg with a 0-60 time of 6 seconds, ABS, 4-wheel discs, traction control, hi-intensity headlights, AC, PW, PS, PLKS, PB, PW, power sunroof, airbags front and side, 6 speed automatic or standard transmission, heated leather seats and mirrors, FM, MP3, satellite radio, 245-50 R19 wheels and tires.
These are all part of the 2LT package-that's a big list to overcome for the 40 year old Camaro so the fairest strategy is to distill the competition down to basic comfort and function. Assume the 69 came with PS, PB and possibly PW and AC.
Forget about air bags, ABS and power sunroof-just make this old Chevy start, stop and handle every day in the real world like the new one with a ball park participation in the 0-60, 60-0 and MPG sweepstakes.
Fuel injection is the first thing that has to happen.
There is nothing that makes more sense in the hell called daily driving than fuel injection-it makes engines start better, run better and last longer. A RamJet fuelie 350 (350 hp) for the '69 is going to cost you $5400. Add in a Tremec 6-speed automatic conversion for the Turbo 400 and you're down another 2500 bucks.
You're going to want to stop this monster so 4 wheel disc brakes are mandatory. You'll find that they come with the Heidts front end conversion kit ($3727) and Heidts rear end conversion kit ($959). These kits will get that old Camaro up to, and possibly past the new upstart 2LT on any track. Wheels and tires to get the '69 up to the 19" size are going to cost $4000. The seats ($1000) and stereo ($500) are relatively cheap.
Overall this 1969 Camaro should run every day-any day with that bulletproof 350, handle like a new car, stop like a new car and pull down 25 mpg on the highway if you don't bag on the 6-speed.
But these upgrades are going to add $23,000 (allowing for $6000 in labor costs) to that initial purchase price. That should even up the depreciation rate built into that new upstart Camaro.
So… where are you really going to be in 2019 dollars with these 2 cars?
Start by depreciating the 2009 Camaro.
According to the depreciation calculator this car will be worth $2545 in 2019 so you've lost $23,790 bucks on your new Camaro.
The '69 that cost you 27K (pre mods) has jumped to $50,335 after cost of the retrofit.
The retro-fit costs put you 23K behind the new Camaro in 2009.But the '69 had shown an average annual appreciation rate of $575 per year based on a new price of $3200 in '69 and the extra 23 K gained in equity since 1969. At that rate your '69 Camaro should appraise at $31,580 in 2019 for a gain of $5245.
That's offset by the 23K you've dumped into the upgrades so the loss is $17,755 on the '69 Camaro versus the nearly 24K you'll lose on Chevy's latest attempt to cash in on past glory.
Simple math-you'll be $5935 ahead with the '69 Camaro plus you'll still own a piece of automotive history.
How cool is that? Even your accountant would approve.
Jerry Sutherland
CLICK HERE to Like us on Facebook
CLICK HERE to Follow us on Twitter
CLICK HERE to Follow us on Pinterest
*Re-post if you like this MSCC article…thanks.