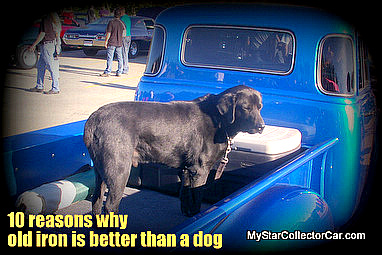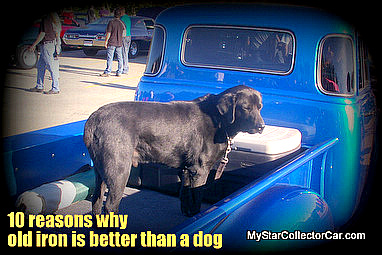 Just to avoid angering up some of our readers, we at MyStarCollectorCar love dogs.
They are the most loyal and loving creatures on the planet, we freely admit that fact of life.
But a logical case could be made for a classic set of wheels over a dog, if those were the pick-one choices.
Here are ten reasons for four wheels instead of four paws:
REASON NUMBER ONE. Old cars feel no urge to hump your leg.
REASON NUMBER TWO. Old cars only have to be garage trained and you can clean up after them pretty easily when they leave the garage.
REASON NUMBER THREE. Old cars are quiet when you want them to be quiet.
REASON NUMBER FOUR. Old cars are not the natural sworn enemy of the mailman
REASON NUMBER FIVE. Old cars feel no urge to fight with other cars.
REASON NUMBER SIX. Old cars feel no urge to get romantic with other cars
REASON NUMBER SEVEN. Old cars do not bark at strangers.
REASON NUMBER EIGHT. Old cars do not hump stranger's legs.
REASON NUMBER NINE. Old cars do not use stranger's legs as chew toys.
REASON NUMBER TEN. Best reason of all: old cars can be transformed back into new cars again but dogs can't become young again- there is never enough time with a dog because they always leave too soon.
Jim Sutherland
Follow us on Facebook at-http://www.facebook.com/MyStarCollectorCar
Follow us on Twitter at- https://twitter.com/#!/MyStarCollecto1