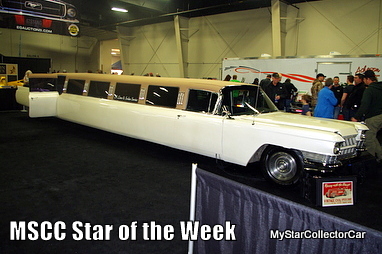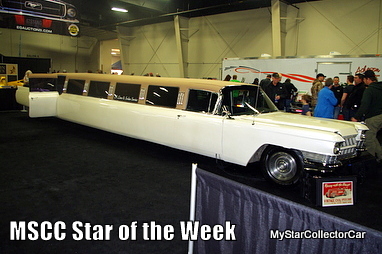 MSCC MARCH 22 STAR OF THE WEEK: A '64 CADDY WITH ENOUGH ROOM FOR ELVIS'S ENTOURAGE
There probably isn't an Elvis fan on earth who doesn't know about his love of Cadillacs.
He bought so many of them he gave them away like Tic Tacs.
Elvis was a guy who lived a very dynamic life and Cadillacs fit him like a proverbial glove during his brief, but very flashy years.
This MSCC Star of the Day '64 Cadillac limousine at a recent auction was big enough for Elvis and his very large entourage.
It was fit for a King.
MSCC MARCH 21 STAR OF THE DAY: '51 PACKARD-IT'S ALL ABOUT GRACEFUL EXITS

The long and storied Packard name didn't have many ticks left on the clock by the time the 1950s began.
They were still building exceptional cars but Packard paid a price during the Depression that would prove to be lethal.
Packard struggled with its identity to survive in the North American market so they did what they could on a limited budget and produced some remarkable cars in their waning years.
This MSCC Star of the Day '51 Packard was at a 2009 show and it proved how a legendary car builder and a legendary car could make a graceful exit.
MSCC MARCH 20 STAR OF THE DAY: THE ESSENCE OF A CAR SHOW IN ONE PICTURE
Car shows are based on two things—customs and classics.
The customs are typically hot rods with a personal touch and the classics are basically a look back at cars that captured our imagination when they were factory fresh.
This blend is why car shows work on so many levels.
The MSCC Star of the Day is a great example of custom and classic back in 2013.
MSCC MARCH 19 STAR OF THE DAY: A 'VAIR—THEY WERE JUST PLAIN COOL
The Corvair was a remarkable departure from the fin era at Detroit.
They were more European in style and technology so Chevy rolled the dice in a big way.
Rear engine cars were a new concept in North America but the VW Beetle's success convinced GM there were buyers for them in 1960.
This MSCC Star of the Day Corvair at a 2013 auction is a clear example of how cool these cutting edge Chevys were back in the 60s.
MSCC MARCH 18 STAR OF THE DAY: AN EVENING RUN IN A '64 THUNDERBOLT
There are many ways to truly enjoy a late summer night but few can surpass a run in a classic muscle car.
These cars take you back to an era of raw and uncivilized brute force.
You can't get the same feeling in today's drive by wire remote control cars because old school muscle demands all your attention.
This MSCC Star of the Day '64 Ford Thunderbolt tribute definitely made a late summer evening a memorable experience.
MSCC MARCH 17 STAR OF THE DAY: A GREEN MONSTER FOR A MONSTER GREEN DAY
Saint Paddy's Day is the biggest annual party on the planet thanks to the Irish love of a good party.
This is the best reason in the world to wear green and become part of a cult based on massive amounts of beer, Celtic music and an overwhelming desire to be Irish for just one day.
The key to a monster green party like St Paddy's is to bring a green monster to the party.
This MSCC Star of the Day green Cuda fits the description like a tailored suit
.
Happy St. Paddy's.
MSCC MARCH 16 STAR OF THE DAY: '71 DODGE CHARGER RT-3RD GEN FUSELAGE BODY
The Dodge Charger went through another stage in 1971 with the fuselage body style.
This transformation marked the debut of the 3rd generation Charger after a highly successful 2nd generation run.
The fuselage body Mopars were introduced at the end of the free for all brawls in the muscle car world because smog rules were coming in '72.
Despite that gruesome future, this MSCC Star of the Day '71 Charger RT shows how glorious that last year was for Mopar muscle.
For past MSCC Stars of the Day please follow this link.
CLICK HERE to Like us on Facebook
CLICK HERE to Follow us on Twitter
CLICK HERE to Follow us on Pinterest
Please re-post this if you like this article.
Star of the Day page sponsored by Southside Dodge