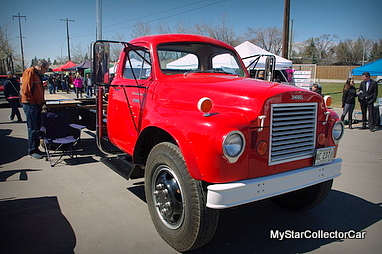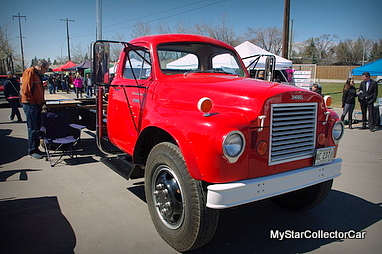 Studebaker was close to the financial cliff in 1963 but they didn't go down without a fight.
They brought the Avanti onboard to combat the newly redesigned Vette and they still built heavy duty trucks.
This '63 Studebaker 2-ton was built to work hard from Day One.
The truck has a fairly short list of owners despite its 53 years of history but the story behind the truck came from the 2nd last owner (Don Cable) and the current owner (Craig Parslow).
They are both connected to this big Studebaker on a personal level so they know the truck's history from factory brand new.
Don stepped in to explain the early history of this big Studebaker truck because he has a family connection: "The truck was used to haul fish from Portland, OR to Great Falls MT. It was somewhat underpowered for the mountain roads and was traded in to Hagerty Dodge in Great Falls. The truck was purchased in 1967 by my father-in-law Norman E Wood in 1967".
Don's father-in-law had a different game plan for the truck: "He added a flat deck with winch and gin poles. The truck was used for farm work in Great Falls and also used in Nevada for hauling Equipment and conducting assessment work on mining claims Norman had in Nevada".
This truck was destined for a new owner when Norman's estate was downsized and Don started "asking around to see if anyone was interested in big trucks".
That's where Craig entered the picture, "Ironically it was at the Spring Thaw show in 1995.My wife Barb Cable and I first contacted Craig Parslow about the truck and sold it to him in July 1995. We imported and delivered the truck in July 1995 hauling a 1929 Case tractor on the deck back to Calgary".
Craig was the perfect owner for this big brute because he clearly has a huge bond with his '63 Studebaker. He explained how it probably is just over 100K for miles and the truck "had a pretty easy life over the years because its big miles came from hauling fish-it had a refrigerated box back then" and the biggest job he gave the big Stude was "moving a garage".
Craig was bitten by the restoration bug after a few years so he set the process in motion: "I started it in '98 and in 2001 I took it to the first meet when I drove it down to Livingston".
The process was relatively painless as Craig admitted, "it didn't need a lot of welding because it was pretty straight".
This Studebaker 2-ton doesn't ride like a new Mercedes—Craig described it as "a choppy ride at about 45-50 miles per hour" but the people in Montana loved the fact that he drove it all the way to the show.
They had a pretty good laugh at his mud flap setup too after Craig found out all he needed was basic setup in Montana.
Craig also noted how many truckers look at the technical side of his truck because the chassis is wide open. They barely look at the truck itself-instead they focus on the things like the driveshaft, springs and brakes.
Craig is clear about the future of this truck-there'll be no more fish hauling runs for this 1963 Studebaker because it's going to do easy miles on the show circuit.
Jerry Sutherland
CLICK HERE to Like us on Facebook
CLICK HERE to Follow us on Twitter
CLICK HERE to Follow us on Pinterest
Please re-post this if you like this article.