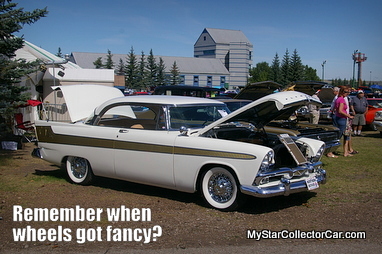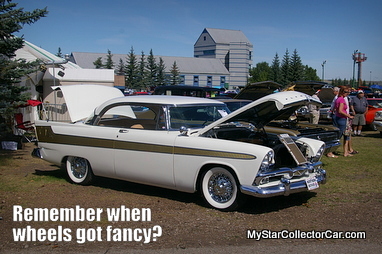 Wheel covers have always played a role in the automotive industry, both as a protective cover for the components of the wheel and as car bling.
The more stylish the wheel cover, the higher price tag on the car.
A car from the past was built to suit the owner's budget and station in life.
Historically, a basic grassroots car usually came in a 2 or 4-door sedan model and was equipped with a 3-on-the-tree tranny, six-cylinder engine, a very modest trim package with extremely minimal use of chrome, minimalist single tail lights, black wall tires, bench seat and dog dish hub caps.
The dog dish hubcaps kept the frugal (aka cheapskate) approach to an automotive purchase alive and well during the Baby Boomer era when an impractical number of kids in a family necessitated practical car purchases.
In the immortal words of a 1955 Johnny Mercer song; "something's gotta give" and that something was extravagance when it came to car purchases in the 50s and 60s. Cue the dog dish hub caps on the build sheet for Mr. and Mrs. Unplanned Giant Family and their expensive kid herd.
However the automotive industry did have a market for a customer who wanted to spend some extra cash on their new cars.
Presumably the customer was still single and had enough to disposable income to buy a car with only two doors and no door pillars between the front and back seats.
This kind of customer wanted a giant V-8, automatic transmission, power everything-including bucket seats, signal search radio, rear speakers with reverb sound positioned in the middle of the back seat, whitewall tires, enough exterior chrome to burn out retinas, many tail lights and full size wheel covers.
In fact expensive full-sized wheel covers were an important component of a Full Monty car purchase in the post-war 40s, 50s and 60s. The most expensive choices were found on Detroit's automotive royalty with familiar names like Cadillac, Lincoln Continental and Imperial.
Some luxury car dealers offered sporty wire wheel-style covers, while after-market suppliers would offer the same upscale choice for free-spending-no-kid customers who wanted to add an extra touch to their rides during the height of the Baby Boomer era.
The most important part of the equation was a very stylish wheel cover that said everything that needed to be said about the car: I don't have kids and thus I can invest in blingey, wildly excessive automotive style that means full-sized wheel covers rather than full diapers.
Back then the wheel cover choice made the owner and every hub cap-stealing juvenile delinquent very happy in the old days when the expensive stolen hub cap market was more likely a bigger part of youth crime than today's crack cocaine and crystal meth market.
The full wheel covers were definitely an extravagance on yesterday's rides, but they were a fundamental part of the kind of old school success portrayed in TV series like Mad Men where gaudy excess was part of the image.
The image included stylish wheel covers on cars.
Jim Sutherland