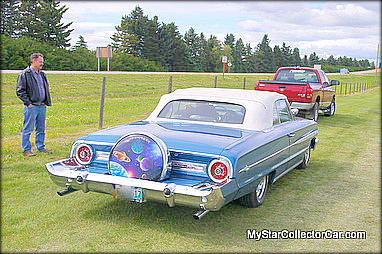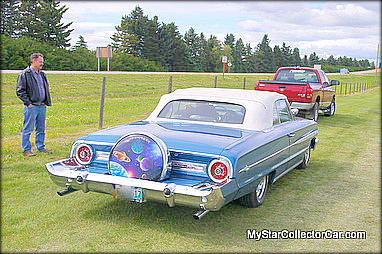 Rick Gagnon was well aware how much this 1964 Ford meant to his late brother.
It was his wedding car when Rick's brother got married in the late 60s.
So Rick decided to purchase the car from his brother's estate so that the car could stay in the family.
These days the Ford serves Rick and his wife very well during the summer months when they attend car shows or visit their kids.
This is a 390 equipped highway cruiser that was built for the road and Rick can understand why his brother loved the drop top so much as its current owner.
The brothers had shared many racing adventures together as stock car racers in the past, so they were definitely car guys by DNA. The fraternal bond of cars was enough to convince Rick to own the beloved Ford and make sure that his brother's legacy car was driven-a lot.
The Galaxie is part of many shows despite the reality that Rick lives in a fairly remote area so he plans trips around the car show circuit. In the process, the Gagnons have travelled  thousands of miles .
The Ford is fully equipped with factory A/C, power windows and power vents as other options to keep things cool when the top is up on the '64.
It has mag wheels and a continental kit to give it a mildly custom look to go with the factory options, plus it has undergone a new interior upgrade to replace the original interior that took a beating from the sun and years.
We were very pleased to meet Rick and his bride in the summer of 2011. They were a long way from home in the Ford and they had enjoyed every minute of the journey in the honeymoon car from the family past.
Family wedding cars are clearly a part of family history-the Gagnons are simply adding to the number of chapters.  
Jim Sutherland
For other great car stories click here-https://www.mystarcollectorcar.com/