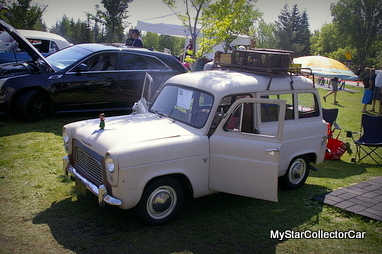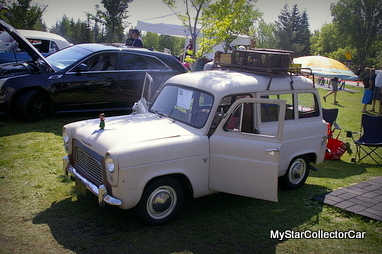 The Ford Escort was a familiar name in North America during its 1981-2003 production run.
Many people on this side of the pond may be surprised to learn the Escort had an older British cousin, including this 1959 station wagon.
The British Ford Escort was a less expensive version of the Ford Squire in 1959 and they were not common on North American roads.
We discovered one at a summer car show and spent some time with its owners, Bruce and Mary Hore.
They bought the car from its California owner five years ago where it had been parked in a garage since 1992 and added it to their stable of small British sedans.
Bruce has a big fan of British Fords ever since he purchased a 1949 Ford Prefect at 14 from a doctor and was actually searching for a Thames when he discovered the Escort wagon.
The car had no brakes, clutch and the transmission was shot, but Bruce wanted to save it because, in his words, "the car was too nice and I could not see cutting it up."
He managed to find many of the parts for the car in England and "about half of them were used"; according to Bruce.
Bruce was also able to buy back an engine/transmission combination he sold to another enthusiast and used the tranny in his wagon. The car was in good cosmetic shape and that was fortunate for Bruce because he noted that he is "not a body-man".
Suprisingly, the entire process to revive the car and put it back together under its own power only took six months and now Bruce and Mary can take to the road in the Escort.
They will not get there at light speed because this car will optimistically top out at around 70 mph (110 km/h) on its best day, but high speed driving is not a crucial component for either Bruce or Mary. The little flathead four cylinder engine is more comfortable at about 50 mph (80 km/h).
In Bruce's words, the "seats are a little bouncy" and they would likely be a whole lot bouncier at higher speeds.
They choose to take the road less traveled and will stick to two lane highways rather than four lane freeways for longer trips.
Bruce and Mary also concentrate on local shows so they can put less pressure on the 56-year-old car.
They have added their own personal touches to the little wagon, including a set of period suitcases and a small picnic table. Bruce mentioned they plan to add a hula girl doll to the hood because there is no room on the hood.
The car attracts plenty of attention-with or without the hula girl- at car shows because there are very few of these British imports in North America.
They were not plentiful in the first place and even less of them exist in today's world, so a 1959 Ford Escort station wagon is a rock star at car shows. The first question is always the same: "What is it?"
Bruce and Mary are happy to provide an answer.
Jim Sutherland
CLICK HERE to Like us on Facebook
CLICK HERE to Follow us on Twitter
CLICK HERE to Follow us on Pinterest
Please re-post this if you like this article.