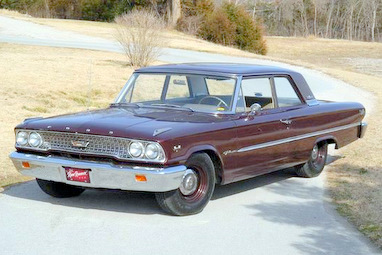 We are reprinting this article about a very rare "Rum Runner" 1963 Ford Galaxie in its entirety.
Many many thanks to The Ford Galaxie Club of America and in particular, the writer- Mark Reynolds.
They have a great site with some very rare and interesting big, bad Galaxies.
Here's Mark's article in its entirety.
"In 1963 Ford started a new era in high-performance transportation.The popular Galaxie was redesigned with new sheet metal and a rather interesting engine.
The venerable and legendary 427.
That's right, Four Hundred Twenty Seven cubic inches of raw power!!
The new FE big block was rated at 425 horsepower and had 480 foot pounds of torque! And two huge four barrel carbs.
Drag racing fraternities and NASCAR boys were drawn to it like a bear to honey and so was a less talked about group of individuals.This group didn't really look for their names in record books and they didn't place decals on their fenders either.
These boys were just in the transportation business. Point A to point B AS FAST AS POSSIBLE. And no, they weren't part of the pony express, and no they did not work for the Post Office. They get the slowest vehicles they can find.
Thus "snail" mail…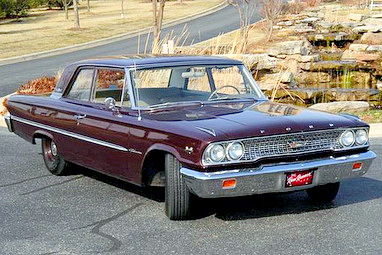 One of the features that these boys liked about the Galaxie was the huge trunk. Lots of cubic feet allowed for lots of room for their "product". Large loads of jugs and bottles filled with this product from Tennessee's illegal stills hidden deep in the woods. A legend was born.
This particular 1963 Ford Galaxie two door sedan (post) was built in February 1963 on the 20th day of that month in the Ford Atlanta factory. It then went from the showroom to a life of crime. Big crime in the eyes of the Alcohol Tobacco and Firearms Treasury boys.The dreaded Revenuers. Be it rum or whisky that the Big Galaxie hauled down the roads in the deep of night, the Feds were not happy.
Of course you can only imagine why…
Moonshine production was illegal because the government wasn't getting to tax it! It was embarrassing to the Feds that they couldn't catch this denizen of the night, big maroon Ford Sedan that howled down the winding Tennessee backroads.They were having problems catching up to it when all eight barrels of induction were stomped open.
Sad huh?
And since the "rum runners" didn't announce their plans in the local trader, and since they would pull those 180's at the first thought of a roadblock, the ol' revenuers never stood a chance of catching it.
Left 'em eatin' dust…Until January 1964.
Stroke of badluck, the rum runners got boxed in on a narrow, steep mountain road. A Fed in the front, a Fed in the rear. (I guess you could call it a real pain in the rear!) Poor rum runners were fed up…so to say.Nowhere to go but over the edge.
Oh well, the good ol' boy decided it would be better to go to the pen then wreck a nice 63 R code. Noooo….I think other things were on his mind. After all he hadn't seen Hooper. It wasn't out yet!
So, he went for a stay at the Fed Hilton for a few years and the Galaxie went to a government warehouse for 16 years. It probably spent more time in storage than the runner did in the Fed Hilton.Then in early 1980 the US Government decided to auction off decades worth of seized property. Not many of the crowd had much appreciation for a 427 Galaxie with 16,000 original miles.
Or if they did, they didn't have much cash. It sold for a mere $1000.00, about what the air cleaner is worth today.It ended up in the hands of one of our members, Alan Burnham.
A close up reveals the engine has never been out of the car. The factory exhaust is original down to the locking tabs as are the radiator hoses and clamps.Untouched…the find of a lifetime.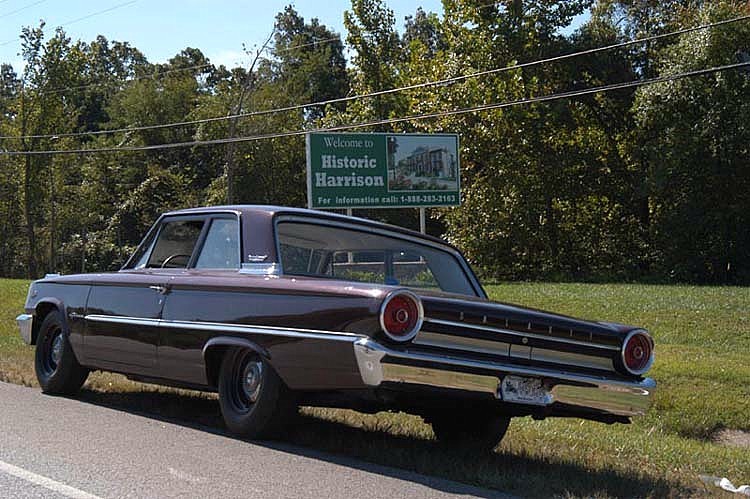 Research verifies it as one of only 47 two door sedans built with the R code 427. Rare, rare indeed.And with its life of crime over it still howls like a banshee when 8 barrels cut in. Congratulations, Alan, keep that 63 shining forever!
Update: On September 18th 2003, Alan Burnham gave up the ownership of the Rum Runner to, Mark & Kathy Reynolds of Harrison Arkansas. It will now be shown and displayed as much as possible so that automotive enthusiasts can see it and enjoy it as much as possible. We will keep you posted!"
Mark's story was clearly one of a kind.
 Jerry Sutherland
CLICK HERE to Follow us on Twitter
CLICK HERE to Follow us on Pinterest
*Re-post if you like this MSCC article…thanks.