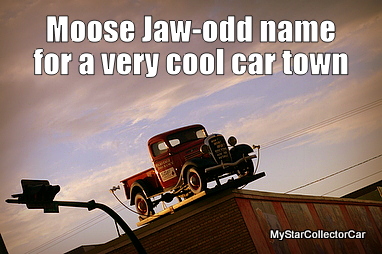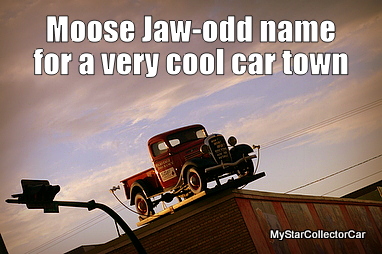 The name Moose Jaw has long been associated with an outsider's vision of Canada.
Moose Jaw conveys a notion of big game, log cabins and mountains in the Canadian wilderness, an image that does not actually apply to a small Canadian city on the prairies that is a long way from the Rocky Mountains.
The area does indeed have moose along its river valley, but log cabins are not common within the city limits of Moose Jaw Saskatchewan.
However, there are plenty of old school rides to be found cruising the streets of Moose Jaw on a warm early summer evening.
We took a road trip to Moose Jaw to cover the unveiling of a 1955 Divco milk truck restored to its former glory by a hard-working group of volunteers at a local museum. Look for the details behind this feel-good story in a future MSCC article.
The museum had a great turnout of local car enthusiasts, a fact that did not surprise us after we spent the previous afternoon in Moose Jaw and saw the many rides on the street.
I was introduced to an 83-year-old car guy who put together a 1949 Studebaker resto-mod truck in only three months in a garage with a wood stove for heat.
His Studey was a driver quality truck that he even drove in the winter to haul around his snowmobile.
I also met the current owner of a 1911 Model T with a long history in his family. The owner's late father was able to acquire the 104-year-old Model T back in 1962 and kept the stylish Ford in the family for the past 53 years.
The man passed away this past winter but his son has found a very unique way to keep his father's memory alive in the car. Read how in a future MSCC article.
The museum has a wide variety of vehicles within its collection. We took note of the fire trucks at the show and realized the museum people liked to include legacy vehicles such as fire trucks in their historical collection.
Look for a future article on a 1961 Mack fire truck owned by the museum people.
Private owners filled out the lineup with their unusual rides like a Peugeot which was a long way from its French home.
We spotted a 1957 Chevy convertible in Moose Jaw and were able to interview its Montana owner. He was towing an old school Burro behind the Chevy and the lightweight trailer was a unique part of his overall driving package.
Look for the Chevy story in a future MSCC article.
A 1967 Fargo truck caught our eye and we interviewed its female owner to find out more about her Canadian pickup. Fargos were unique to the Canadian market and allowed Plymouth dealerships to offer their version of a Dodge pickup truck in Canada.
She will tell her Fargo's story in a future MSCC piece.
We thoroughly enjoyed our visit to Moose Jaw.
We did not see any moose, but we did see plenty of interesting rides in that cool little Canadian town.
Jim Sutherland
CLICK HERE to Like us on Facebook
CLICK HERE to Follow us on Twitter
CLICK HERE to Follow us on Pinterest
Please re-post this if you like this article.